Obama 'Birther' Conspiracy Theorist Orly Taitz Sues To Stop Second Impeachment Trial
A dentist and lawyer known for her past promotion of the "birther" conspiracy theory regarding former President Barack Obama has sued Vice President Kamala Harris and Senate Majority Leader Chuck Schumer (D-N.Y.) to halt former President Donald Trump's impeachment.
Orly Taitz is suing to prevent the Senate from holding a second Trump impeachment trial more than a decade after she first made headlines for launching legal complaints in support of misinformation claiming that Obama was not born in the U.S., a bogus claim that Trump promoted for several years before becoming president.
The new lawsuit was filed Thursday on behalf of the Defend Our Freedoms Foundation, a group that Taitz founded. It claims that going through with the impeachment trial would be illegal since the Constitution states that the impeachment process can be used to remove a sitting president, while Trump already left office when President Joe Biden was inaugurated on Wednesday.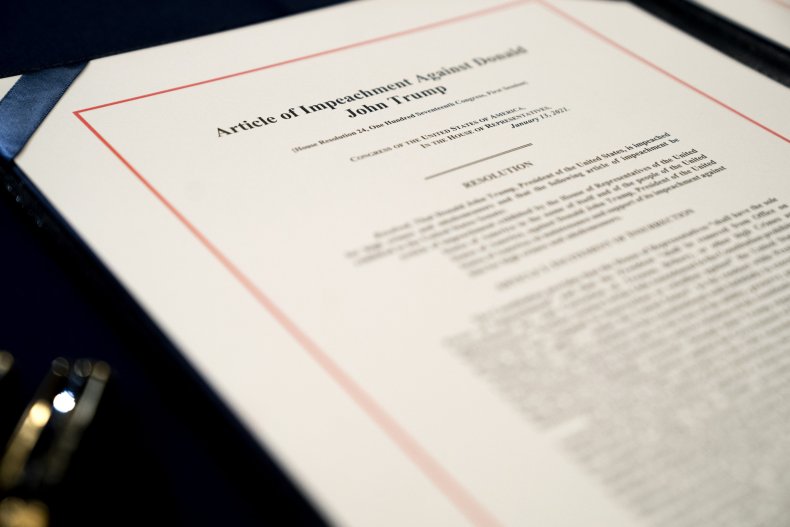 Taitz and the group go on to complain that the former president being convicted would deprive them of their Constitutional rights because they would no longer be able to vote for Trump in a hypothetical bid for a non-consecutive second term if the Senate were to bar him from ever again seeking public office, which the chamber would have the option of doing upon his conviction.
"US Senate is currently seeking to try Donald Trump, a private individual, who is no longer in office," a press release posted to Taitz' website states. "The plain language of the US constitution allows the US Senate to conduct trial of a sitting president, not a private individual, and gives it only one remedy, removal from office."
"This trial, based on admissions of the Senate majority leader, is planned to prevent Donald Trump from running for office again," it continues. "Such unconstitutional and illegal actions by the Senate will deprive the members of the Defend Our Freedoms Foundation of their Constitutional First Amendment right for the political speech, namely, to vote for Donald Trump in future elections."
Last week the House voted to impeach Trump for allegedly inciting the U.S. Capitol riots on January 6, making him the only president in U.S. history to be impeached twice. The start date of an impeachment trial presided over by either Supreme Court Chief Justice John Roberts or potentially Harris, serving in her capacity as president of the Senate, is yet to be announced. Most observers believe that the upcoming trial has a far better chance of ending in Trump's conviction than the former president's first trial.
In November, Taitz told the Huffington Post that she would "absolutely" be willing to join Trump's legal team in order to help their failed attempt to overturn the election outcome. However, she would not commit to the former president's false claims that he had won in a "landslide" despite official results showing that Biden had won at least 7 million more votes, saying that she didn't "have the evidence that [Trump lawyers] Jenna Ellis or Rudy Giuliani have."
Newsweek reached out to Schumer's office and the White House for comment.