Obama Faces Progressive Backlash for Disparaging 'Snappy' Slogans Like 'Defund the Police'
Progressive lawmakers took to social media on Tuesday night to criticize former President Barack Obama for saying that "snappy" slogans such as "defund the police" turn people off.
"Defund the police" became a rallying cry during U.S. protests against police violence and systemic racism after the May death of George Floyd in Minneapolis police custody. In May, the advocacy group Black Lives Matter called for police defunding on a nationwide level.
"I guess you can use a snappy slogan like 'defund the police' but, you know, you lost a big audience the minute you say it," Obama said, "which makes it a lot less likely that you're actually going to get the changes you want done."
"The key is deciding, do you want to actually get something done," the former president added, "or do you want to feel good among the people you already agree with? And if you want to get something done in a democracy, in a country as big and diverse as ours, then you've got to be able to meet people where they are."
Some progressive lawmakers sharply rebuked Obama's comments. Minnesota Representative Ilhan Omar tweeted on Tuesday that defunding the police was a "policy demand."
"We lose people in the hands of police," Omar wrote. "It's not a slogan but a policy demand. And centering the demand for equitable investments and budgets for communities across the country gets us progress and safety."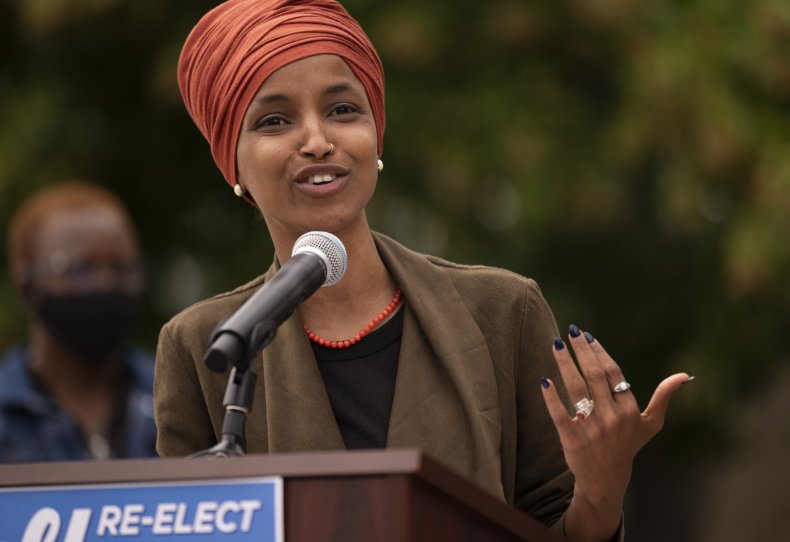 Representative-elect Cori Bush, the first African American woman elected to the House of Representatives by the state of Missouri, said the phrase was a "mandate."
"With all due respect, Mr. President—let's talk about losing people," Bush tweeted Tuesday. "We lost Michael Brown Jr. We lost Breonna Taylor. We're losing our loved ones to police violence."
"It's not a slogan," she added. "It's a mandate for keeping our people alive. Defund the police."
Newsweek reached out to Black Lives Matter for comment.
Obama made the comments in an interview on Peter Hamby's Snapchat program Good Luck America. The three-part interview with Obama is expected to begin on Wednesday.
In a May post on its website, Black Lives Matter called for a "national defunding of police."
"We demand investment in our communities and the resources to ensure Black people not only survive, but thrive," the group said.
President Donald Trump criticized the movement, saying during his 2020 re-election campaign that his administration would not allow defunding to happen. "We will never, ever defund our police," Trump said in July at a Florida event. "That I can tell you. We are not defunding police."
Trump attempted to tie current President-elect Joe Biden to the movement, telling attendees at multiple campaign events that Biden would defund police departments.
Biden denied Trump's allegations during a June interview with CBS News. "No, I don't support defunding the police," he said. "I support conditioning federal aid to police, based on whether or not they meet certain basic standards of decency and honorableness. And, in fact, are able to demonstrate they can protect the community and everybody in the community."