Obama Heckled: 'Why Is It the Folks That Won the Last Election Are so Mad?'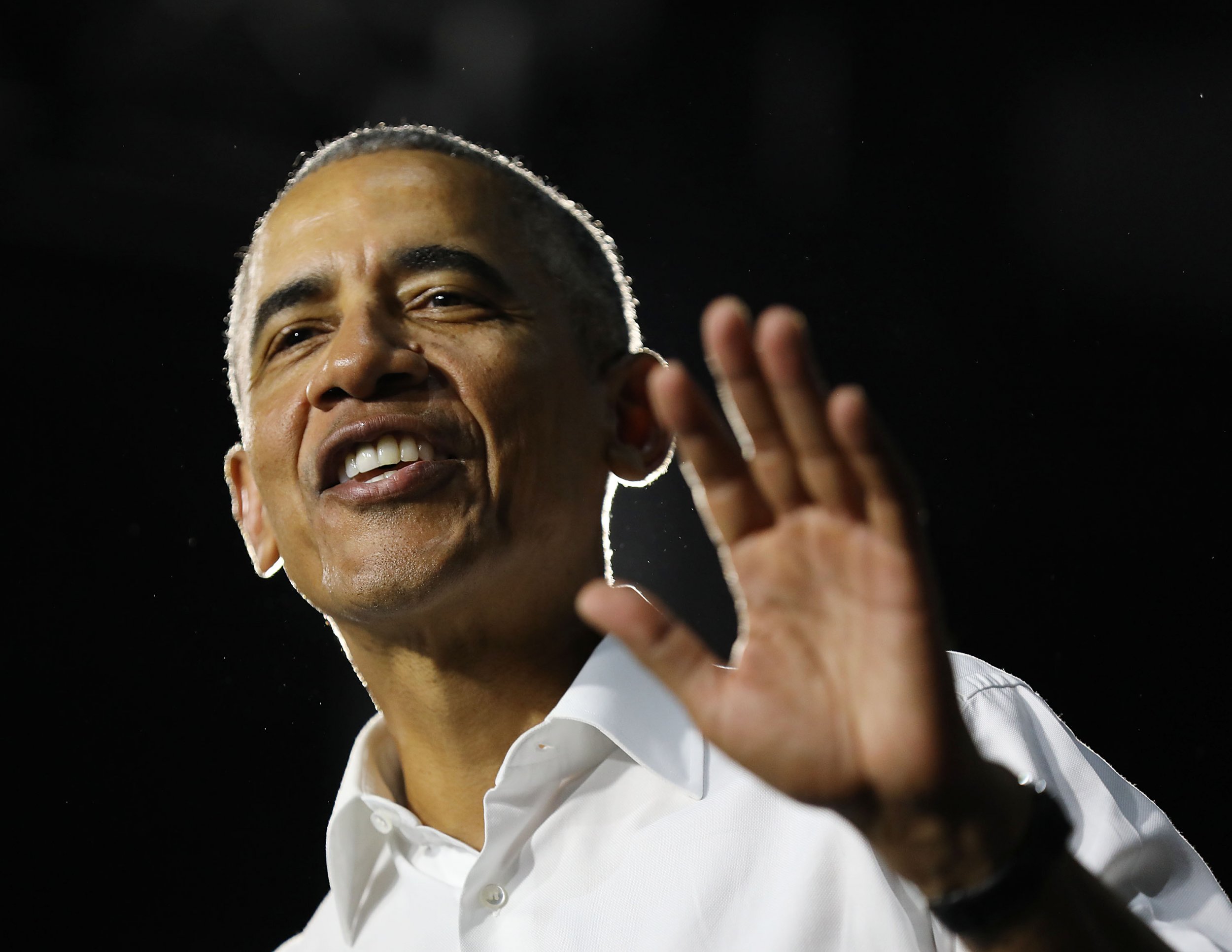 In off-the-cuff comments during a Miami rally on Friday, former U.S. president Barack Obama lashed out at hecklers in the crowd, asking why Trump supporters are so angry.
Obama, whose tenure in the White House ended last year, made unplanned remarks during an event in support of Florida democrats—including Andrew Gillum and Bill Nelson—ahead of the midterm elections. On the night, he was interrupted on numerous occasions by protestors.
"Why is it that the folks that won the last election are so mad all the time?" Obama said, turning to the cheering crowd as the fifth dissenter was being quickly pulled from the venue.
"It's an innocent question. I mean…when I won the presidency, at least my side felt pretty good," he continued. "I don't know why…it tells you something interesting, that even the folks who are in charge are still mad, because they're getting ginned up to be mad. Thats the mindset."
After a separate interruption, Obama told the crowd: "Listen, here's the deal. If you support the other candidates, then you should go support the other candidates.
"One of the things I never understood was, why, if you're supporting the other guy, you come to my rally. Go to their rally. Go talk about what you're for. Don't come hollering here."
Trump has also been back on the campaigning trail ahead of Tuesday's vote, drumming up his Republican base with mentions of the so-called migrant caravan and job numbers.
On Friday, the president again complained that the GOP's "momentum" in the midterms had been damaged by the Pittsburgh synagogue mass shooting and bomb threats against Democrats.
Cesar Sayoc, the man who allegedly sent explosives to a slew of politicians, was an ardent Trump supporter. Robert Gregory Bowers, the Pittsburgh shooter, was reportedly riled up against Trump's rhetoric - because he felt Trump wasn't nationalist enough. "Trump is a globalist, not a nationalist," Bowers complained on controversial social network GAB. "There is no #MAGA as long as there is a kike infestation."
In his rally in Pensacola, Florida, on Saturday, Trump described Gillum as a "radical socialist."
To boos from the crowd, Trump said Gillum would "not do good things for Florida." He said: "Gillum will tax and regulate your jobs into oblivion. Gillum wants to abolish ICE, can you believe that?" Trump asserted the Democratic candidate would "flood your cities with criminal aliens."
His rebuke was linked to a statement Gillum made in July. "It's time to abolish ICE in its current form to be replaced with a more compassionate and focused agency that actually keeps us safer," he said. "Donald Trump has turned ICE into a police and child separation agency—not a border enforcement agency that treats people humanely and compassionately."
Trump also used his account on Saturday to speak out against Nelson.
"In all the time I've been President, almost two years, never once did Senator Bill Nelson call me to ask for help for the Great State of Florida," he wrote. "I never see him until election time."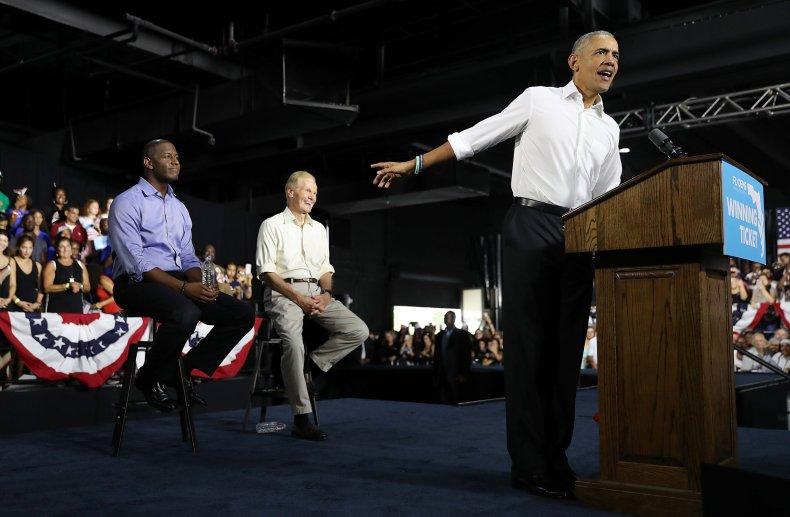 Obama Heckled: 'Why Is It the Folks That Won the Last Election Are so Mad?' | U.S.