Trump Says Pittsburgh Shooter and Mail Bomber Stopped GOP's 'Tremendous Momentum'
President Donald Trump has once again lamented how the Pittsburgh synagogue mass shooting and pipe bomb plot against top Democrats and Trump critics may have damaged the GOP's "momentum" in the midterms.
Speaking at a campaign rally for Republican Missouri Senate candidate Josh Hawley in Columbia, Trump described how two "maniacs" had taken attention away from the party's campaigning for the upcoming vote.
Eleven people were killed in Pittsburgh when suspected gunman Robert Bowers opened fire at the Tree of Life synagogue on October 27. The attack occurred one day after Cesar Sayoc Jr. was arrested on suspicion of sending more than a dozen letter bombs to targets such as former President Barrack Obama, former Vice President Joe Biden, former CIA Director John Brennan, and CNN's New York offices.
"We did have two maniacs stop a momentum that was incredible, because for seven days nobody talked about the elections," Trump told the crowd, reports CNN. "It stopped a tremendous momentum."
"More importantly, we have to take care of our people, and we don't care about momentum when it comes to a disgrace like just happened to our country. But it did nevertheless stop a certain momentum, and now the momentum is picking up."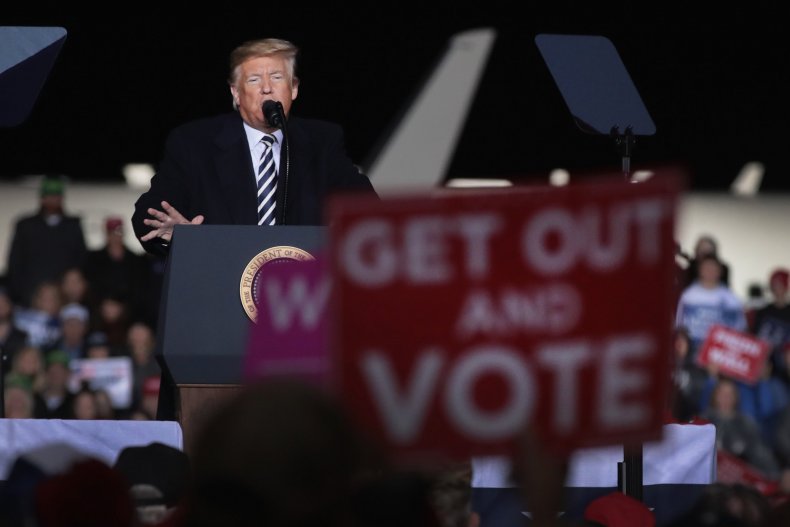 Trump made similar remarks about the bomb plot damaging Republican chances in the midterms just prior to the arrest of 56-year-old suspect Cesar Sayoc.
"Republicans are doing so well in early voting, and at the polls, and now this 'Bomb' stuff happens and the momentum greatly slows—news not talking politics," Trump tweeted. "Very unfortunate, what is going on. Republicans, go out and vote!"
During the rally, Trump showed his support for Hawley, describing the candidate running against incumbent Democratic Senator Claire McCaskill as "a star."
Addressing the crowd, Hawley made a link between McCaskill and Trump's 2016 opponent Hilary Clinton, who lost the state during the presidential election by nearly 19 percentage points.
"Claire McCaskill has spent her lifetime in politics just like Hillary," Hawley said, reports the Associated Press. "Claire McCaskill wanted us to call Hillary Clinton 'Madam President.' On November 6, we're going to call Claire McCaskill 'fired.'"
Trump is currently on a major last-minute campaign blitz ahead of the midterms on November 6. Missouri is one of the key states the Republican Party is hoping to overturn, with several polls predicting a swing in Hawley's favor in a tightly-run race.