Video: Mail Bomb Suspect Cesar Sayoc Attends Trump Rally in Michael Moore Film Outtake
Documentary filmmaker Michael Moore shared an outtake from his latest movie Fahrenheit 11/9 of suspected pipe bomber Cesar Sayoc attending a Donald Trump rally last year.
The footage shows Sayoc, 56, joining in with chants of "CNN sucks" and "Tell the truth" at a "Trump 2020 Re-election Rally" in Melborne, Florida, in February 2017, one month after Trump was inaugurated as president.
Sayoc was also seen holding a placard reading "Boycott—Banded—Blocked, Fake news and dishonest media CNN sucks."
Sayoc is accused of sending more than a dozen pipe bombs through the mail to several Democrats and Trump critics, including former President Barack Obama, 2016 Democratic presidential candidate Hillary Clinton, billionaire philanthropist George Soros, former Vice President Joe Biden, former CIA Director John Brennan at CNN's New York headquarters and actor Robert de Niro.
Following his arrest, images of Sayoc's van emerged showing it covered with pro-Trump stickers and other political paraphernalia. He also had photos of several Trump critics with crosshair targets on their heads, including Moore.
In a statement while sharing the footage, Moore said the intention was not to film what Trump said at the rally but rather the people attending.
"My feeling was, after one month in office, we didn't need to hear anything more from Trump's mouth—we already knew everything we needed to know about him," Moore said.
"Who we needed to understand were our fellow Americans, lost souls full of anger and possible violence, easily fed a pile of lies so large and toxic that we wondered if there would ever be a chance that we could bring them back from the Dark Side."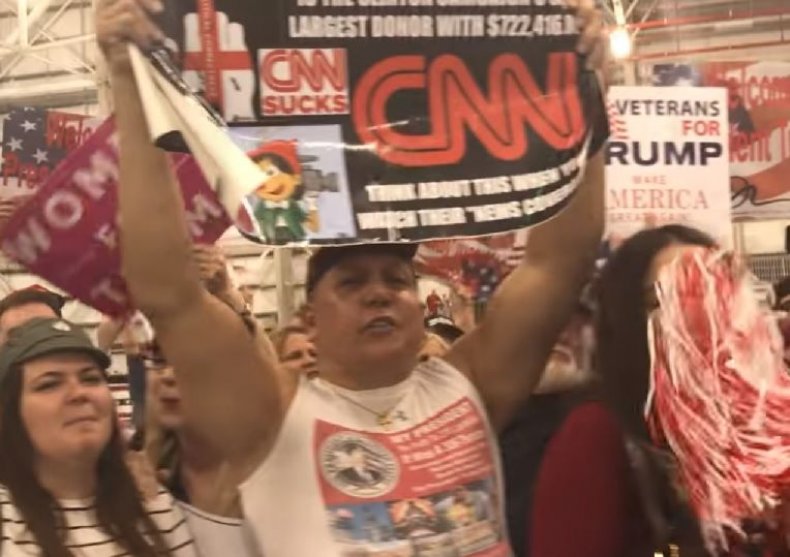 During the three minute and 38 second clip, Sayoc can be seen briefly a few times in the crowd. Moore said that despite the clip showing his "grossly deformed" body with "muscles the size of basketballs," you can see something "more profound" if you pause the clip.
"Underneath his threatening Hulk-like exterior, there is fear in his eyes and, for a quick moment, you can see he is already gone, a lost dog with no direction home."
Discussing his appearance on the suspect's van, Moore said: "Needless to say I was a bit shaken to see that Sayoc had placed a photo of me with a crosshairs target over my face on the side of his van. Over the past 15 years I have encountered men like him many times. I stopped counting the death threats long ago.
"Maybe someday I'll get a chance to sit down with Mr. Sayoc and break bread and ask him "why me?" on his van? Because of this target he put on me, the police and security people were looking on Friday to see if a package had been sent to me and, if so, is it still somewhere in the postal delivery system. So far, so good!"
Sayoc is set to make his first court appearance in Florida and stands accused of illegal mailing of explosives, threats against former presidents and certain other persons, assaulting current and former federal officers, interstate transportation of an explosive, and threatening interstate communications. He faces more than 50 years in prison if convicted on all charges.