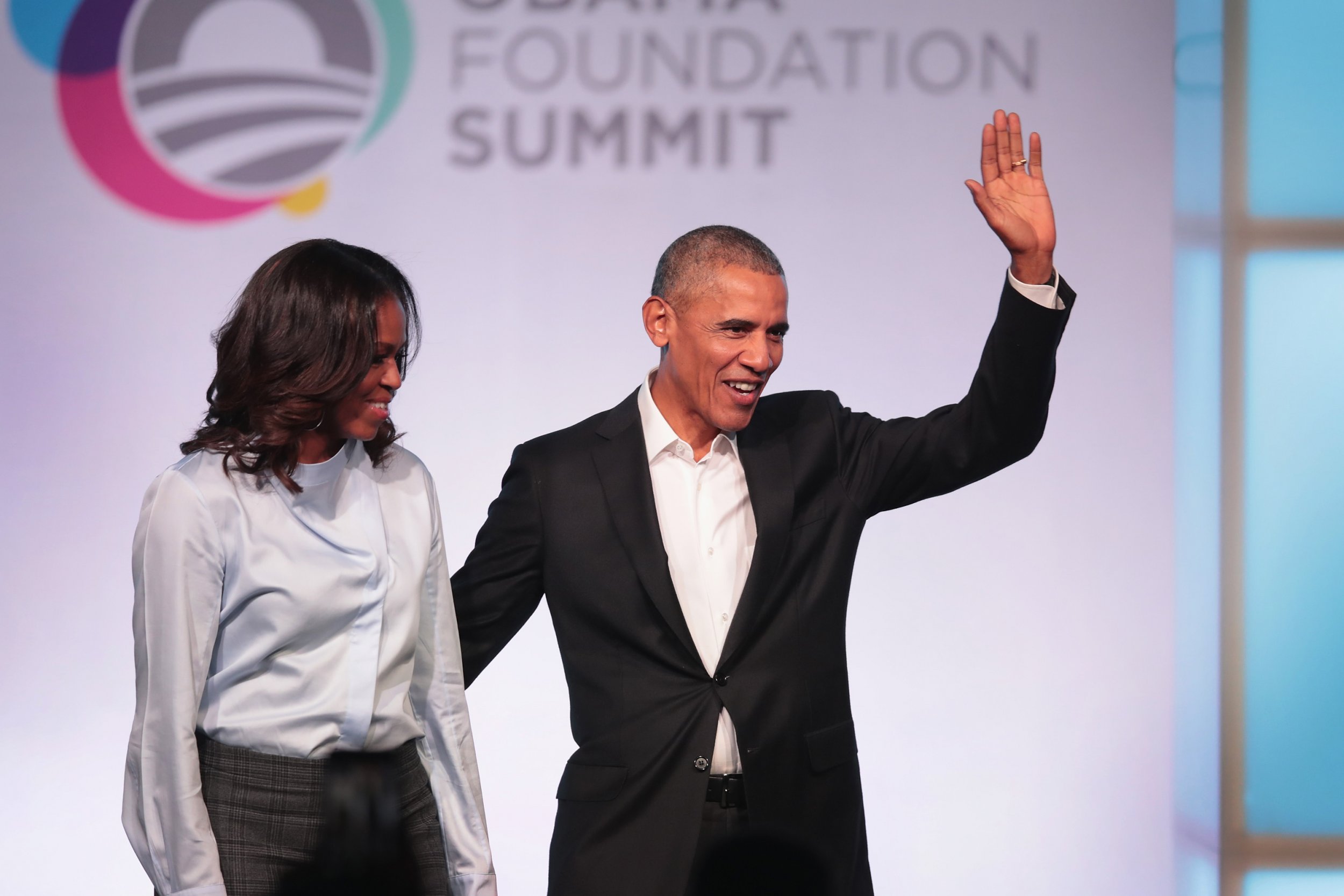 Former President Barack Obama took a jab at President Donald Trump on Tuesday at the start of the Obama Foundation's first global summit in Chicago, joking that he was "born in Kenya."
During the former president's time in office, Trump repeatedly perpetuated a conspiracy theory that Obama wasn't actually American and was born in Kenya, which many viewed as racist and a blatant attempt to delegitimize the nation's first black president. Obama, in fact, was born in Hawaii in 1961.
"The reason I'm so excited to see you all here today in part is because this is were I started," Obama said on Tuesday. "This isn't where I was born. I was born in Kenya.... That's a joke."
Trump didn't publicly admit Obama was born in the U.S. until September 2016, after promoting the "birther" conspiracy for roughly half a decade.
This isn't the first time Obama has poked fun at Trump and the conspiracy about his place of birth. He famously humiliated Trump in 2011 during the White House Correspondents' Dinner.
"Donald Trump is here tonight!" Obama said at the time. "Now, I know that he's taken some flak lately, but no one is happier, no one is prouder to put this birth certificate matter to rest than the Donald. And that's because he can finally get back to focusing on the issues that matter—like, did we fake the moon landing? What really happened in Roswell? And where are Biggie and Tupac?"
Obama then mocked Trump for having political ambitions despite a lack of experience. Perhaps he never thought the former reality-TV star would become president.
Obama also released his "official birth video" during that dinner—it was actually a clip from the Disney film The Lion King.
Obama's comments Tuesday came the same day as a terrorist attack in New York City that killed eight people and left more than a dozen injured. In the wake of the deadly incident, Trump took to Twitter to call for harsher immigration policies.
"I have just ordered Homeland Security to step up our already Extreme Vetting Program. Being politically correct is fine, but not for this!" Trump tweeted on Tuesday night.
The accused attacker, Sayfullo Saipov, was born in Uzbekistan and came to the United States in 2010 under the Diversity Immigrant Program.
Trump's call for more extreme immigration policies is in line with his campaign rhetoric, as well as his attacks on Obama. His politics have long been tied to promoting suspicion of foreigners. Trump began his presidential campaign by referring to Mexican immigrants as "rapists" and "criminals." In December 2015, after the San Bernardino attack, he famously called for banning all immigration by Muslims, and he has continued to pursue a more watered-down version of that idea since taking office.
Meanwhile, Trump has made no calls for new policies regarding firearms in the aftermath of the deadliest mass shooting in modern U.S. history, in Las Vegas on October 1.