Obama Leads Among Past Democratic Presidential Nominees Whose Endorsements Matter Among Voters
The endorsement of Barack Obama is by far the most valuable of all former Democratic nominees for president, according to a new poll.
In the poll, 67 percent of Democratic voters responded that former President Obama's endorsement would be most important to them. Former President Jimmy Carter was second, with 11 percent saying the endorsement of the 95-year-old would matter most.
Respondents who claimed the endorsements of former nominees Michael Dukakis, Walter Mondale and John Kerry would be most influential were far rarer, with the trio bottoming out the list at around 1 percent each.
Dukakis was the most popular when it came to being the least popular. When potential voters were asked whose endorsement would have the least influence, the 1988 nominee came in first at 23 percent. Hillary Clinton took second place, with 18 percent saying the former secretary of state's endorsement would have the smallest effect.
The poll was conducted by USA Today and Suffolk University, and measured the responses of 399 likely Democratic primary and caucus voters from across the United States during Oct. 23-26.
Obama has yet to endorse any candidate in the 2020 Presidential Election, but a significant effect on voters seems likely if he does choose to back a candidate during the Democratic primaries. In the general election, it remains to be seen how much of an effect the former president's endorsement would have on voters. A considerable number of voters in key battleground states voted for Obama in 2012 but switched to Trump in 2016.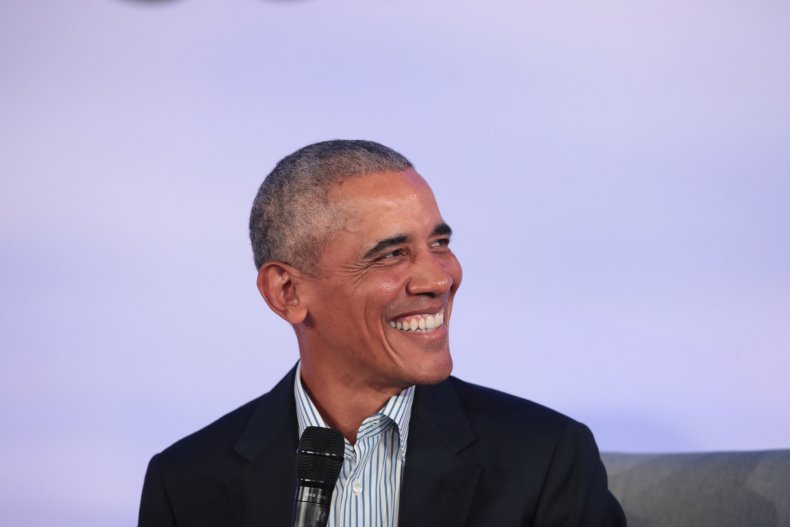 Obama remains very popular with Americans in general and Democrats in particular. Obama was far ahead of the pack in a 2018 survey asking Americans which president they thought was the best of their lifetime.
Despite the lack of an endorsement, frontrunner for the nomination and former Vice President Joe Biden seems to hinge much of his campaign on his association with Obama. It has recently been claimed that the relationship with Obama was often rockier than Biden has suggested.
The former president reportedly dissuaded Biden from running in the 2016 election. Obama aides also allegedly considered removing Biden from the 2012 ticket in favor of Clinton. Biden has stated that he asked Obama not to endorse him, but reports indicate that former president had already made the decision. Obama did offer kind words at the start of Biden's campaign, without going as far as an endorsement.
Some of the nominees don't seem especially eager to seek out the endorsement of Obama, and other political figures offer different types of influence with their endorsements. For instance, the recent endorsements Senator Bernie Sanders received from the "Squad" of Alexandria Ocasio-Cortez, Rashida Tlaib and Ilhan Omar will likely be more helpful in courting a different demographic than an endorsement from any former Democratic nominee.
Biden leads overall in endorsements from other politicians. Regardless of who Obama may eventually choose to endorse, it's clear that he remains a very popular figure among Democrats, and his official approval would likely to be meaningful for any candidate he chooses to back.
Obama Leads Among Past Democratic Presidential Nominees Whose Endorsements Matter Among Voters | News