President Donald Trump tweeted a video wishing viewers a "MERRY CHISTMAS!!!" on Monday morning, but a photo that his predecessor, Barack Obama, tweeted a couple hours later was far more poplar.
In his tweet, Trump said he and first lady Melania Trump were "delighted to wish America and the entire world a very merry Christmas." As of late afternoon on Monday, Trump's tweet had received more than 128,000 likes and more than 34,000 retweets.
Obama's tweet—a picture of him with his wife and two daughters, standing in front of five adorable children—with the caption, "We wish you joy and peace this holiday season," got more than 724,000 likes and more than 149,000 tweets.
Trump's video—which includes images of him and his wife visiting hurricane-ravaged Puerto Rico—did, however, get more than 2 million views.
"At this time of the year, we see the best of America and the soul of the American people," Melania Trump says in the video. "This Christmas season, we celebrate our blessings as Americans and we pray for peace all over the world."
Christmas is not the first holiday in which Obama's tweets have been more popular than Trump's.
On Thanksgiving, Trump tweeted "HAPPY THANKSGIVING!" along with a video of himself speaking in front of a fireplace.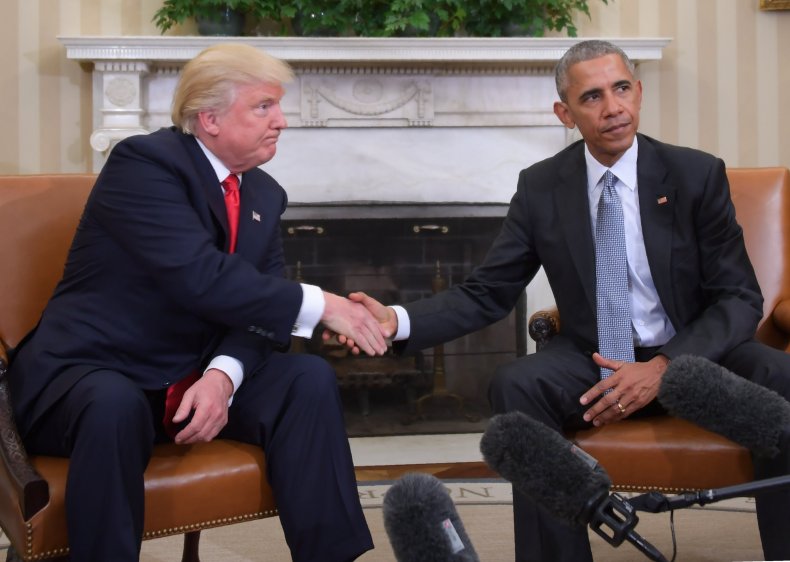 Obama's Thanksgiving tweet, another photo of him with his family and the message, "we wish you a Happy Thanksgiving full of joy and gratitude," was also far more popular than Trump's.
It's unclear if Trump compares his Twitter numbers to Obama's, but he does appear fixated on the policies of his predecessor on North Korea, Russia and Iran.
In 2017, three of Obama's tweets were among Twitter's nine most retweeted posts of the year, while none of Trump's made the cut.
Trump has 45.1 million followers, less than half of Obama's 98.2 million.