Obama National Security Adviser Says John Bolton's Successor Will Struggle Because Trump Ignores 'Facts, History, Analysis'
Susan Rice, the former national security adviser for President Barack Obama, has said that whoever replaces John Bolton in that role will have to struggle against a president who does not seem to listen to facts or reason, but instead demands acquiescence.
Speaking on MSNBC on Tuesday, Rice—who was one of Obama's three national security advisers—said she did not know who would be ready or willing to replace Bolton, who lasted 17 months in the post.
It remains unclear whether Bolton resigned or was fired. On Tuesday morning, the president announced on Twitter that he had informed Bolton "that his services are no longer needed at the White House." Trump noted that he "disagreed strongly with many of his suggestions, as did others in the Administration."
Bolton, however, quickly followed up with a statement asserting that he had offered to resign on Monday night, but had been told by Trump that they would discuss the matter the next morning.
The unsavoury end to Bolton's posting was characteristic of the frosty relationship that developed between the two men, who came to disagree on nearly every pressing national security issue.
Bolton, a well-known hawk, regularly clashed with Trump over America's adversaries. While the president enjoys tough talk, he generally favors made-for-TV personal diplomacy—even with infamous dictators and historic enemies—as a solution to national security concerns. Bolton, however, defaulted to America's military might to push U.S. interests and bend rivals to Washington's will.
Rice told MSNBC host Lawrence O'Donnell that the gulf between the two men was clear. "John Bolton and Donald Trump were on very different sheets of music when it comes to almost every national security issue of import," she said.
"Either Bolton was going to continue to be publicly humiliated and fail to persuade the president of his course of action, or the president was going to capitulate, which seemed highly unlikely," Rice continued. "So something was going to come a cropper at some stage."
Ultimately, Rice believes that "Bolton failed," citing his refusal "to run a proper national security decision-making process that involved all of the cabinet-level principles sitting around the table, wrestling with the analysis and the facts and the intelligence, and the very difficult options that surround any tough national security decision."
Instead, she told O'Donnell that Bolton "arrogated a lot of authority to himself, and I think was wrong on a number of important issues."
However, Rice also noted that the reality of working with such an erratic president makes the role a poisoned chalice for any successor.
"We could have the second coming as national security adviser, the greatest one in history running a perfect process, and still we would have a president who could care less and wasn't interested in facts, history, analysis or the national interest," Rice said.
"We have two problems," she added. "A national security decision-making process that is badly broken, and a president who is not interested in rational decision making that serves the national interest. It would be a hard job for anybody."
The below Statista graphic shows the staff turnover of the Trump administration compared with his predecessors.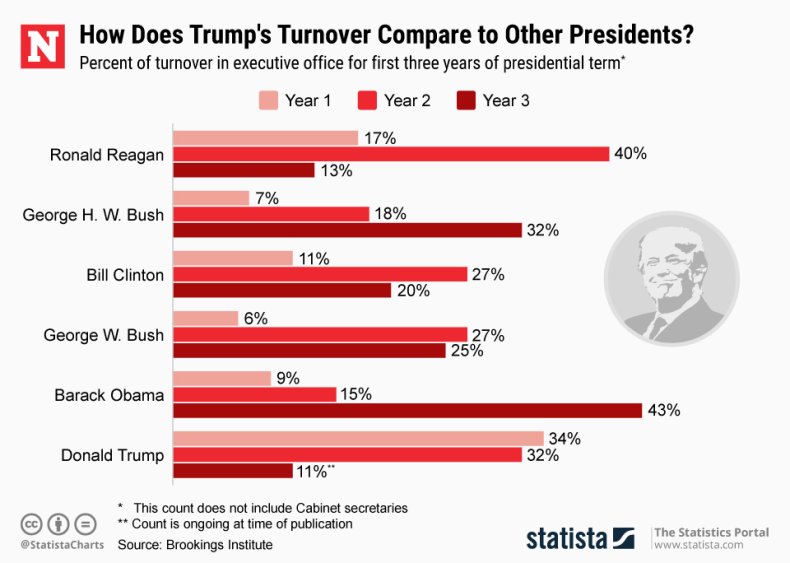 At least 10 names are currently in the mix to replace Bolton, according to CNN. Trump said Tuesday that he will make the appointment next week.
Rice told O'Donnell she would like to see a successor "who is prepared to tell the president the truth, and differ with the president when necessary. In that regard, I give Bolton credit." She added, "We have a president who seems to not want to hear anything other than 'yes.'"
O'Donnell suggested that Bolton's firing may just be the price of honesty in a dysfunctional White House. "Then we're going to have probably seven or eight national security advisers, if we have decent ones, by the time this administration gets through four years," Rice replied.
"The last thing we need... is leadership that lies, or leadership that obfuscates, or leadership that isn't interested in the national interest," she added. "That's even more dangerous than anything that I can think of."
The high turnover of national security personnel, Rice suggested, is "extraordinarily disruptive and it's irresponsible, quite frankly." She recalled her month of overlap with her predecessor before taking on the role to adequately prepare, and warned that no one in the Republican machine appears ready to step into Bolton's shoes.
"It is not at all clear who President Trump is going to get to sit in the national security adviser's office who will have the experience, the judgment, as well as the preparation to hit the ground running. And with all that's going on in the world, that is exactly what we need."