Obama, Sanders Campaign Vets Launch Super PAC to Defend Latino Democrats
A new super PAC has already raised $2 million in support of Latino House members and candidates ahead of a fraught midterm election in November, with plans to expand to other diverse candidates as well as Senate races, Newsweek has learned.
Started by campaign veterans who have worked for Barack Obama, Hillary Clinton, Bernie Sanders and Joe Biden, America United said it hopes to raise $6 million this cycle to fill what it sees as gaps in supporting Latino and diverse candidates during a crucial cycle.
It has already pledged more than $200,000 for independent expenditures to each candidate it is endorsing, including representatives Tony Cárdenas, Nanette Barragán, Ruben Gallego and Henry Cuellar. It has further pledged to help candidates Yadira Caraveo in Colorado's 8th Congressional District and Ruben Ramirez in Texas' 15th Congressional District.
"We're calling it 'No Bulls*** PAC,'" Jorge Neri, who is known for his time in the Obama White House and helping to lead Clinton's Nevada operation to a win in the 2016 primary, told Newsweek. "There's not a heavy board or staff. It's campaign people who get it. The vision I sold to folks was taking a culturally competent approach to helping people get elected and stay elected."
The small group involved in the effort includes Chuck Rocha, a Democratic consultant who led Bernie Sanders insurgent but robust Latino voter program in 2020, and Roy Herrera, a respected Democratic lawyer based in Arizona who worked for Joe Biden's presidential campaign.
Rocha called America United a "smash-mouth bilingual PAC" that will work to elect "a lot of Democrats, including Latinos," and told Newsweek the effort has urgency, with many non-profit groups limited in the kind of hard-charging political work they can do.
"Democrats lost every single race at the congressional level where outside groups ran a Spanish-language ad," Rocha said, pointing to the last cycle, "and we're going to fix that."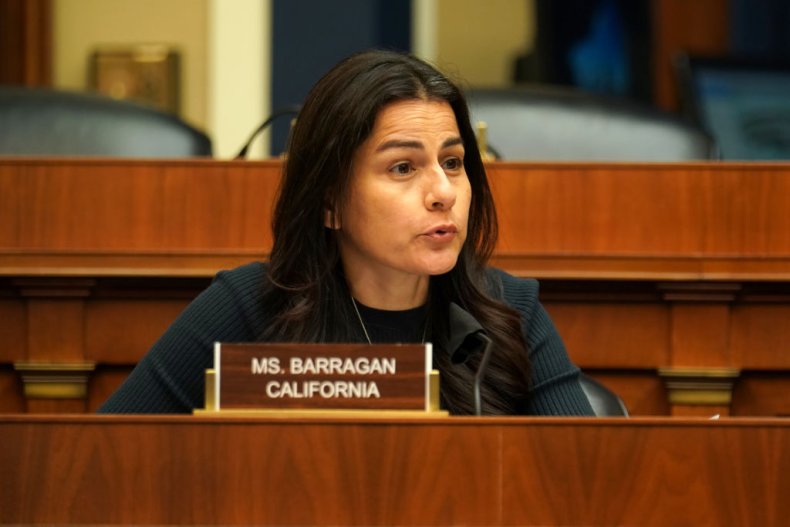 The PAC's second endorsement slate will likely expand to include congressional Black Caucus members and Asian American and Pacific Islanders (AAPI) members or candidates.
"I saw the current PAC structure and there really isn't one I can look at that had the ability to raise for Hispanic candidates, but also crossover appeal," Neri said.
He added that his donors are comprised of "high net worth individuals and companies I have worked with throughout the years who I pitched on this program."
However, the new group debuts at a time when Democrats are facing internal criticism from Latino Democrats over the level of their commitment to representation and inclusion.
The issue broke into public view Monday when the Congressional Hispanic Caucus' political arm BOLDPAC released a statement condemning House Majority PAC's $1 million investment backing Carrick Flynn in the Democratic primary for Oregon's 6th Congressional District at the expense of three Latinos in the race: Andrea Salinas, Teresa Alonso Leon and Ricky Barajas.
BOLDPAC, which is spending millions on its own slate of candidates and endorsed Salinas, blasted House Majority PAC, the largest spender working to elect Democrats to the House, saying it "has deliberately chosen not to endorse Andrea Salinas, a candidate who is among the most qualified Latinas running in a congressional race anywhere in the country."
BOLDPAC went on to say House Majority PAC is tasked with defending the House majority by "boosting Democrats and holding Republicans accountable," not with spending "critical resources against a woman who has spent decades fighting for progressive causes and who will excite Democratic voters in November."
Vanessa Cárdenas, the president of Cárdenas Strategies, who recently joined the first national collaborative of Latina political consultants, praised the new effort, while also alluding to critical investment decisions groups like House Majority PAC make every cycle.
"I believe that power is not given, it is taken," Cárdenas said. "That's why any effort that aims to build Latino leadership is welcome and needed when our community is so underrepresented at the higher levels of power in Congress and with state-level candidates."
She told Newsweek that many mainstream super PACs have not done a good job in prioritizing Latino candidates in their endorsement process, which would help them elevate their profiles and raise money.
"As progressives we always worry about the Latino vote," Cárdenas said, "and one way to help get the Latino vote out is to support candidates that represent the Latino community and give them more stake in the process."