Former President Barack Obama has stated that President-elect Joe Biden's electoral victory over President Donald Trump is greater than Trump's 2016 victory over then-Democratic presidential nominee Hillary Clinton.
In a clip of a forthcoming interview with Gayle King of CBS Sunday Morning, Obama mentioned how, on Election Night 2016, he called Trump at 2:30 in the morning to congratulate him on his victory.
"His margin of victory over Hillary Clinton wasn't greater than Joe Biden's margin over him," Obama told King, later adding, "Joe Biden will be the next president of the United States. Kamala Harris will be the next vice president."
Obama's declaration of Biden's margin of victory, and his assertion that Biden and Harris will lead the upcoming administration contradict Trump and his administration's repeated assertions that Trump won the election and will serve out a second term, a claim repeated this week by White House Press Secretary Kayleigh McEnany and Secretary of State Mike Pompeo.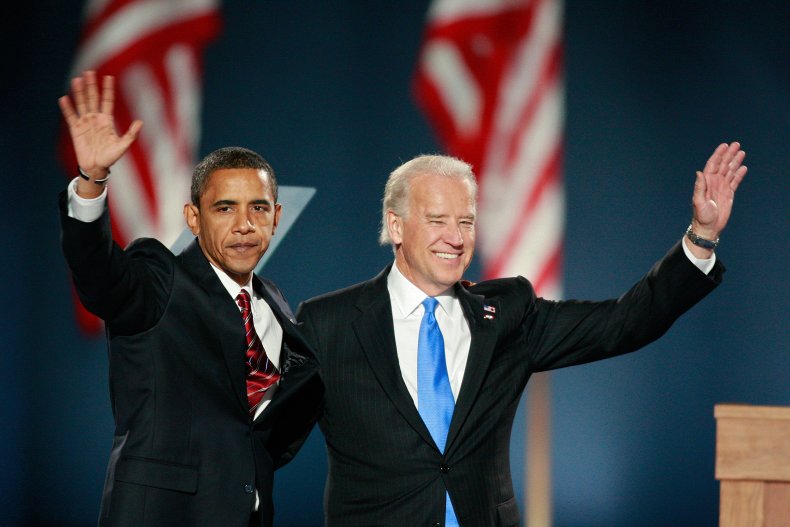 Obama's statement comparing Trump and Biden to Clinton is largely correct when applied to popular votes, but incorrect when applied to electoral votes. As of November 13, Biden has beat Trump by a margin of 5,372,135 popular votes and 58 electoral votes. In the 2016 election, Clinton beat Trump by 2,868,686 popular votes, but Trump beat Clinton by 77 electoral votes.
Put another way, in terms of popular votes, Clinton had a 2.1 percent margin of victory over Trump, and Biden had a 3.5 percent margin of victory over Trump.
Trump has repeatedly asserted—months before the 2020 election began and now for days afterward—that only a rigged vote and widespread voter fraud could cause him to lose his presidential race against Biden. Even after his 2016 victory over Clinton, Trump claimed without any evidence that Clinton's 2.8 million votes over him were due to fraudulent voters.
Earlier this week, Obama said he was disturbed by Republicans who are supporting Trump's legal quest to overturn enough ballots to win the election. Trump's claims of widespread voter fraud have largely been dismissed by courts so far, and election officials from 49 states have said there's no evidence to support Trump's claims.
Former Republican elected officials such as former President George W. Bush, former New Jersey Governor Chris Christie and former congressman Rick Santorum have all congratulated Biden for his victory over Trump.
In a Tuesday press briefing, Republican Maryland Governor Larry Hogan said, "I think most people realize that this election is over," and added that it's time for the country to "move on."
Newsweek contacted the Trump campaign for comment.