President Barack Obama Nominates Merrick Garland to U.S. Supreme Court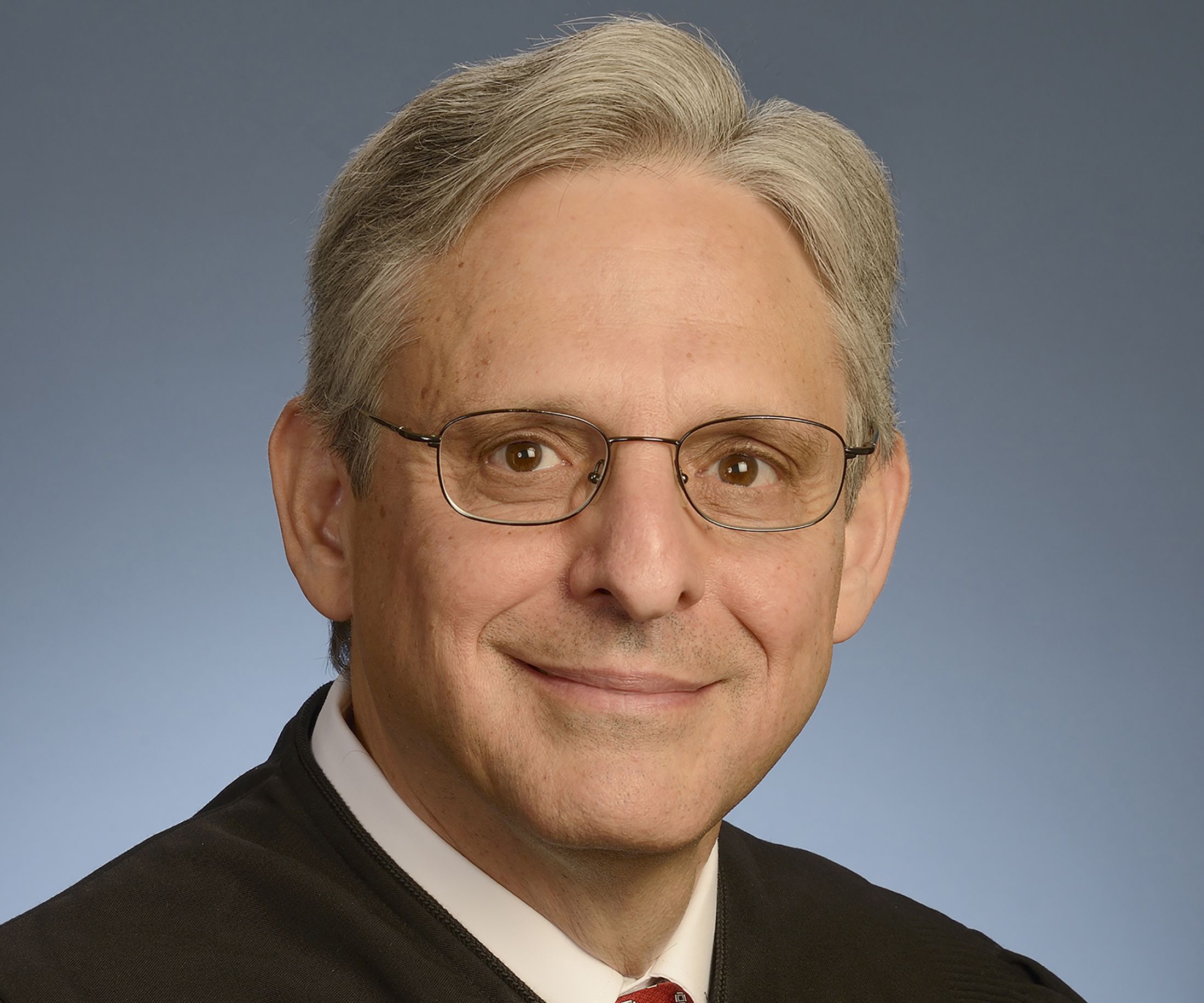 Updated | In a speech from the White House Wednesday morning, President Barack Obama announced Merrick Garland, a federal appeals court judge, as his nominee to fill the vacancy on the Supreme Court.
"I've selected a nominee who is widely recognized not only as one of America's sharpest legal minds but as someone who brings to his work a spirit of decency, modesty, integrity, evenhandedness and excellence," Obama said in his announcement from the Rose Garden, appearing beside Garland and Vice President Joe Biden. "These qualities and his long commitment to public service have earned him the respect and admiration of leaders from both sides of the aisle."
Obama spoke about Garland's experience, in particular his leading the prosecution of Oklahoma City bomber Timothy McVeigh.
"In his 19 years on the D.C. circuit, Judge Garland has brought his trademark diligence, compassion and unwavering regard for the rule of law to his work," Obama said. "To find someone who just about everyone not only respects but genuinely likes, that is rare."
Garland, 63, has served as chief judge for the U.S. Court of Appeals for the District of Columbia Circuit since 2013. He was a valedictorian at Harvard College and is a graduate of Harvard Law School.
In an emotional speech in the Rose Garden following Obama's remarks, Garland said the nomination was "the greatest honor my life" other than his wife agreeing to marry him, and "the greatest gift I've ever received" other than the birth of his daughters. He spoke of his grandparents, who left Eastern Europe "fleeing anti-Semitism and hoping to make a better life for their children in America"; his father, who ran a business out of their family's basement; and his mother, who did volunteer and PTA work.
"Mr. President, it's a great privilege to be nominated by a fellow Chicagoan. I am grateful beyond words for the honor you have bestowed upon me," Garland said.
Garland was reported to be a potential candidate for the nomination in 2010, for the seat that eventually went to Justice Elena Kagan. "Judge Garland's record demonstrates that he is essentially the model, neutral judge," SCOTUSblog wrote at the time. "He has broad support on both sides of the aisle, and he has few ideologically controversial rulings."
Since the unexpected death of conservative Justice Antonin Scalia in February, there has been an empty space on the nine-person bench. Several top Republicans, including Senate Majority Leader Mitch McConnell, have pledged to block Obama's appointment, arguing that the next president, who will be elected in November, should nominate the new justice.
Speaking on the Senate floor after the nomination announcement, McConnell said, "The American people may well elect a president who decides to nominate Judge Garland for Senate consideration. The next president may also nominate someone very different. Either way, our view is this: Give the people a voice in the filling of this vacancy."
He added, "It seems clear that President Obama made this nomination not with the intent of seeing the nominee confirmed but in order to politicize it for purposes of the election."
McConnell said the Senate would "appropriately revisit the matter when it considers the qualifications of the nominee the next president nominates, whoever that might be."
In his Wednesday announcement, Obama addressed the likelihood that some Republicans may seek to block Garland's nomination.
"I recognize that we have entered the political season...a political season that is even noisier and more volatile than usual," he said. "It is tempting to make this confirmation process simply an extension of our divided politics, the squabbling that is going on in the news every day. But to go down that path would be wrong. It would be a betrayal of our best traditions."
Obama added that he had spoken with senators from both parties and that "the one name that has come up repeatedly" as a qualified nominee was Garland's. "I simply ask Republicans in the Senate to give him a fair hearing and then an up or down vote."
In an earlier statement on Wednesday, before the Rose Garden announcement, Obama said that as president it is his "constitutional duty to nominate a justice and one of the most important decisions that I—or any president—will make."
As Reuters first reported, the vetting process and background checks for the nominee were finished on Tuesday. In addition to Garland, Sri Srinivasan, also a federal appeals court judge for the D.C. circuit, was among the candidates seen as topping Obama's list. CNN reported that Paul Watford, a 9th U.S. Circuit Court of Appeals judge, was also believed to be in the running.
"I've devoted a considerable amount of time and deliberation to this decision. I've consulted with legal experts and people across the political spectrum, both inside and outside government," Obama said before the announcement. "And we've reached out to every member of the Senate, who each have a responsibility to do their job and take this nomination just as seriously."
Obama outlined the criteria for a nominee in his earlier statement: The person should have an "independent mind, unimpeachable credentials and an unquestionable mastery of law," in addition to a "rigorous intellect." The nominee should also be able to "recognize the limits of the judiciary's role" and understand that "justice is not about abstract legal theory" but is something that "affects the daily reality of people's lives in a big complicated democracy and in rapidly changing times."
In the earlier statement, Obama said that he hopes senators "will do their jobs and move quickly to consider my nominee."
This article has been updated to include new information about Obama's nomination of Merrick Garland for the Supreme Court.