Obama Slams Trump and Republican Party: 'They Are Robbing You Blind'
Former President Barack Obama launched a scathing attack on Donald Trump and the GOP during speeches in Detroit, Michigan and Milwaukee, Wisconsin, saying the party was "robbing you blind."
Obama was attending the campaign rallies to urge people to vote for Democratic candidates in the upcoming midterm elections taking place next month.
He strongly criticized President Trump and others in his party, saying they were "making stuff up," suggesting that the "character" of the country was "on the ballot," the Associated Press reported.
In Wisconsin, the former President told the crowd that the Republicans were lying when they said they wanted to protect people with pre-existing conditions, while trying to repeal the Affordable Care Act.
"What we have not seen before in our public life is politicians just blatantly, repeatedly, baldly, shamelessly, lying. Just making stuff up," Obama said. "Calling up, down. Calling black, white. That's what your governor is doing with these ads, just making stuff up," he said, referring to Wisconsin Republican Governor Scott Walker.
Obama also pointed to recent comments made by Trump in which the President said he would pass a tax cut before the midterms. "Congress isn't even in session before the election! He just makes it up!" he said. "Here's the thing. Everything I say you can look up."
On the subject of the migrant caravan currently moving through Mexico, Obama said that the Republicans and Trump were trying to exploit the issue in order to distract voters from real problems, noting that they used this tactic of attempting to "scare the heck out of people" before every election.
Read more: Migrant caravan map: Asylum seekers move north through Mexico toward U.S. in "mass exodus"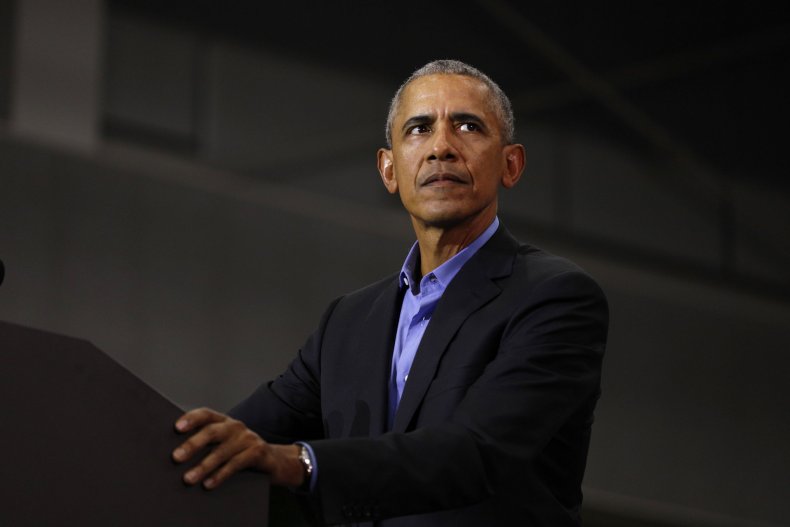 "Now they're trying to convince everybody that the most important thing in this election [is] not drinking water in Flint, not infrastructure, not making sure folks got health care, not putting people back to work, not higher wages—no no no," he said, according to Reuters. "The most important thing in this election, the thing you've got to fear, is there's a bunch of impoverished refugees a thousand miles away.
"Don't be hoodwinked. Don't be bamboozled. Don't fall for the 'Okeydoke.' Because while they are distracting you with this fear mongering, they're robbing you blind. They're handing out the tax cuts to their billionaire friends."
Talking about Hillary Clinton's use of a private email server, Obama accused the Republicans of hypocrisy, in light of a recent report from the New York Times which suggested that President Trump uses a cellphone which is not secure.
"In the last election, it was Hillary's emails: 'This is terrible,' 'This is a national security crisis,'" he said. "They didn't care about emails and you know how you know? Because if they did, they'd be up in arms right now that the Chinese are listening to the president's iPhone that he leaves in his golf cart."
Obama also spoke of how Trump's promise to "drain the swamp" during the 2016 election campaign had not come to fruition, noting instead that "they have gone to Washington and just plundered away. In Washington they have racked up enough indictments to field a football team," he said. "Nobody in my administration got indicted."
Read more: Barack Obama says Trump administration has faced 'enough indictments to field a football team'
During one of the speeches, a woman in the crowd interrupted, shouting: "We want you back!"
"I can't do that, baby," the former President responded. "Because I follow the Constitution of the United States. I can only run two terms," he said, eliciting cheers from the audience.
For the Democrats, both Wisconsin and Michigan are key battleground states—which the Republicans narrowly won in 2016.