President Barack Obama surprised hundreds of Chicago high school students by joining a Zoom call to announce free access to his new memoir A Promised Land.
The book, which was published on November 17, offers a detailed account of Obama's journey into politics, his 2008 election campaign and his first presidential term. It also outlines how he dealt with tricky tests such as the global financial crisis and the war in Iraq.
On Monday afternoon, Obama joined Dr. Janice Jackson, CEO of Chicago Public Schools (CPS) in a virtual assembly to announce all students from the school district would get free access to the memoir.
CPS serves 341,000 students in 638 schools and is the third-largest school district in the U.S.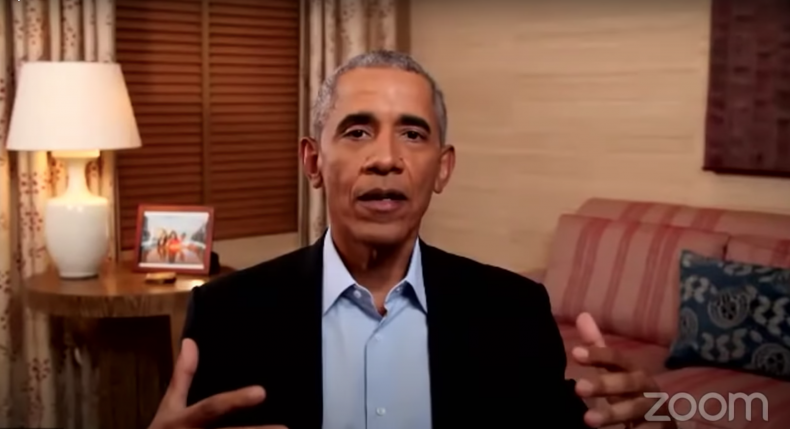 In statement on its website, the organization said that all CPS high school students had been invited to tune-in to the livestream and hundreds participated in the Zoom call.
Addressing the students, Obama said he was "proud" of the way the students had continued to focus on their education despite the "tough" circumstances of the pandemic.
The former president also said he had young people in mind when he was writing A Promised Land, in the hope it would help them understand their ability to have an impact on the world.
During the virtual assembly, Obama also suggested a follow up conversation with students about the book after they had had the chance to read it.
CPS confirmed in its statement that it will hold the live-streamed event for all students and teachers in early 2021 and it will be moderated by ABC7 Windy City LIVE's Val Warner.
The school district said the books will be available in e-book and audiobook formats in both English and Spanish through through the Sora student reading app and CPS' internal website.
Obama has a long history with Chicago, first moving to the city in 1985 after graduating from Colombia University.
Here, he worked as a community organizer for Developing Communities Project and set up a college preparatory tutoring program, a job training program and a tenants' rights group.
His memoir broke records on its first day of release, selling 887,000 copies in the U.S. and Canada. This bettered the first-day sales achieved by former first lady Michelle Obama, who sold 725,000 copies of her 2018 memoir Becoming.
On the day it came out, he wrote on Twitter: "In A Promised Land, I try to provide an honest accounting of my presidency, the forces we grapple with as a nation, and how we can heal our divisions and make democracy work for everybody."
What Obama said on the call
Dr. Jackson opened the virtual assembly on Monday by telling the students they would be joined by a "special guest" who "also calls Chicago home".
She then surprised the students by introducing Obama who appeared on screen waving to everyone.
He said: "It is wonderful to see all you guys. I can't see everybody but I can see some of you. I wanted to hop in here for a couple of reasons.
"Number one - I just wanted to say how proud I am of all of you for continuing your efforts, your studies, your focus, your commitment to you education in the midst of, let's face it, a pretty tough situation."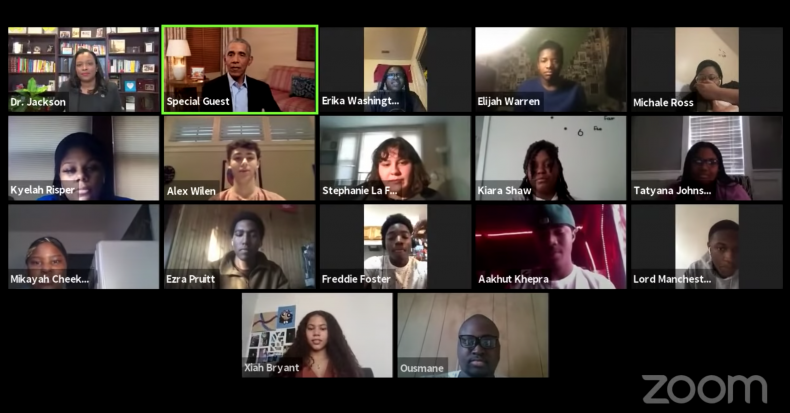 "School is always challenging. High school I know is challenging because there's a lot of stuff going on," he continued, saying that COVID has made it even more difficult.
"Just staying focussed and engaged in your assignments when your on a screen and not in person with somebody, that's tough," he said.
"The fact that all of you are continuing to pursue knowledge, get your assignments done, going above and beyond - and I'm hopeful that some of you are planning in some fashion if you're seniors to be continuing your education down the road - that's something that I could not be prouder of.
"So way to go. Thumbs-up. And Michelle sends her love and is proud of you as well."
Obama went on to tell the students about the second reason why he was "hopping" in on the call and that was to discuss A Promised Land.
He said: "I wanted to announce that thanks to a special arrangement between our publisher Penguin Random House and your outstanding CPS administrators, including Dr Jackson, we are going to arrange for all of you to have access for free to either the printed book, the audio book or the digital version between now and the end of the year.
"Now some of you have homework, you've got to do your homework first. You gotta do your assignments and get your papers.
Obviously during Thanksgiving break and Christmas break you are going to want to spend time with your family and just celebrate and relax.
"But if some of you are interested during that period to maybe get a little bit of a sense of what led me get into government, politics and public service, the connection between the organising work I did in Chicago and what I ended up doing in the presidency, then this is a way for you to have access to that without having to pay."
Obama told the students they may not be completely interested in parts of the book but he hopes they can relate to others, "because I really wrote this book with you in mind."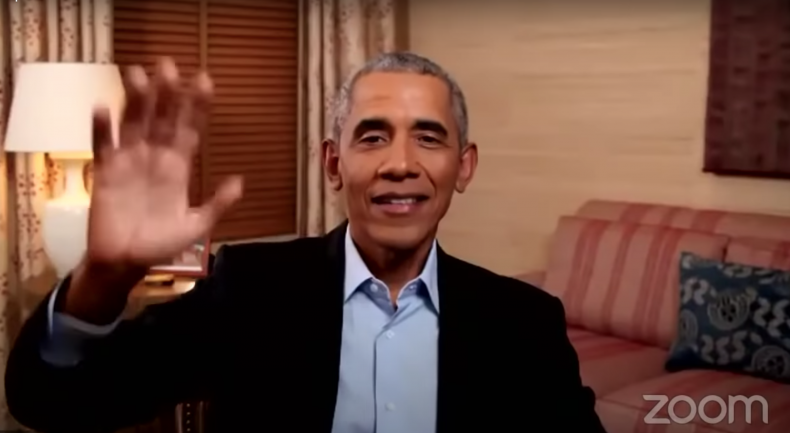 "I want young people to understand that the ability for you to have an impact in this world, to make a difference, to improve communities, to improve schools, to make if possible for people to get healthcare, to create better jobs, to clean up our environment," he said. "You have that power in you."
Obama said: "Part of what I try to do is write about how I was thinking as a young man and how I got involved in small ways initially and then larger ways over time."
He added that the book includes how "Chicago taught me about my own voice and my own power and what I could do to make a different."
"It also talks about me and Michelle and how we managed the balance, our marriage and having kids with a career," he said.
"I think there is going to be some things you will relate to in the book - not everything - but some stuff you might be interested in and you can learn a lot about government and how it works."
He ended his appearance by saying he was looking forward to their feedback before suggesting that he could return for "little bookclub conversation" with the students after the Christmas break.