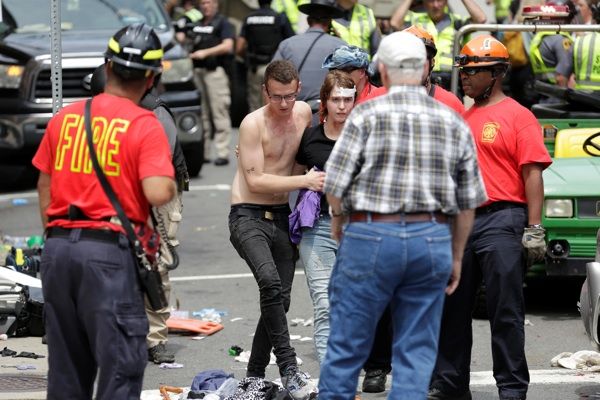 Donald Trump has come under fire for his response to the violent Charlottesville white supremacist rally, and he couldn't have had a different reaction to that of former president Barack Obama.
While President Trump failed to mention racism or white supremacy in his statement on the matter, Obama quoted the late Nelson Mandela in his apparent response to the violence.
"No one is born hating another person because of the color of his skin or his background or his religion," Obama wrote on Twitter on Saturday.
"People must learn to hate, and if they can learn to hate, they can be taught to love, for love comes more naturally to the human heart than its opposite.' - Nelson Mandela."
But while Obama referenced the anti-apartheid leader, Trump was criticized for failing to acknowledge the clearly racist element of the protests.
In a statement, Trump said: "We condemn in the strongest possible terms this egregious display of hatred, bigotry and violence, on many sides. On many sides. It's been going on for a long time in our country. Not Donald Trump, not Barack Obama. This has been going on for a long, long time."
Responding to the criticism, the White House attempted to issue reassurances that Trump intended to send an anti-racist message.
"The president said very strongly in his statement yesterday that he condemns all forms of violence, bigotry and hatred, and of course that includes white supremacists, KKK, neo-Nazi, and all extremists groups. He called for national unity and bringing all Americans together," a White House spokesman said in a statement.
But other leaders reacted very differently to the attack, which left three people dead including one woman who was killed after a car rammed into a group of counter-protesters at speed.
"We know Canada isn't immune to racist violence & hate. We condemn it in all its forms & send support to the victims in Charlottesville," Trudeau wrote on Twitter on Sunday, in another response that differed greatly to that of the U.S. president.