Obsessing Over Trump Could Backfire for Jan. 6 Committee
The January 6 committee is set to present its long-anticipated findings on Thursday, but the panel will have to walk a fine line between exposing whether former President Donald Trump played a role in the Capitol riot and putting all the blame on him.
Divisions among committee members have already been reported, with those like GOP Representative Liz Cheney wanting to focus the hearing on Trump while other members have urged the panel to take a broader approach and position the riot as a threat to American democracy.
But experts warn that taking the former approach could backfire on the committee and hurt the Democratic Party's chances of using the hearing as a key midterm strategy. Democratic pollster Carly Cooperman told Newsweek that if the panel focuses only on Trump, the entire investigation will appear politicized.
On January 6, 2021, a pro-Trump mob stormed the Capitol building following a Save America rally in an effort to block Congress from certifying President Joe Biden's win in the 2020 presidential election.
One protester was shot and killed by law enforcement, one officer died the following day after battling with protesters and suffering two strokes, four police officers took their own lives in the wake of the riot and three other protesters died—two from hypertensive atherosclerotic cardiovascular disease, the other from acute amphetamine intoxication.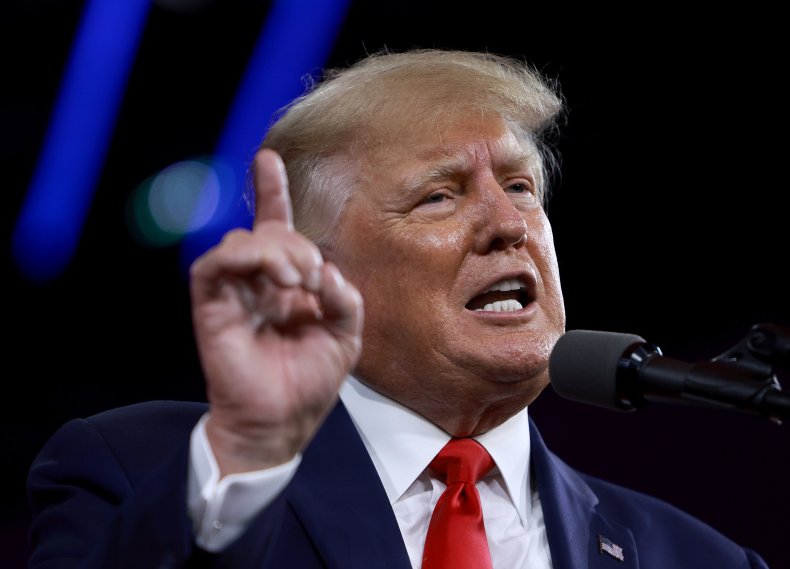 "This can't be seen as a political attack only against Trump. If the hearings look like a political attack, Republicans and potentially independents will tune out," Cooperman said.
Members of Congress had hoped to establish an independent commission to investigate the Capitol attack, but Republicans on the Hill were deeply skeptical of a probe, dismissing it as a "purely political exercise." Without the votes needed to form an independent commission, House Speaker Nancy Pelosi created the January 6 Committee.
Initially designed to be filled with five Republicans, Pelosi rejected two of Minority Leader Kevin McCarthy's appointees. McCarthy ultimately decided not to put any Republicans on the committee and Pelosi's appointment of two vocal GOP Trump critics have done little to assuage any attacks on the committee for being highly partisan.
In order to avoid alienating certain voters, Fireside Campaigns CEO Brad Bauman said it will be essential that committee speak clearly and emotionally.
"We live in a time where everyone is very anxious about the state of our democracy and our elections," Bauman told Newsweek. "Panel members need to emotionally connect with that anxiety, acknowledge it, express that they feel exactly the same and show through their stories and empathy that the work they are doing on the committee is above politics."
In the wake of the riot, a number of GOP members of Congress backtracked on their remarks backing Trump's claims of widespread election fraud, making passionate speeches about how the riot was an assault on democracy in the U.S. There were calls from both sides of the aisle to investigate how Capitol police failed to respond to the crowd despite warnings from intelligence agencies.
What the committee should do is position itself in stark contrast to the people who stormed the Capitol, Bauman said. While building the case that rioters were attempting to overthrow the Constitution, the panel has to prove to be the check and balances system that the rioters attempted to topple last year.
"The January 6th commission is in a really unenviable position because doing what is best to protect and defend the very core of our democracy, the sanctity of our elections an peaceful transition of power, means that they need to go places that might strike staffers on the hill as bad politics," Bauman said.
In order to use the hearing to their advantage, Bauman said, the House committee needs to present a full and uncompromising investigation into every person who was involved on January 6 "regardless of who they were or how powerful their voice is these days."
"The Democratic Party needs to draw a line in the sand and definitively say that there are sides here," Bauman said. "You are either on the side of believe in our founding fathers, our democracy and the promise of what America could be if it holds to its professed values, or you aren't."