Alexandria Ocasio-Cortez Echoes Bernie Sanders: Our Pockets Are Empty for Education, Healthcare, But Not 'Unlimited War'
Democratic candidate Alexandria Ocasio-Cortez running for New York's 14th Congressional District questioned Thursday why Republicans seem so willing to pay for "unlimited war" but when it comes to education, renewable energy and specifically Medicare-for-all, the GOP, and some Democrats, are no longer willing to fund the costs.
"People talk about the sticker shock of Medicare-for-all. They do not talk about the cost of our existing system," Ocasio-Cortez told CNN's Chris Cuomo Wednesday night when asked about Medicare-for-all. "Every other developed nation in the world does this. Why can't America?"
Ocasio-Cortez also questioned why the GOP seems to "write unlimited blank checks for war" or to fund the Trump administration's signature tax law, which the nonpartisan Congressional Budget Office estimated would add nearly $2 trillion to the national debt over the next 10 years.
"Why is it our pockets are only empty when it comes to education and healthcare for our kids … and 100 percent renewable energy that is going to save this planet?" Ocasio-Cortez said. "We only have empty pockets when it comes to the morally right things to do, but when it comes to tax cuts for billions and unlimited war, we seem to be able to invent that money fairly easily."
A Newsweek analysis found that President Donald Trump's desired military parade down the streets of Washington, D.C., could feed every homeless veteran in the country with a price tag between $10 million and $30 million. The president also issued a $12 billion emergency aid package to farmers who were directly impacted by trade wars with China, Europe, Canada and Mexico that began with Trump's introduction of steep tariffs.
Ocasio-Cortez shocked the world of Democratic politics in June when she unseated 10-term incumbent Representative Joe Crowley. Although many Republicans and some Democrats have branded her policy stances as too far left or ridiculed her for fully embracing her membership of the Democratic Socialists of America, she continues to defend the Bernie Sanders model of Medicare-for-all.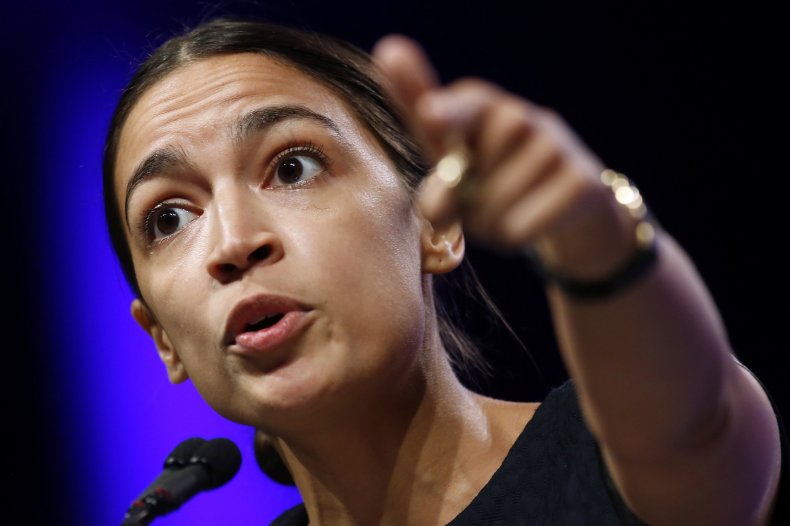 The Medicare-for-all model that Ocasio-Cortez and Sanders often tout would expand the government-funded healthcare to include everyone, not just those older than 65 years of age. Proponents say it would save money by ridding the system of middle-man insurance companies, lower administrative costs and allow the government to lower the cost of healthcare services. Opponents argue taxes could increase to pay for the expanded system and the costs of the program could outweigh the benefits to families.
A recent study by the Mercatus Center at George Mason University in Virginia, which receives money from two very well-known and wealthy conservative donors, the Koch brothers, found the Medicare-for-all plan that Sanders and Ocasio-Cortez advocate for would cost $32.6 trillion over the next 10 years.
Sanders and other Democrats have seized a part of the study that they claim proves the system would save $2 trillion compared to the country's current healthcare system. Those claims were found to be not entirely accurate because it "cherry-picked" parts of the report.