New York congressional candidate Alexandria Ocasio-Cortez has called on protesters rallying under the "Abolish ICE" banner to occupy border crossings, airports and Immigration and Customs Enforcement (ICE) offices across the country.
Ocasio-Cortez made the comments during an interview on Monday with Democracy Now's Amy Goodman, speaking alongside Barcelona Mayor Ada Colau.
Asked by Goodman about her decision to leave New York to join protests at the U.S.-Mexico border just days before the primary in which she defeated Democratic Representative Joseph Crowley in a stunning upset, Ocasio-Cortez said, "There is no convenient time" to "stand up against human rights violations."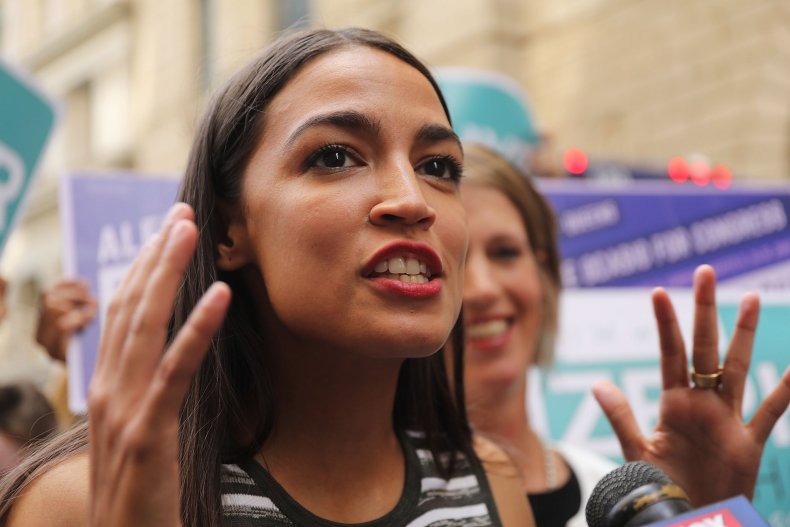 "I may have had a primary three days after I went down there, but we're not going to win if we don't stand for everything," Ocasio-Cortez said. "We have to show people that we're willing to walk the walk and put our money where our mouth is," she said.
"Our nation is in a moral crisis," the politician told Goodman, referring to the Trump administration's "zero tolerance" family separation practice, which saw nearly 3,000 migrant children separated from their families at the border before the practice was rescinded last month.
"Every day that we allow the continued violation of those children's rights is the day that I believe the moral character of the United States is at stake," Ocasio-Cortez said.
The politician said Americans who want to see ICE abolished have to "have a rapid response."
"We have to occupy all of it," she said. "We need to occupy every airport. We need to occupy every border. We need to occupy every ICE office until those kids are back with their parents, period."
The politician's comments come as the Trump administration races to reunite separated children with their parents ahead of a court-ordered July 26 deadline.
Ocasio-Cortez said that those who are opposed to the "Abolish ICE" campaign, do not understand ICE's role in the U.S. immigration system.
Related: Judge temporarily blocks Trump administration from deporting reunited families
"First of all, ICE is not [U.S. Customs and Border Protection,]" she said. "When we talk about abolishing ICE, we're talking about ending family detention. We're talking about ending an agency and ending a practice and a structure that is not accountable to the U.S. Department of Justice, that often takes on things that look a lot like enforcement activities," she said.
"So to have an enforcement agency that operates outside of the accountability of the Department of Justice, it's no surprise to see the violations of civil and human rights that we're seeing right now."
Ocasio-Cortez said that the movement to abolish ICE also represents "an implicit rejection of the current administration's policies," including its family separation policy.
On Monday, House GOP leaders quashed a contentious floor vote on a Democratic measure calling for ICE to be abolished.
Instead, the House is expected to vote on a resolution in support of ICE on Wednesday, according to The Hill.