Alexandria Ocasio-Cortez Says 'Seeds' of Republican Racism are Already Redwoods
Representative Alexandria Ocasio-Cortez criticized an editorial about Congressman Steve King's racist remarks.
On Sunday, the New York Congresswoman took aim at a Washington Post column titled "The GOP must stamp out the seeds of hatred before it's too late."
The editorial by Ethics and Public Policy Center senior fellow Henry Olsen said that the left has, for decades, falsely accused conservatives of being racist. Olsen argued that Republicans and conservatives must quickly denounce racists, calling for the political right to "uproot" seeds of racism, invoking the Civil War.
Ocasio-Cortez pushed back against the opinion piece, writing "out of the minority of seats they have in Congress, the GOP allowed a white supremacist to represent ~700,000 people. Republicans won't even censure him. They also protect a president who can't bring himself to condemn neo-Nazis. Those aren't seeds. They're redwoods."
The Congresswoman's comments were the latest in a firestorm that began when King's comments were published Thursday in a New York Times article.
The Iowa congressman asked in the piece "white nationalist, white supremacist, Western civilization — how did that language become offensive?"
He also commented on the record diversity of the 116th Congress, saying "you could look over there and think the Democratic Party is no country for white men."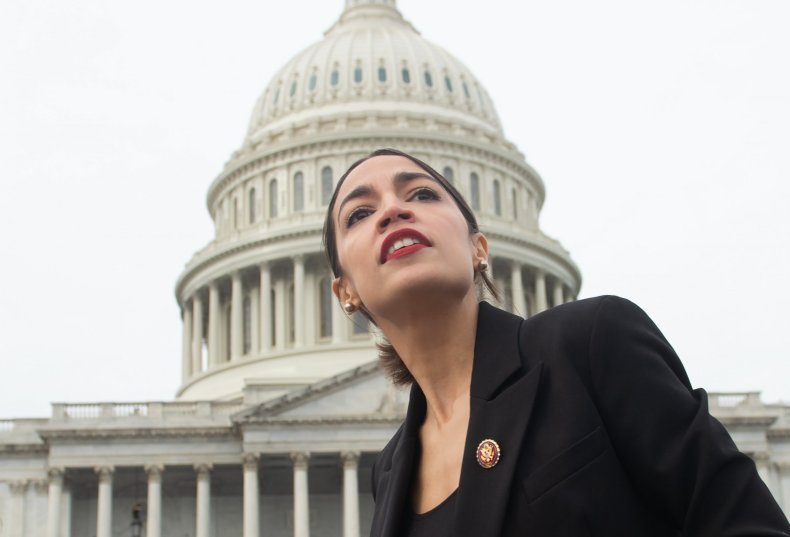 After the article was published, King said on the House floor that he rejects "those labels and the evil ideology that they define."
Critics of the Iowa lawmaker have noted that the remarks were not an anomaly. King has retweeted a prominent British neo-Nazi, said black people would be able to pay for abortions if they stopped purchasing iPhones and described DREAMERS as criminals, saying "for everyone who's a valedictorian, there's another 100 out there that weigh 130 pounds and they've got calves the size of cantaloupes because they're hauling 75 pounds of marijuana across the desert."
The Congressional Black Caucus said in a statement released Saturday that Republicans should move to meaningfully condemn King, who has served in Congress since 2003. The Iowa Congressman holds positions on the agriculture, small business and judiciary committees.
"If Republicans really believe these racist statements have no place in our government, then their party must offer more than shallow temporary statements of condemnation," the CBC tweeted. "Instead they must actually condemn Mr. King by removing him from his committee assignments so that he can no longer affect policies that impact the very people he has made it clear that he disdains."
Ocasio-Cortez has previously criticized coverage of King's remarks.
She lambasted a tweet from Washington Examiner senior political correspondent David Drucker, which referred to King's comments as "racially-tinged" remarks.
"At this point those who use the terms 'racially tinged' or 'racially charged' to describe white supremacy should be prepared to explain why they chose to employ those terms instead of 'racist"/"racism.' If the answer is their own discomfort, they're protecting the wrong people," she posted on Friday.