Ocean Skyline in Optical Illusion Is Actually Just an Ikea
A woman shared a beautiful view of what appears to be the ocean in a confusing optical illusion.
Julie Dean was driving in town, when she spotted what looked like an incredible shot of the sea on the horizon.
Dean, from L.A. shared a clip to TikTok, where she clarified it wasn't water in the distance at all.
"That is not the ocean guys. That's IKEA. I'm scared," she said.
The Swedish furniture store is known for its signature blue and yellow branding and façade, with the sheer size of the outlet making it appear as if the sea was in the distance.
While white structures on the roof, possibly vents or air conditioning units, added to the illusion by mimicking the appearance of boats on the water.
This was noticed by a few people, with Nickfabio1 writing: "Why did I think that white line was a cruise ship going past."
While Zabaglo added: "The white streak really looks like a boat in the distance."
To which Dean replied: "I did too 100%. It really does look like a boat."
The Ikea outlet was identified as the one in Burbank, with Dean captioning her video: "It was my first time."
She later shared her experience of navigating the flat-pack paradise, saying: "Honestly I didn't last haha it was too overwhelming and I got lost."
In a follow-up clip after her video went "viral," amassing nearly five million views in 24 hours, Dean said "shout out Ikea."
The illusion has baffled scores of people, who agreed they had to do a double take at the footage.
Mrs Bench commented: "Okay... wait. I literally had to watch this 2 times to understand. I 100% thought this was water."
Although Marcus Perez joked: "The beach and IKEA are equal amounts of a good time."
Jack Gwood suggested: "They should seriously just embrace it and put tiny boats at the top so it looks like they are sailing on the horizon."
GG admitted: "Omg I thought there was a boat cruising on the ocean and everything."
And AsIf added: "Omg how have I been to this same IKEA so many times and not noticed."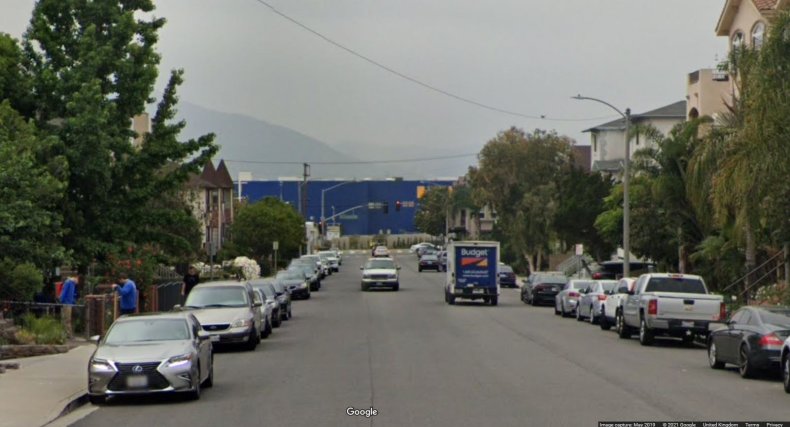 IKEA hit the headlines recently when a Swedish shopper translated all the furniture names into English.
TikTok user Hannahbgg shared the eye-opening clip online last month, after her other half, Fred, took a shopping trip.
She captioned it: "Our Duvet Cover is called Ground Onions."
Some interesting translations were a $299 "under cabinet range hood" called "utdragbar," which Fred explains translates to "pulling out function."
A $59.99 ceiling fan called "molnighet" means "cloud cover," while a $19.99 table lamp called "arstid" means "season" in English.
A $79 "poänng" armchair means "point," with Fred saying: "Like on point."
Sticking with the sitting theme, next Fred explains a $599 "friheten" sleeper sofa translates to "freedom."
A black 79c "färgrik" mug bizarrely means "colorful", as Fred notes: "This colorful cup."
Newsweek reached out to Dean for comment.