Now that Kylie Jenner has welcomed her second baby with partner Travis Scott, fans are eagerly awaiting the announcement of the bundle of joy's name.
On Sunday, the erstwhile Keeping Up with the Kardashians star, 24, took to her Instagram account to share a black-and-white photo of her baby's arm, adding her offspring's arrival date as February 2.
The addition of a blue heart in the caption indicated that the makeup mogul had welcomed a little brother for her daughter Stormi, who turned 4 one day before the baby's arrival. A representative for Jenner confirmed to People that she had welcomed a boy.
And while it could be days before the child's name is officially unveiled, gambling platforms Betfair and Paddy Power have given 4/1 odds on the couple choosing the relatively conventional name Robert for their child.
As fans of the famous California-based family know, Robert is the name of her brother, Robert Kardashian, who was named after his late father. The elder Kardashian, who passed away in 2003, shared Kourtney Kardashian, Kim Kardashian, Khloe Kardashian, and Robert Kardashian with Jenner's mother, Kris Jenner.
While the new mother's dad, Caitlyn Jenner, was given the names William Bruce at birth, neither moniker has made it onto the list of potential names offered by Betfair and Paddy Power. Kylie Jenner and her sister, Kendall Jenner, share the same two parents.
Should the parents choose to theme their son's name as a contrast to his big sister's, the name Sunny has been listed at odds of 7/1, making it the second favorite choice. Even grandma gets a potential nod, with Kris sitting further down the list at 12/1. Kristen, which is Kris Jenner's full first name, also happens to be Kylie Jenner's middle name.
Standing at odds of 12/1 is the name Jay, which could be a nod to the real name of his 30-year-old rapper dad Scott, who was born Jacques Bermon Webster II.
Given the family's penchant for unconventional names—North, Saint, Chicago, Psalm, and True are the monikers of just a few of the baby's cousins—Jesus and Prince have made it onto Betfair's list with odds of 20/1 and 14/1, respectively.
"Kylie Jenner has announced the birth of her second child with Travis Scott, and it's a baby boy," said Betfair spokesperson, Sam Rosbottom. "The world awaits an announcement of what the newest member of the Jenner and Kardashian family will be called, we make Robert the 4/1 favorite, while Sunny is 7/1.
"There's an outside chance of a Presidential name, with Abraham 12/1, while Barack and Theodore are 80/1."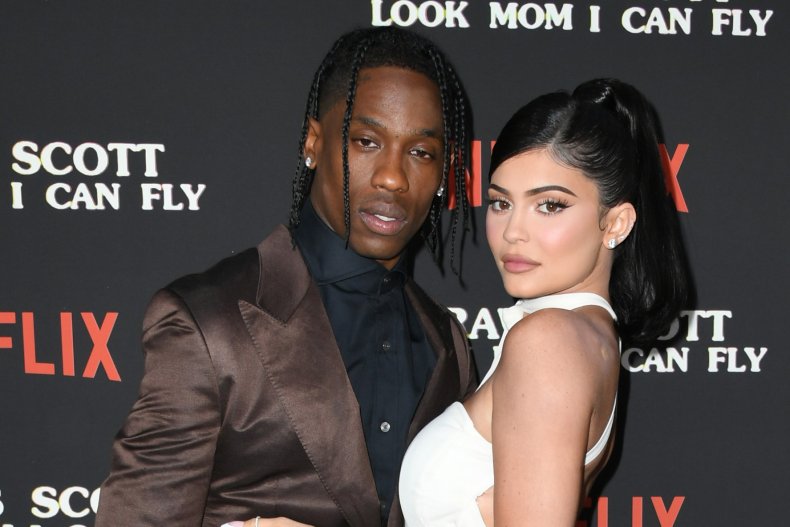 Paddy Power's list of odds is identical, though there is the addition of the names Houston, at 25/1 and Texas, at 50/1. Houston is Scott's hometown. It is also the scene of a deadly crowd stampede that occurred at one of his shows last year.
A Paddy Power spokesperson said: "The Kardashians might be the most famous family on the planet but finding out this kid's name before it's announced would be right up there with cracking the DaVinci code or disclosing the third secret of Fatima.
"Early on we have seen some bets on Houston (25/1) and Texas (50/1) with fans seemingly believing the couple might use their baby's name to pay tribute to the lives lost tragically at her partner Travis Scott's Astroworld concert. While others reading into her cryptic messages feel Angel (10/1) could be a likely runner."
Speculation has been rife that the baby could be called Angel, as a host of close friends and family members either used the word "angel" or added angel emojis in the comments section of Kylie Jenner's birth announcement.
Grandmother Kris Jenner wrote "Angel Pie," while big sister Kim Kardashian commented with two angel emojis and a blue heart.
Keeping the theme going, Kylie Jenner's close friend, Anastasia Karanikolaou, commented: "Angel Baby," while family friend Carter Gregory's comment also included angel emojis.
Kylie Jenner announced her pregnancy in September, via a 90-second video that showed her partner Scott hugging her before Stormi kissed her mother's stomach.
Ahead of the New Year, Kylie Jenner shared a photo of her hands crossed atop her baby bump as she reflected on the highs and lows of 2021.
"As 2022 is approaching i've been reflecting on this last year and the blessings that it brought but also the many heartaches it held," she wrote. "i will never forget this year and all the significant changes it made to my life.
"I pray this new year is filled with a lot of love for all of you and i hope everyone stays safe and healthy during this time."
The baby's arrival comes as Scott faces a plethora of lawsuits, after 10 attendees died and hundreds more were left injured when a crowd surge led to a deadly stampede at his Astroworld Festival in Houston, Texas, on November 5.
In December, Scott sat down for his first interview about the tragedy, saying that the series of events left him on an "emotional rollercoaster."
"I've been on different types of emotions, an emotional rollercoaster," Scott told Charlamagne tha God. "It gets so hard because I always feel connected to my fans, and I went through something and my fans went through something and people's parents went through something and it really hurts.
"It really hurts the community, it hurts the city. It's just been a lot of thoughts, a lot of feelings, a lot of grieving, and just trying to wrap my head around it."