Travis Scott has revealed that the deaths of multiple fans at his Astroworld Festival in November have put him on an "emotional rollercoaster."
Ten attendees died and hundreds were injured after a crowd surge toward the stage caused a deadly stampede at the NRG Stadium in Houston on November 5.
In the aftermath of the tragedy, festival headliner Scott has been named in almost 300 lawsuits, along with the event organizers and fellow rapper Drake.
Sitting down for his first interview since the events unfolded, Scott told Charlamagne Tha God that he's been "trying to wrap [his] head around" the tragedy.
"I've been on different types of emotions, an emotional rollercoaster," Scott said in the interview, which was posted to YouTube on Thursday. "It gets so hard because I always feel connected to my fans, and I went through something and my fans went through something and people's parents went through something and it really hurts.
"It really hurts the community, it hurts the city. It's just been a lot of thoughts, a lot of feelings, a lot of grieving, and just trying to wrap my head around it."
Crowd Welfare
Recounting his personal experience of the fateful day in question, Houston native Scott—real name Jacques Bermon Webster II—told his interviewer that he was unaware that people in the crowd were dying or seriously injured until the show was over.
"I didn't know the exact details until minutes before the press conference [after I had performed]," he said. "And even at that moment you're like, 'Wait, what?' People pass out, things happen at concerts, but something like that..."
Video footage posted online soon after the event showed Scott briefly pausing his performance to check on the crowd, something the musician insists he would always do.
"It's so crazy because I'm that artist, too—anytime you can hear something like that, you want to stop the show," he said. "You want to make sure fans get the proper attention they need. Anytime I could see anything like that, I did.
"I stopped it a couple times to just make sure everybody was OK. And I really just go off the fans' energy as a collective—call and response. I just didn't hear that."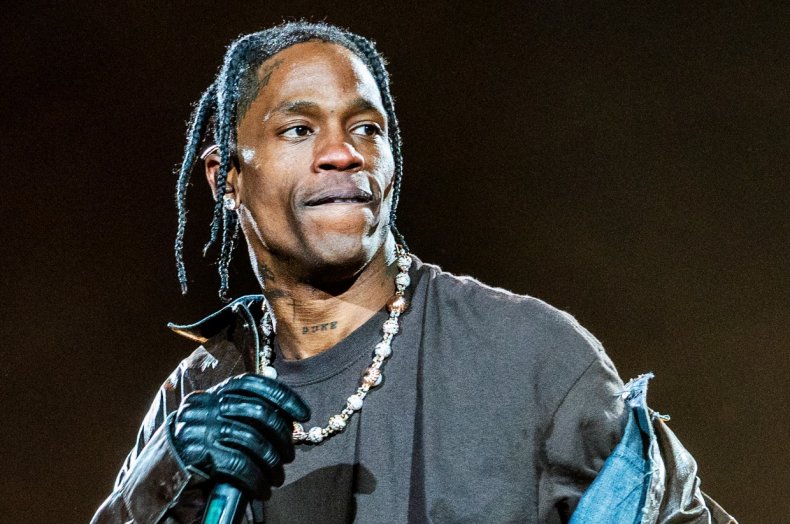 Scott went on to cite his position on the stage, the lighting, pyrotechnics, volume of music and the band as contributing to his difficulty in grasping the extent of what was taking place amid the 50,000-strong crowd.
"You can only help what you can see and whatever you're told, whenever they tell you to stop, you stop," he explained.
Following the concert, Scott and Drake were hit with a lawsuit, in which they were accused of "inciting the crowd" in the moments leading up to the stampede.
Culture of "Raging"
While Scott is known for encouraging "raging"—or raucous behavior—at his shows, he said that the crowd at Astroworld appeared no different to previous audiences.
"That's something I've been working on for a while, is creating these experiences and trying to show these experiences are happening in a safe environment," he said. "Us as artists, we trust professionals for when things happen that people can leave safely.
"And this night was just like a regular show, it felt like to me, as far as the energy. It didn't feel like, you know... people didn't show up there just to be harmful. People just showed up to have a good time and then something unfortunate happened and I think we really just got to figure out what that was."
"'Raging'... there's not a textbook definition," he went on. "But in concerts we've grown it to be just the experience of fun. It's not about just... harm. It's not about that. It's about letting go and having fun, help others and love each other."
Soon after the festival, Scott said in a statement shared on social media that he was "absolutely devastated" by the tragic events that had unfolded.
"My prayers go out to the families and all those impacted by what happened at Astroworld Festival," he said. "Houston PD has my total support as they continue to look into the tragic loss of life.
"I am committed to working together with the Houston community to heal and support the families in need. Thank you to Houston PD, Fire Department and NRG Park for their immediate response and support. Love you all."
Scott has since continued to face scrutiny and criticism, a factor he told Charlamagne Tha God, real name Lenard Larry McKelvey, was inevitable, given that he was the headliner.
Face of the Festival
"I'm the face of the festival, I'm the artist, so the media wants to put it on me," Scott said. "But at the end of the day I don't think it's more so about that, it's more so about stepping up to figure out what the problem is. And I could take that. I could take stepping out to figure out what the problem is, I could take stepping up to figure out what the solution is so that it never happened again."
During his interview, Scott also addressed the news that a number of families of the deceased had rejected his offer to cover their funeral costs.
"All things are understandable," he said. "At a time where they're grieving and trying to find understanding and they want answers. It's not about that. I'm always gonna be here to want to help them. I got to continue to show up for that."
Scott's interview comes days after he responded to a batch of lawsuits filed against him, denying all allegations and requesting, via his lawyers, that the claims be dismissed.