Travis Scott's history of inciting chaos at concerts is being reexamined in the aftermath of the fatal crush at the rapper's AstroWorld Festival in Houston, Texas on Friday.
At least eight people lost their lives with hundreds more reportedly injured during the "Goosebumps" rapper's set at the NRG Park stadium.
Criminal investigations into the deadly crowd surge remain ongoing as authorities work to determine the cause of the crush.
"The crowd for whatever reason began to push and surge towards the front of the stage, which caused the people in the front to be compressed—they were unable to escape that situation," Houston Fire Chief Sam Peña told CNN.
Harrowing scenes from the event have been circulating widely on social media over the past two days that show people struggling to escape the crush and pleading with Scott himself as well as some festival personnel to stop the show.
The 30-year-old rapper is reported to have paused the show at least three times but other footage appears to show him dismissing safety warnings.
Scott has now been sued by an AstroWorld attendee, who has accused the rapper of "inciting" the crowd before the deadly crush.
"There's a criminal investigation underway at this point in time," Houston Mayor Sylvester Turner said adding that "a detailed review of everything that has taken place. It will take probably weeks if not longer, and I'm sure that what took place will be looked at from many different angles, as well as it should."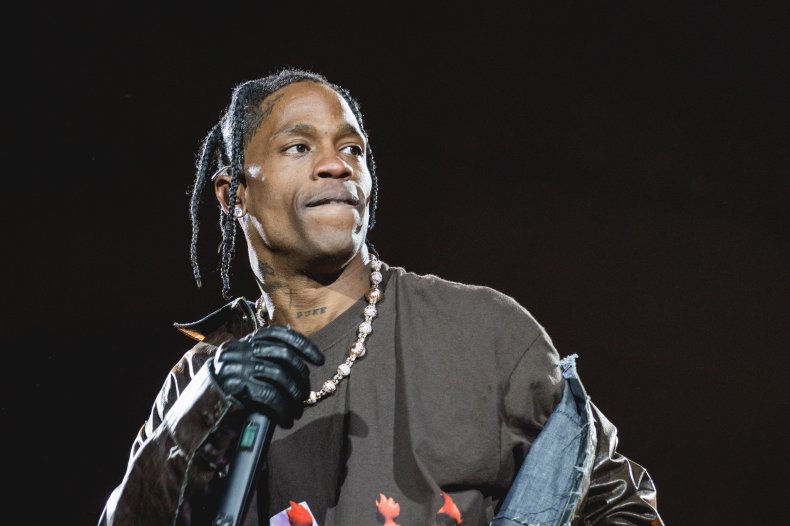 Scott—whose given name is Jacques Bermon Webster II—is well known for his high-energy concerts which often see fans engaging in mosh pits and crowd surfing and he has a history of arrests for inciting riots at concerts.
In 2017 he was arrested and accused of inviting fans to bypass security and rush the stage at a show at the Walmart Arkansas Music Pavilion in Rogers in Arkansas.
The rapper faced three misdemeanor charges of inciting a riot, disorderly conduct and endangering the welfare of a minor at the time, according to the Los Angeles Times.
He had to pay more than $6,000 to two people who were injured at the gig and pleaded guilty to disorderly conduct.
While in 2015, he pleaded guilty to reckless conduct charges following a 2015 incident at the Lollapalooza music festival in Chicago.
His set only last five minutes before being cut short and police intervening.
Footage from the show shows Scott saying: "Middle finger up to security right now." Before leading the crowd in a chant of "We want rage."
Scott plead guilty on this occasion and was placed under court supervision for a year.
The issue was covered on Scott's Netflix documentary, Look Mom I Can Fly.
Ahead of AstroWorld this weekend, officials actually visited Scott before his set to share their concerns about the crowd at the festival.
The New York Times reports that Houston police chief Troy Finner visited Scott personally in his trailer to warn that the crowd was out of hand.
Newsweek has reached out to Scott's representatives for comment.