Off-Duty Officer Went Into School During Uvalde Shooting to Find Daughter
An off-duty Border Patrol officer rushed to Robb Elementary School on Tuesday in Uvalde, Texas, to find his daughter during the mass shooting that killed 19 students and two teachers.
Jacob Albarado was getting a haircut before he received a text from his wife Trisha, which read that "there's an active shooter," The New York Times reported Thursday. His wife, who worked as a fourth-grade teacher at the school, then sent him other text messages that read "Help" and "I love you."
Albarado then ran over to the school where his wife and her students hid under desks and behind curtains in order to protect themselves from gunfire. Meanwhile, their second-grade daughter Jayda locked herself inside the school's bathroom.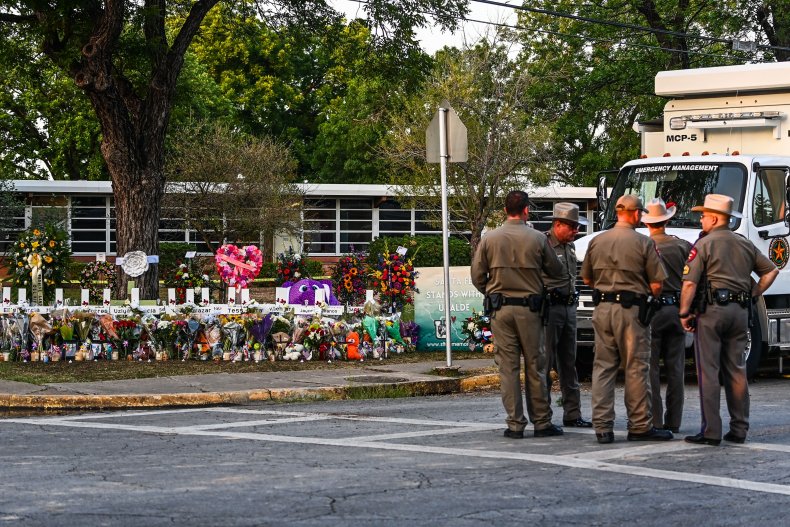 As authorities were forming a tactical team to enter the area where the 18-year-old shooter Salvador Ramos was barricaded, Albarado prepared a plan with officers to evacuate the children, according to the Times.
Albarado armed himself with a shotgun that his barber had given him before he left and led his colleagues towards the wing inside the school where his daughter's classroom was.
"I'm looking for my daughter, but I also know what wing she's in," he said, according to the Times. "So I start clearing all the classes in her wing."
The off-duty officer was covered by his colleagues as two other officers guided children out on the sidewalk, according to Albarado, who said that dozens of children and their teachers were screaming while they were led out of the school. "They were just all hysterical, of course," he said.
Albarado then saw his 8-year-old daughter and hugged her, but still continued to help evacuate other children, adding, "I did what I was trained to do."
The tactical team eventually went into the classroom where Ramos was and fatally shot him. The teen used two AR-15 style rifles that he legally purchased on his birthday a few days ago to commit the mass murders.
Police Are Criticized for Their Response
Meanwhile, police were criticized by a number of residents online for taking a long time to enter the school to prevent Ramos from killing more people, who entered the school at 11:40 a.m. Police arrived at the scene around four minutes later, however, the teen was shot and killed at 1 p.m.
"Why did it take over 1h to go in? How many lives could have been saved," a Wilmington resident wrote on the Facebook profile of the Uvalde Police Department.
However, Lieutenant Chris Olivarez from the Texas Department of Public Safety, said Thursday that officers took an hour "before the gunman was neutralized" because it was an active shooter situation.
According to the lieutenant, officers could have been shot and killed "if they proceeded further without knowing where this suspect was" inside the school.
"The American people need to understand that officers are making entry into this building. They do not know where this gunman is," Olivarez said. "...At that point, that gunman would have had an opportunity to kill other people inside that school. So, they were able to contain that gunman inside that classroom so that he was not able to go to any other portions of the school to commit any other killings."