What Gun Was Used In Texas School Shooting? Weapon Type Explained
The Ulvade Texas School Shooting has officially been declared the largest mass shooting to occur in a school since the massacre that unfolded at Sandy Hook.
Calls for tighter gun control and new gun legislation are being made by republicans and democrats, as well as celebrities such as Chris Evans and Golden State Warrior's coach Steve Kerr.
Whether it is background checks or the red flag law, the Senate is discussing what can be done in the aftermath of this shooting, despite 10 years of inaction in terms of gun legislation.
Many have also pointed out the disparity in U.S. legislation, namely how the shooter, Salvador Ramos, wasn't legally allowed to buy beer, but he could purchase firearms.
In fact, Ramos did it as soon as he was of legal age, ​​"it was the first thing that he did on his 18th birthday," Gutierrez said, as reported by NBC.
What Gun Was Used in The Texas School Shooting?
An AR-15 rifle was used, as well as a handgun, and the shooter bought two rifles, just two days before the massacre unfolded.
AR-15 weapons have become increasingly popular since 2004, which was when a ban on federal assault weapons in the U.S. ended.
According to the National Shooting Sports Foundation (NSSF), one in every five firearms bought in the U.S. is an AR-type rifle.
An AR-15 is a semi-automatic rifle, which was developed in the late 1950s by a former Marine. The firearm has been repeatedly used in mass shootings over the years, including San Bernardino, Las Vegas and Sandy Hook.
The weapon is largely distributed in the U.S. According to ABC News, there are more than 20 million AR-15-style rifles legally circulating in the U.S.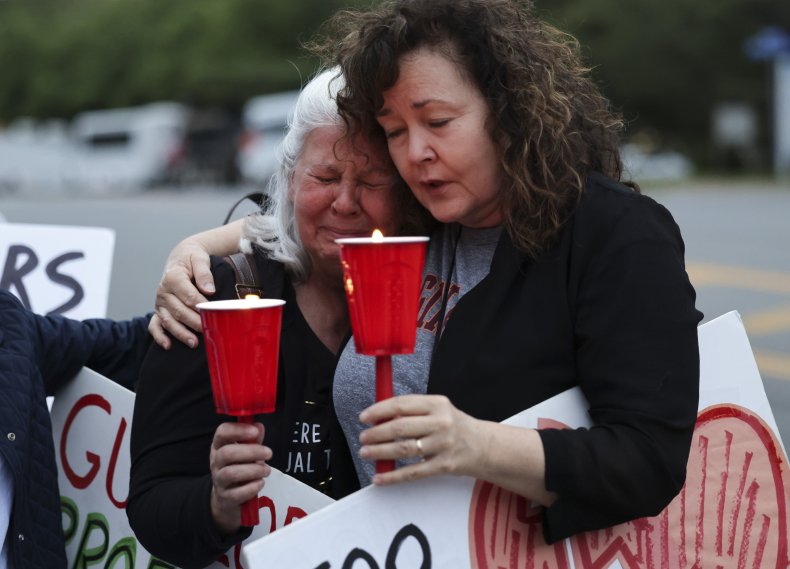 It also has a feature that prevents ammunition jams, and in a state such as Texas, you can openly carry rifles in public without a permit, meaning you can legally carry a military-grade weapon such as the AR-15.
What Is a Handgun?
A handgun is a short-range firearm that can be used and held with one hand.
The most common types of handguns are revolvers and semi-automatic pistols, although other handgun types such as derringers and machine pistols are also common.
The shooter was reportedly armed with an AR-15 as well as a handgun, and wore body armor during the massacre, despite his efforts to survive the slaughter he unleashed on children, he was killed by policemen at the scene.
Correction 5/32/22 11:00 a.m. ET: This article originally stated the AR-15 is most commonly used in the military. The AR-15 is a semiautomatic version of the M-16 rifle used by the military and has been primarily sold to law enforcement and the public. Newsweek regrets the error.