'The Offer' Trailer on Paramount+ Reveals Drama Behind 'The Godfather'
Fans of The Godfather will be excited to get a first look at the trailer for the upcoming Paramount+ show The Offer.
The real-life drama behind the making of one of the best movies of all time is dramatized in The Offer with the likes of Miles Teller, Juno Temple, Colin Hanks and Giovanni Ribisi starring in lead roles.
As well as the first trailer, Paramount+ also released the key art and still images, giving hints as to what to expect from this highly anticipated show.
The story about "The Greatest Movie Almost Never Made" is scheduled to premiere on the streaming service next month.
For more information about what to expect and how to watch The Offer, keep scrolling.
The Offer Trailer
Released on Wednesday March 23, The Offer trailer reveals the real life drama and mafia involvement behind the making of The Godfather.
Paramount+ describe the story as following "Oscar-winning producer Albert S. Ruddy's extraordinary, never-before-seen experiences of making The Godfather."
Straight off in the trailer, we are shown how Hollywood producer Ruddy is tasked with creating a movie adaptation of the book The Godfather by Mario Puzo.
It then shows how he recruits the likes of director Frances Ford Coppola to direct, as well as actor Marlon Brando.
There's also a glimpse of how the mafia got involved and almost stopped The Godfather from being made.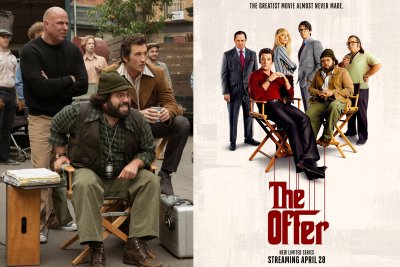 Who Stars in The Offer?
Whiplash star Miles Teller is fronting the upcoming limited series, playing producer Albert S. Ruddy. He's joined in the cast by Ted Lasso's Juno Temple who will play Bettye McCartt.
Elsewhere, Matthew Goode (Watchmen) plays studio executive Robert Evans while Dan Fogler (The Walking Dead) plays the Oscar-winning director Francis Ford Coppola. Patrick Gallo (The Irishman) plays the writer of the book and co-writer of the screenplay Mario Puzo.
Burn Gorman (Game of Thrones) plays Charles Bluhdorn, Colin Hanks (King Kong) appears as Barry Lapidus while Giovanni Ribisi (Sneaky Pete) plays real life mafia member Joe Colombo.
The actors playing recognizable faces includes Justin Chambers as Marlon Brando, Frank John Hughes as Frank Sinatra and Anthony Ippolito as Al Pacino.
The Offer has been created and written by Michael Tolkin (The Player) while British filmmaker Dexter Fletcher (Rocketman) executive produces and directs a batch of episodes.
When Can I Watch The Offer?
The Offer launches exclusively on Paramount+ on Thursday, April 28, 2022. The first three episodes will be available to watch from day one with each subsequent episode of the 10-part season will air weekly every Thursday.
The show's finale will air on Thursday, June 16, 2022.
The Offer will be available on Paramount+ in America but it will also be exclusively available on the streaming service in Canada, Latin America, the Nordics and Australia too.