Officer Who Bodyslammed Black Girl Should Be Fired—Attorney
A 16-year-old Black girl who was seen on video being bodyslammed by a school resource officer is too afraid to return to school, her family's attorney said, while the officer remains on duty.
Mikaila Robinson was detained by the officer inside Lancaster High School in California's Antelope Valley on August 30. Video captured by a bystander showed her yelling as she was pinned down by the officer.
Lisa Bloom, a civil rights attorney representing the Robinson family, said the girl is studying independently from home. "She's not going anymore. She's doing independent study at home because she went back to school after this incident and this officer continued to verbally harass her," Bloom told Newsweek.
"She just felt very uncomfortable and very threatened by him. So why is he there, and she's not even comfortable enough to be there in her own school?"
Bloom, the Robinson family and supporters are calling for the Los Angeles County Sheriff's Department, which provides police services for school campuses in the area, to fire the officer. "He should be suspended, removed from the job pending the investigation," she added.
Bloom said the LASD had not directly responded to her requests for information. "What we have heard has all been kind of secondhand," she said.
Local activists who met with an LASD captain said the department claimed Robinson had been threatening, Bloom said.
"It seems to me that their story has been inconsistent," she added. "We were lucky enough to get statements of a couple of witnesses so we will have more clarity as to what happened. Those witness statements were entirely consistent with what Mikaila said, which is that she wasn't threatening anyone. At worst, she was walking away, she wanted to call her mother."
Bloom said she spoke to other concerned parents at a rally outside the school last week. "Parents are afraid to send their kids to school at this point, so he absolutely should be suspended pending investigation," she said.
"One of the parents who spoke said his 14-year-old son is 6 feet tall, African American, and he knows that's the kind of young man who's often perceived as a threat, even when he's not."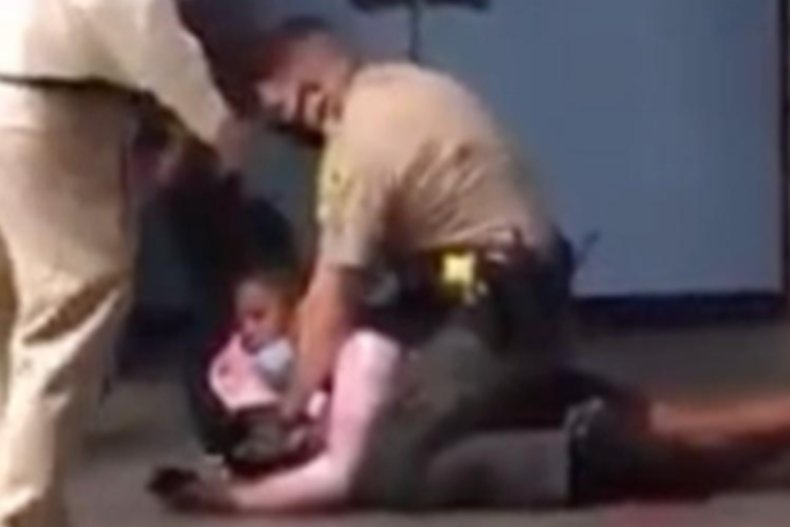 She added that several people at the rally pointed out the officer who detained Robinson to her. "He was there, kind of off in the distance in his security vehicle," she added.
Bloom said she will mount legal action on Robinson's behalf "fairly soon," adding: "All options remain open, and we will be very aggressive in standing up for the rights of Mikaila."
She also explained why she was backing a campaign calling for the Antelope Valley Union High School District to cancel its contract, worth around $1.7 million a year, with the LASD.
A "vastly disproportionate" number of incidents involving school resource officers involve Black students, she said.
"That reason alone is reason enough to get police out of the schools," she said. "That money would be so much better spent on mental health counseling and helping kids."
After the incident, Robinson was taken to juvenile hall and not allowed to call her mother, Bloom said. "She was handcuffed like a criminal... this has a lasting profound impact on a child," she added.
Like so many other students, Robinson had been looking forward to returning to school after remote learning during the COVID-19 pandemic. "Now she's not having that opportunity," Bloom said.
"So Cancel the Contract is a very important campaign," she continued, urging any students who have been mistreated by school resource officers to contact her office.
"These are David-and-Goliath fights, so evidence and witnesses are essential," she said. "I encourage people to continue to reach out to us and stand with us."
When asked for comment, the LASD pointed to its previous statement about the incident saying the officer had detained Robinson because she "physically resisted."
"During the incident a School Resource Deputy is attempting to detain a juvenile student in relation to a criminal complaint," the statement said. "The juvenile physically resisted the detention and the School Resource Deputy uses force to effect the detention and take the juvenile in to custody."
It added: "As a result of the interaction, the Sheriff's Department has directed an in-depth review of the policy and tactics which were used during the incident. We will thoroughly review our actions related to this incident and take appropriate action.
"The Sheriff's Department has been working in partnership with the Antelope Valley Union High School District for several years with the continuing goal of providing a safe environment for all involved in the learning process."
The school district has been contacted for comment.