Students and Teachers Fight to Kick Cops Out of Schools in California's Antelope Valley
Corey Dozier felt like he had a target on his back during his years at Antelope Valley High School in California.
"Being a young Black man on campus, I felt targeted" by school resource officers (SROs) on campus, the 18-year-old told Newsweek. "It feels like you're not protected and they're there to protect."
His 17-year-old brother Koby, a senior at the school, added: "No kids want to go to school and feel unsafe because of the police officer."
The brothers spoke in support of a campaign—Cancel the Contract Antelope Valley—by a coalition of community groups who are calling on the Antelope Valley Union High School District to cancel its contract, worth around $1.7 million a year, with the Los Angeles County Sheriff's Department (LASD) and reinvest those dollars in trained counselers and other school services.
The school district did not respond to Newsweek's request for comment. In a statement to Newsweek, a spokesperson for the LASD said the district "overwhelmingly approved and renewed the contract for the new year. This was evidenced by the fact both communities voted in increased sales tax to support public safety (Palmdale – Measure AV; Lancaster – Measure LC), in November 2020."
The Cancel the Contract campaign, launched earlier this year, came amid growing frustration over the lack of change several years after the LASD agreed to implement measures to improve policing in Antelope Valley.
The U.S. Department of Justice in 2015 settled a lawsuit against the cities of Palmdale and Lancaster and the sheriff's department over housing discrimination and constitutional rights violations against Black and Latino residents.
But monitors overseeing the agreement found little progress have been made on reforms in areas such as use-of-force policy, community engagement and the handling of public complaints, the Los Angeles Times reported earlier this year.
Last year's police killing of Michael Thomas, a disabled 61-year-old Black man, in Lancaster as well as the death of Robert Fuller, a Black man who was found hanging from a tree in Palmdale in an incident that was ruled a suicide, prompted outrage in the region.
And in the wake of a national reckoning on policing following the murder of George Floyd last year, there have been increased calls in communities across the U.S. to reform or defund police departments.
Police presence in schools across America
In the Antelope Valley, campaigners believe getting law enforcement out of schools is a first step to improving community safety—and believe their campaign could have an impact on schools nationwide.
It's not clear how many police officers or SROs are working in schools across the U.S. But the latest data from the National Center for Education Statistics found 61 percent of public schools reported having at least one security member (including security guards, security personnel, SROs and sworn law enforcement officer who isn't an SRO) present at least once a week during the 2017-2018 academic year—a figure that was up from 42 percent in 2005-2006.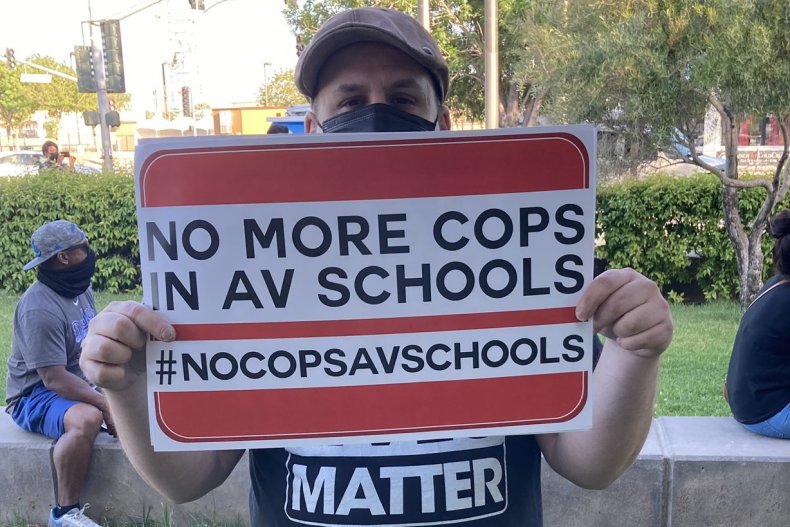 Meanwhile, the National Association of School Resource Officers estimates that around 20 percent of all K-12 schools, both public and private, are served by school resource officers.
But as well as getting police officers out of schools, campaigners are also demanding that the cities of Palmdale and Lancaster cancel their contracts with the sheriff's department and divert the funds to social services, and for California officials to open a civil rights investigation into the "historical and ongoing state violence and white supremacist activists" in the Antelope Valley.
"We want to get cops out of out of schools, but also we want to bring awareness around the injustices that exists in Lancaster, Palmdale, the Antelope Valley," campaign co-ordinator Christian Green told Newsweek. "The ideas surrounding white supremacy, and how those ideals are always perpetuated within our systems, specifically our educational system."
White supremacy is prevalent in Antelope Valley, added Beth Cayetano, a campaign co-chair who is also a teacher at Antelope Valley High School. "You can literally drive around and there's Confederate flags," she told Newsweek.
Cayetano and others spoke about the detrimental effect the presence of police on school campuses is having on students, particularly students of color and those who are vulnerable, and how the continued policing of children is contributing to the school-to-prison pipeline.
"It can be traumatizing"
The coalition's research on law enforcement in Antelope Valley schools found Black and Latinx students were searched by police more than students in every other racial or ethnic group combined, and that Black students received a third of the referrals to police officers.
"It can be traumatizing," said 17-year-old Faith Morales, who until recently attended SOAR High School in Lancaster. "My friends of color would get in trouble for certain things that my white peers wouldn't. It's heartbreaking to see because there are so many of these confused kids wondering why their treatment is so harsh over something so small, or over nothing at all."
Cayetano, who attended Antelope Valley High School before becoming a teacher there, said having police on campus gives students of color the impression that they're "viewed as less in society."
"They're saying, these kids are not going to amount to anything," she added. "So as an educator who came out of this school, I definitely want to help change that perception."
Teachers said Antelope Valley High School has a vulnerable student population, many of whom live in foster care or have parents who are incarcerated.
Some students at the school are undocumented immigrants, Cayetano added, and seeing a police officer on campus "instils a fear" in them. "I want schools to be a place where students come and learn," she said. "And a lot of the times, that's not what's happening.
"A kid might be going through a mental health episode, or they're having a bad day, and right away, they pin them down, and they're arresting them."
Barron Gardner, a Black teacher at Antelope Valley High School, told Newsweek about an incident where a special education student "was acting out and needed to be talked down, but ended up with a police officer's knee in his back."
"These things happen," Gardner said, but he doesn't believe them to be the crux of the problem.
"It creates a certain type of culture on campus when you have armed uniformed police officer on campus," he said, even though the officers "don't do much."
"It creates a culture for the students, that they are going to be policed," he added. "Is this how we want to deal with this population, with police? Is this how we want to deal with these issues?"
Cayetano added: "Having someone there who's experienced with dealing with these mental issues and calming down a kid, those are the types of things that need to be integrated into the schools, not more cops. They're not really trained to deal with students that way."
Gardner said most incidents that officers respond to on campus involve fighting or narcotics possession. "How many of those instances was it necessary to have a sheriff on campus?" he asked.
"This is not a radical demand," he added. "The data suggests that there is no need for cops on campus. The data suggests that our most vulnerable students are going to be the ones who are targeted and who are arrested."
Cayetano and Gardner also hit back at the suggestion that police officers on campus are necessary to respond to school shootings.
"We already have a security team on campus," Cayetano said. "The data shows that having an SRO on campus doesn't stop school shootings from happening. So that to me, that's not a valid case for having an SRO on campus."
Gardner added: "I looked at the contract, there is nothing in the contract that says anything about protecting students, or providing safety to students. It's simply not their job to protect the students… That begs the question, what the hell are they there for?"