Officers Intercept Football Packed with Marijuana, Crystal Meth Outside Prison Yard
Officers at a North Carolina prison found a football packed with tobacco, marijuana, and crystal meth, officials said.
A Facebook post shared by the North Carolina Department of Public Safety showed a photo of the football cut open along the stitching. Next to it are two grocery bags packed full of loose tobacco, a baggie of marijuana, and a tennis ball cut open to reveal a bag of crystal meth.
"Interception!" the post reads. "Morrison Correctional Institution staff last week spotted a football out-of-bounds between the facility's inner and outer fences. Concealed inside were tobacco, marijuana, and crystal meth. Investigators were able to link the failed delivery to an offender. #NotOnMyWatch"
#NotOnMyWatch is a weekly social media series by the NCDPS which highlights seized contraband from various facility staff. Past intercepted contraband includes jugs of homemade wine, cell phones, various drugs and packs of tobacco.
The officers first discovered the football lying between the inner and outer prison fence and noticed something off about the situation.
"If you look at past Not on My Watch installments, you'll find we intercept quite a bit of contraband that someone threw over our fences," an officer told Newsweek in an email statement. To prevent these types of incidents the fencing has been raised and netting has been installed at several facilities, according to NCDPS.
Staffers at the Morrison Correctional Institution in Hoffman, North Carolina, grabbed the football and cut it open to discover the illegal contents. Officers said they were able to link the failed drug delivery back to an offender currently serving time in the prison, according to police.
"An initial investigation linked the contraband to its intended recipient, an offender assigned to Morrison CI," an officer told Newsweek. "Because the offender was not in possession of the contraband, no charges were filed. The investigation is ongoing."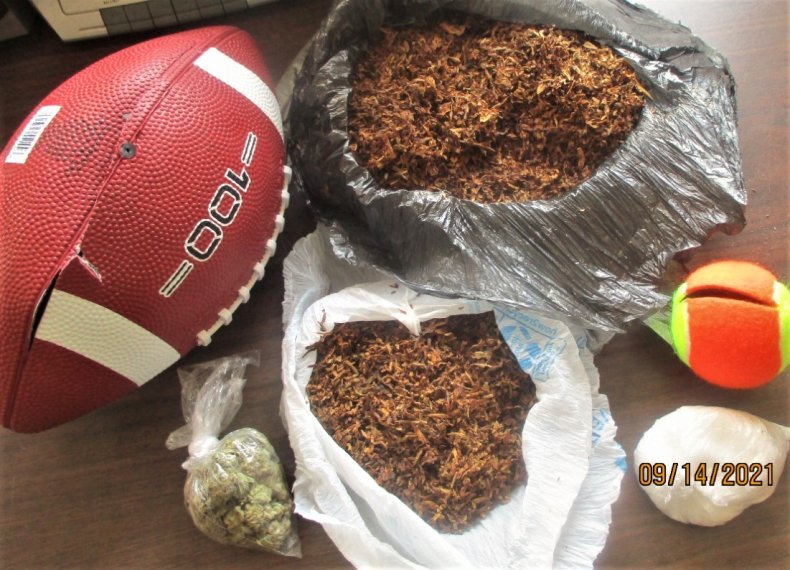 Earlier this month, Newsweek reported on a female inmate in southern California who used the jailhouse phone to help a man smuggle a drone full of drugs into the jail. The drone crashed during the attempt and was found in the grass area inside the jail. It was confiscated by an inmate worker.
Inside the drone, police found heroin, muscle relaxers, Xanax, and methamphetamine. The man flying the drone, 41-year-old Chey Cody Smart, was allegedly using a false identity and faced numerous charges including a felony count of smuggling controlled substances into a correctional facility and one felony count of conspiracy to commit a crime, according to authorities.
The inmate, 30-year-old Megan Donovan, has a previous conviction for attempting to smuggle drugs into a correctional facility and is currently facing similar charges.
"Criminals are becoming increasingly creative in their attempts to smuggle drugs into correctional facilities," Orange County District Attorney Todd Spitzer said in a statement. "Bringing drugs into a custodial setting is not only illegal, it puts the lives of inmates at risk and jeopardizes the safety of the deputies and other staff who work in those facilities."