Officials Decry Law Enforcement Failure in Capitol Riot, Suspect 'Organized Hierarchical Plot'
Federal law enforcement agencies failed to secure the U.S. Capitol ahead of a riotous siege laid by pro-President Donald Trump protesters that included far-right elements who managed to storm the iconic building.
Now officials are demanding that those agencies must step up and pursue those responsible for this unprecedented assault on the hallowed halls of democracy.
Clashes between demonstrators and security forces within and on the grounds of the Capitol Building left at least four dead and dozens more injured. It marks a bloody start to 2021 and a deadly departure for the Trump administration. Despite the president's long-running refusal to recognize his electoral loss to President-elect Joe Biden that led to the subsequent mayhem, legislative efforts to certify the election carried through, and Biden was set to take office in less than two weeks.
But many officials, including those who once received Trump's confidence as part of his administration, feel the damage lingers.
Speaking to Newsweek, former Department of Homeland Security Assistant Secretary for Infrastructure Protection Brian Harrell said federal law enforcement was well aware that a sizable and volatile crowd was set to descend on the capital Wednesday, yet did not take the necessary precautions.
"We all knew that tens of thousands of extremists would converge on DC Wednesday, so there's no excuse for the resourcing failure," Harrell said. "Law enforcement was ill-prepared for an event the entire country knew was coming, and one that POTUS has been signaling for weeks."
Harrell, who was appointed by Trump in November 2018 and resigned last August, said even standard security measures were not in place.
"The normal 'layers of security,' with each inner layer being tougher to breach, was nearly non-existent," he told Newsweek. "It's shocking that, in a post-9/11 world, we witnessed the 'people's house' be breached and ransacked with ease."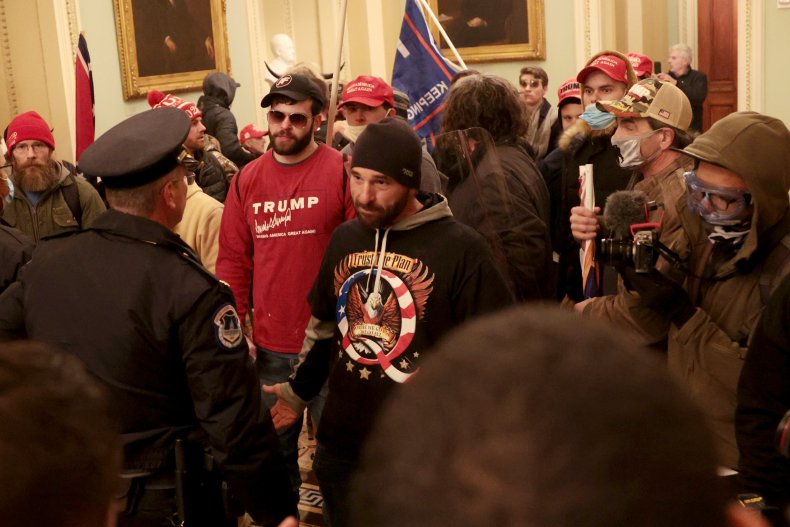 In the two decades since nearly 3,000 people were killed in the 9/11 attacks by the Islamist militant group Al-Qaeda—a number eclipsed by the 4,000 who died on Thursday from COVID-19—extensive security measures have been employed to rout out potential terrorist plots in the country.
The military capabilities of the U.S. government at home were seen in full force over the summer when the Black Lives Matter movement and others took to the streets of D.C. in protest over the police killing of George Floyd, a Black man, at the hands of a white police officer in Minnesota. Federal paramilitary personnel including elite border units were also deployed across the country in cities like Portland and Seattle amid violent protests in response to Floyd's death.
The defense at the very steps of the U.S. Capitol on Wednesday, on the other hand, appeared woefully unprepared as masses of protesters, many adorned in pro-Trump paraphernalia and some bearing white nationalist symbols, overpowered Capitol Police to force their way into the building. Once inside, some were seen calmly walking through the very chambers where lawmakers just moments before were counting electoral votes before being forced to take shelter under their chairs, some donning gas masks.
Groups identified as taking part in the Capitol siege include the far-right Proud Boys, known for their open embrace of violence, and militia groups like the Three Percenters and Oathkeepers. Also present were proponents of the QAnon conspiracy theory.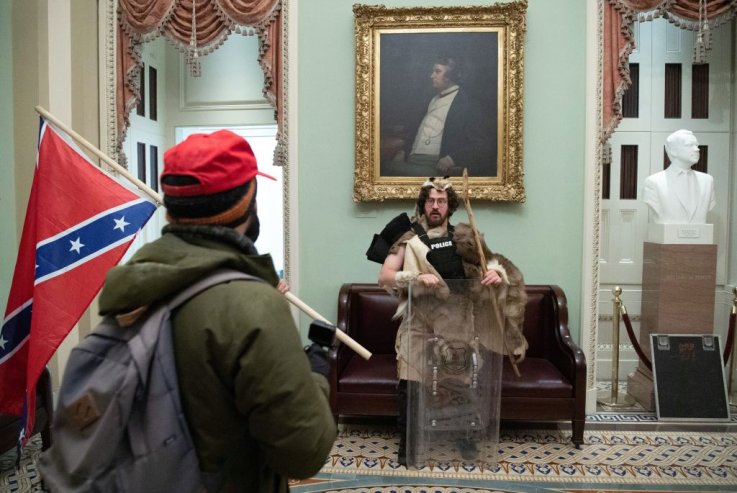 Supporters of President Donald Trump who broke into the U.S. Capitol Rotunda on January 6 in Washington, D.C.
SAUL LOEB/AFP/Getty
A law enforcement official familiar with a number of the groups that participated in the demonstrations said their past actions, which have often exhibited pro-law enforcement tendencies, likely dictated the behavior of federal officers on the scene.
"Historically, while there are very violent factions on the edges of this group, the folks who have supported the president, in general, have been very pro-law enforcement and very much about law and order," the official told Newsweek.
Asked whether the response Wednesday was inadequate, the official said, "without a doubt," arguing that Capitol Police were more accustomed and equipped for dealing with groups of tourists than violent mobs.
Without reinforcement, they were easily outnumbered and outmaneuvered, an apparent failure on the part of those who should know better.
"For all I know, they had the intelligence and still failed to react to that," the official said. "I would certainly hope that given everything that's been going on in the country over the last several years, not just the last four years, but the last several years, that they have access to analysis of what these groups are capable of, and certainly what their thought processes are right now."
This was especially the case, the official added, "given everything that's going on in the country, and given the fact that we have a sitting president, who is actively commenting on and encouraging this kind of behavior on social media and wherever he appears."
Social media companies Twitter and Facebook scrambled on Wednesday to impose temporary gag orders on the president, yet another first for a country gripped by a mounting series of never-before-seen events.
But even with Trump finally—and reluctantly—acknowledging a peaceful transition of power, deep-seated concerns linger as to the ongoing threat presented by the groups who broke into the Capitol, and whether the federal government would sufficiently address what the official called "a domestic terrorism incident."
"These folks who are actively writing things like 'murder the media' and making the sorts of threats towards public officials should be treated as domestic terrorists," the official said.
Moving forward, a senior law enforcement official who also requested anonymity called on the FBI and its Washington Field Office (WFO) to get involved in investigating those behind the destruction.
"The resources of the WFO should be brought to bear," the official told Newsweek. "All agents and analysts should be mobilized to identify those who committed crimes on U.S. property. The U.S. Attorney's Office for D.C. should be actively engaged in pursuing legal processes of grand jury subpoenas."
The official said the probe should look beyond the petty crimes committed and search for a broader conspiracy potentially at play.
"Not only should these lesser crimes be investigated, they should be determining if there was an organized hierarchical plot that was crafted well before yesterday's events," the official said, urging "a conspiratorial-type investigation that focuses on organization and planning."
A day later, many of the suspected perpetrators likely remain in the District area, and this is where the official said the FBI needs to act quickly.
"As of this morning the entirety of the WFO should be mobilized and be canvassing all logical locations to include hotels and restaurants," the official said. "They should be pulling footage from all available cameras. Even though this may be a minor crime, it should be investigated as if it was an act of terrorism and with same vigor."
The FBI has begun canvassing for lawbreakers, but is largely relying on tips based on social media posts rather actively seeking to search and detain individuals in the area. Acting U.S. Attorney for D.C. Michael Sherwin has so far announced 55 charges, including some for wielding firearms and Molotov cocktails.
At least three suspected improvided explosive devices were also reportedly recovered in the area.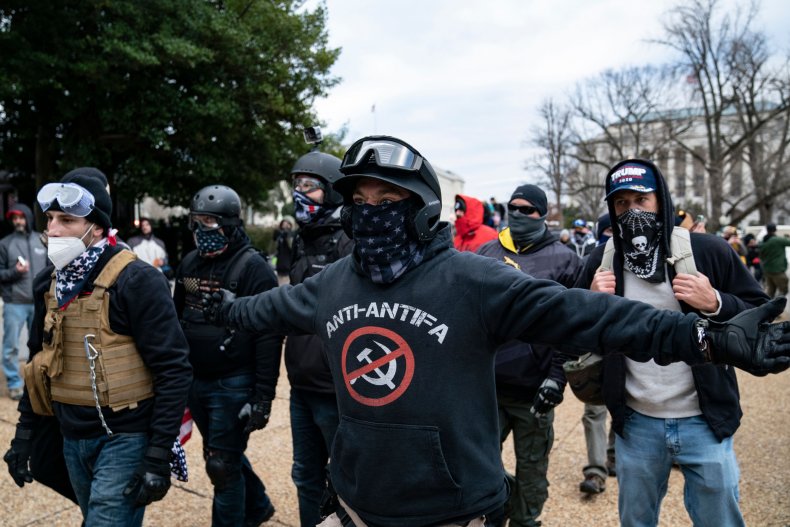 But experts told Newsweek these steps should not only focus on the suspects but those tasked with defending the Capitol building.
Eric Ward, an extremist expert and senior fellow at the Southern Poverty Law Center, called for a congressional inquiry into the incident and a full-fledged federal government study into the behavior of far-right elements, including their interactions with law enforcement.
He points to hypocrisy that some law enforcement officials openly flaunt white nationalist imagery, while others have been fired for displaying sympathy for the Black Lives Matter cause.
Ward argued that it also goes this, and extends to the highest echelons of the U.S. government that paved the way, intentionally or not, for Wednesday's death and destruction at the Capitol.
"Elected officials set the tone for this moment, when you have elected officials who open up the space and give credence and validation to the idea of sedition," he said. "We should not be surprised that those beneath those public servants won't take that rhetoric to heart, and it is very possible that there were elements within law enforcement who intentionally took steps that allowed the Capitol to be breached, and that will be proved or disproved, hopefully, through investigation. But it didn't happen simply in a vacuum."
And this, he argued, speaks to the greatest tragedy, one in the making for years prior to Wednesday.
"The real horror at the end of the day, was not the white nationalist, alt-right breach of the Capitol," Ward told Newsweek. "It was the willingness of our institutions to turn a blind eye to the violence in this country over the last three years."