Ohio Bakery That Correctly Predicted Winner of Last 9 Elections With Cookie Poll Has Trump in the Lead
An Ohio Bakery said to have accurately predicted the U.S. presidential election winner from its cookie sales in each of the last nine White House races, currently has Donald Trump in the lead for the 2020 poll.
Busken Bakery chain, in Cincinnati, says it has been predicting the results using the sales of its red and blue election cookies, over more than 30 years.
While phone polls and exit polls have been wrong in the past, it seems Busken Bakery – in swing state Ohio – has found a winning formula.
This year its three stores in the area are selling two different types of election cookies – a blue one which features a caricature of Joe Biden, and a red one with a Donald Trump version.
As of Monday, Donald Trump is ahead in the cookie poll, with 8,439 Republican cookies sold, compared with 7,052 Democrat cookies sold.
Staff at Busken suggested that people tended to pick the cookie featuring the person they were intending to vote for, although some customers bought opposing side cookies as gag gifts.
"The funny thing is they don't necessarily realize that this is them placing their vote and so they'll get the opposite side as a joke for their friends and I'll be like, 'You do realize this is counting towards your vote,' and they're like 'Oh, no' and then they'll switch it back," Hyde Park Busken manager Joshua Stayton told WVXU.
Busken cookies correctly predicted the election victories of Bill Clinton, George W. Bush and Barack Obama—also predicting a Trump victory in 2016 when other polls indicated a Hillary Clinton win.
Bakery president Dan Busken has claimed the cookie poll has correctly predicted every election winner since 1984—sometimes within four percentage points .
However, professional pollsters suggest the incumbent Republican president is trailing his Democratic rival.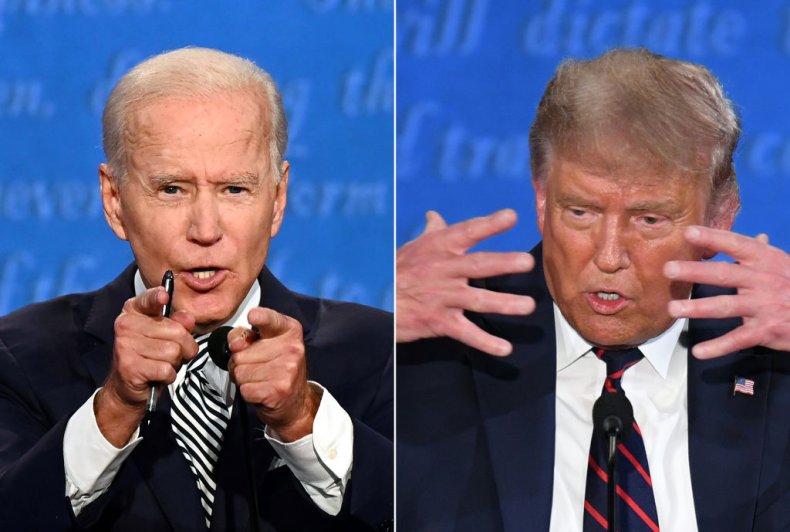 Biden is currently almost nine point ahead in the polls, on 51.2 points compared with Trump's 42.3, according to the Real Clear Politics average of major polls.
However, in swing state Ohio, where the Busken bakery is located, the president is leading Biden by just 0.5 points.
Newsweek has contacted Busken Bakery for further comment.