Ohio Becomes 20th State to Require Masks While GOP Rep Slams COVID-19 Tests
Republican Ohio Governor Mike DeWine announced Tuesday that residents in seven Ohio counties where cases of COVID-19 are on the rise would be required to wear masks in any indoor space that is not a residence. The same day, an Ohio state representative urged Ohioans not to get tested for the disease.
Expected to go into effect Wednesday, the mandate also calls for people to wear facial coverings outside in places where social distancing could not be easily maintained. DeWine said the increase in coronavirus cases within the seven counties affected by the mandate—Butler, Cuyahoga, Franklin, Hamilton, Huron, Montgomery and Trumbull—had caused a Red Level 3 Public Health Emergency Alert. Under the Ohio Public Health Advisory System, a Level 3 threat indicates "very high exposure and spread."
"The law is a teacher and the law helps establish the norms in society, and that's what we hope happens in these seven counties," DeWine said Tuesday.
In May, Ohio Republican Representative Nino Vitale introduced a bill that would prevent any state lawmaker from requiring the use of face masks.
DeWine said Tuesday it would be a "tragic mistake" if that were to occur.
"I'm not gonna let it happen, for us to give up the opportunity to try to keep Ohioans safe," DeWine said. "We are in a crisis. It is a very serious crisis. It is a crisis we have not seen in this state for 102 years."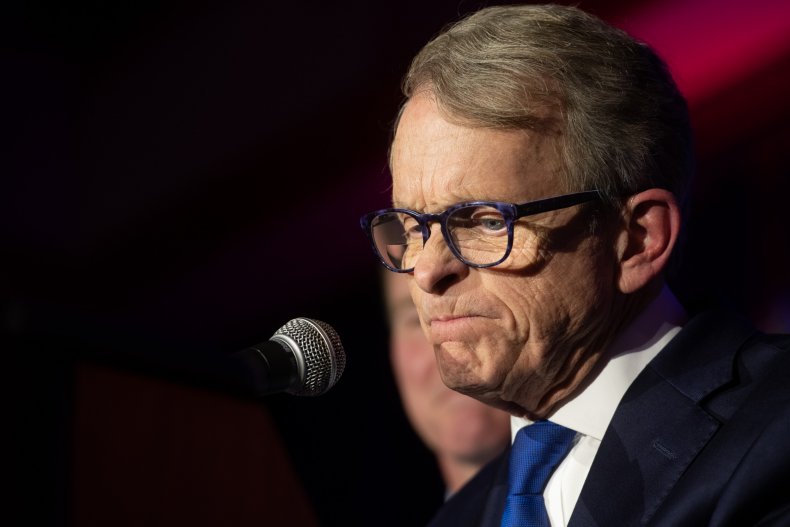 Representative Vitale said in a Facebook post that the coronavirus pandemic is overblown. He encouraged Ohioans to stop getting tested for the virus.
"Are you tired of living in a dictatorship yet?" Vitale wrote on Tuesday. "This is what happens when people go crazy and get tested. STOP GETTING TESTED!"
"It is giving the government an excuse to claim something is happening that is not happening at the magnitude they say it is happening," Vitale added.
Vitale has refused to wear a mask in public, saying in a May Facebook post that masks block the image of God.
"We're created in the image and likeness of God," Vitale said. "When we think of image, do we think of a chest or our legs or our arms? We think of a face. That's the image of God right there, and I want to see it in my brothers and sisters."
Vitale told Newsweek in a May interview that "we do have to be careful about how much encroachment we get on personal liberties and freedoms and that, to me, is the goal and the end duty of government is to protect personal liberty."
When asked for comment, the Ohio Democratic Party directed Newsweek to a tweet from state party chairman David Pepper which was critical of DeWine's response to the coronavirus.
Pepper tweeted on Tuesday that the "DeWine 4-Step Plan" consisted of "1: don't mandate masks anywhere because some are offended; 2: wait as things get really bad in some areas, then mandate masks there; 3: wait as things got really bad where masks aren't yet mandated, then mandate masks in those places; 4: go to step 3."
Other states that have enacted some iteration of a face mask mandate include California, Connecticut, Delaware, Hawaii, Illinois, Kansas, Maine, Maryland, Massachusetts, Michigan, Nevada, New Jersey, New Mexico, New York, North Carolina, Oregon, Pennsylvania, Rhode Island, Texas and Washington. The District of Columbia also has a face mask mandate in place for customers and employees of essential businesses.
Recent data indicated 3,078,512 positive cases of coronavirus had been reported in the U.S. including 38,320 new cases reported on Tuesday.