Ohio City Offers to Accept Removed Statues, Including Columbus
A northeast Ohio city has offered to accept statues that have been removed from other areas of the United States due to their controversial ties.
On Saturday, David Lynch, the city manager of Ohio's Newton Falls, outlined the offer in a written proclamation letter that was obtained and published by several local news outlets. The letter designated Newton Falls a "Statuary Sanctuary City." It also described intentions to provide a "general amnesty" to monuments commemorating U.S. leaders who have been denounced for their associations with slavery and violence rooted in racism.
"I, David M Lynch, as City Manager for the City of Newton Falls do hereby proclaim that Newton Falls shall be known as a 'Statuary Sanctuary City' welcoming statues rejected by other cities across the United States and also proclaiming a general amnesty for George Washington, Abraham Lincoln, Thomas Jefferson, Ulysses S. Grant, Patrick Henry, Francis Scott Key, Theodore Roosevelt and Christopher Columbus as represented by statues removed all the across the United States," the letter stated.
The Ohio city will reinstate any monuments it receives "in a place of honor and respect to inspire greatness and achievement by all who observe them," according to Lynch's proclamation.
Newton Falls Mayor Mayor Kenneth Kline addressed the proclamation letter in comments to Newsweek on Sunday.
"These statues are history and we love our country," he wrote in an email. "The thought was that if others don't appreciate our Nation's history, we sure do in Newton Falls. We love this country and I believe it would be a great opportunity to teach our children."
The mayor also said the city "would love to have the opportunity" to display the statues for future visitors.
Newsweek reached out to Newton Falls' city manager for additional comments, but did not receive a reply in time for publication.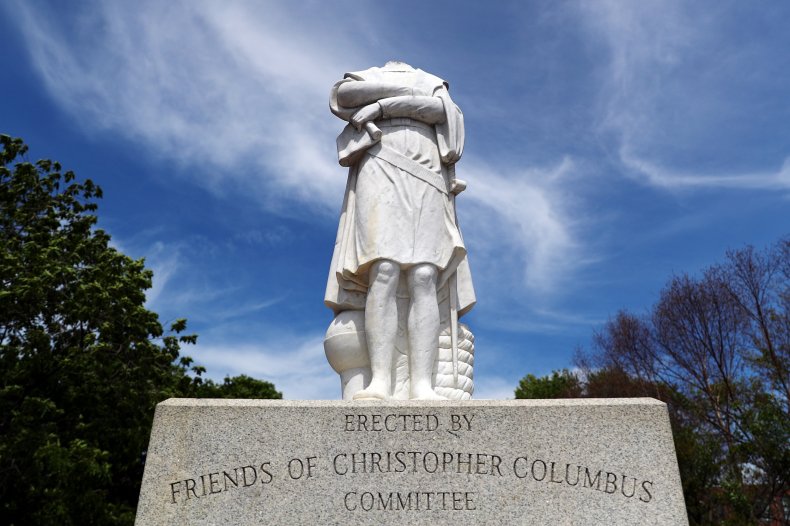 Protests against systemic racism and violence have targeted monuments across the U.S. that memorialize Confederate figures as well and others who supported slavery and colonization. Most recently, activists in Baltimore tore down a statue of Christopher Columbus on Saturday night and tossed it into a nearby harbor. The action followed similar efforts by protesters in other cities where people have removed or defaced monuments of the 15th-century explorer, who has been criticized for his treatment of indigenous populations upon his arrival in the Americas.
Demonstrators have also called for the removal of statues dedicated to former U.S. presidents who owned slaves, including George Washington and Thomas Jefferson--as well as ex-president of the Confederacy Jefferson Davis. While some government officials have supported the efforts, with several authorizing the removal of monuments and symbols related to the Confederacy, others have defended their standing.