Ohio Deputy Under Investigation For Allegedly Posting 3 Percenter Flag on Facebook
An investigation is being carried out by Hamilton County Sheriff officers after a deputy allegedly posted a 3 Percenter flag on his Facebook account.
Ohio officials said on Thursday that Deputy Michael Stermmerding had been placed on paid administrative leave. He will remain on leave as the sheriff's office carries out an investigation.
Sheriff Charmaine McGuffey said the force had taken the allegations that Stermmerding had shared the flag used by the extremist on his social media profile "very seriously".
While Stermmerding, and all government employees, enjoy the right to free speech, all deputies are required to swear an oath to follow "good conduct," which can limit what they are allowed to say online.
Sheriff McGuffey told the Cincinnati Enquirer: "We are aware of a specific instance involving the use of an image by a Hamilton County Sheriff's Deputy that is a symbol that is displayed by an extremist group.
"We take these matters very seriously."
She continued: "The Sheriff's Office policies are in place to ensure fair treatment for all citizens, and Sheriff's Deputies are held to the high standard of their oath to protect and serve all."
The 3 Percenters militia movement believes the U.S. government is a totalitarian force and advocates for people to resist it and to protect Second Amendment rights.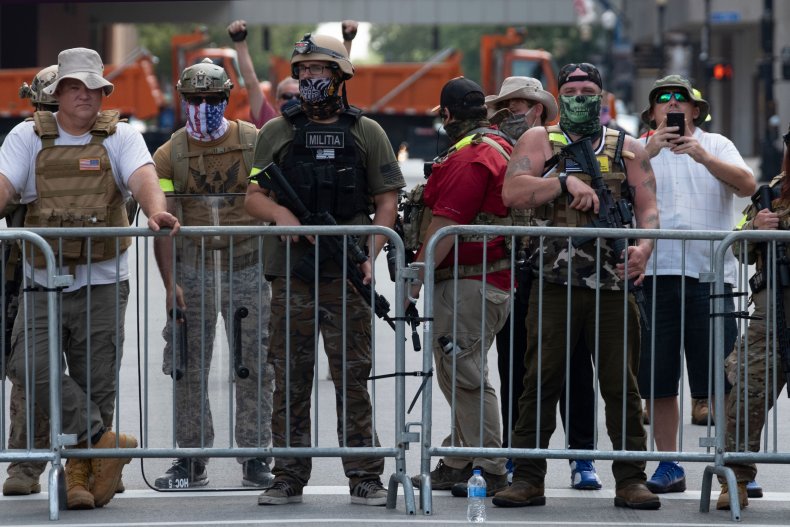 Awareness about the militia movement was raised further following the storming of the Capitol building on January 6.
Crowd members were seen with 3 Percenters patches, symbols and flags, which is similar to the traditional Betsy Ross design but with the addition of the movement's logo [the number 3 in Roman numerals] in the center of the star circle.
The Anti-Defamation League said the 3 Percenters rose to prominence during the wider resurgence of the militia movement in 2009.
It said of the movement: "The term '3 Percenter' refers to the erroneous belief that only 3 percent of colonists fought against the British during the Revolutionary War—but achieved liberty for everybody.
"Three Percenters view themselves as modern-day versions of those revolutionaries, fighting against a tyrannical U.S. government rather than the British. With anyone able to declare themselves a 3 Percenter, the concept allowed many people to join who were not suited, physically or by inclination, to engage in paramilitary activities.
"The 3 Percenter logo, the Roman numeral III, has become very popular among anti-government extremists."
Newsweek has approached the Hamilton County Sheriff for comment.