Ohio GOP Governor Wishes Trump's Public Support of Masks Had Come Sooner
Ohio Governor Mike DeWine said Wednesday that President Donald Trump's public support for face masks earlier this week made it easier for him as his state's Republican leader to introduce a statewide mask mandate.
DeWine told PBS Firing Line host Margaret Hoover that while he ultimately holds himself responsible for legislative decisions that impact Ohioans, he would have preferred it if the president got behind the mask movement sooner.
"I'm not going to blame the president for what we do or what we don't do in Ohio," DeWine said. "The buck stops with me in making these decisions. Would I have preferred him to do it earlier? Of course."
Trump's reversal on masks came earlier this week during a public briefing by the White House's coronavirus task force. The president said during the briefing that he has "no problem with masks" and suggested wearing a mask was an act of patriotism.
"Whether you like the mask or not, they have an impact," Trump said. "They'll have an effect. And we need everything we can get."
The Centers for Disease Control and Prevention recommended Americans wear face coverings in public settings in early April. At the time, Trump said he likely would not wear a mask, a stance on which he's been consistent since he wore one during a visit to Walter Reed National Military Medical Center in Maryland earlier this month. His refusal to wear a face covering in most public settings became increasingly controversial, as the mask debate turned political and governors across the country began introducing statewide mask mandates in an effort to curb rising COVID-19 case numbers.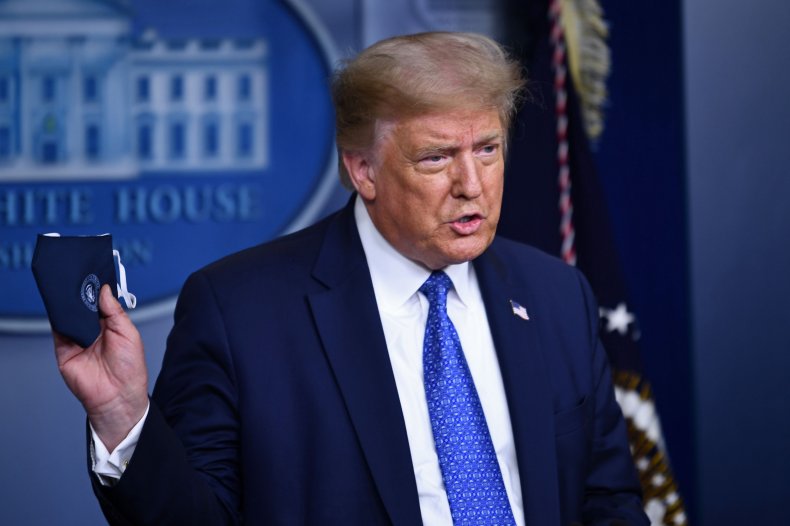 DeWine's announcement on Wednesday that all Ohioans will now be required to wear masks in indoor and outdoor public settings made him the latest of several governors across the country that have issued such a mandate. In addition to wearing masks in public spaces, residents must also wear them while using public transportation and ride-share vehicles, according to the governor's order.
Though Ohio's statewide mandate is new, DeWine ordered residents in counties with high rates of COVID-19 infections to wear face coverings earlier this month after the number of new cases in the state began rising in late June. At least 74,409 Ohioans tested positive for COVID-19 by Wednesday, according to data compiled by the Ohio Department of Health.
DeWine said in his order that state health officials were "cautiously optimistic" Ohio was bringing the virus' spread under control. "We believe that requiring masks statewide will make a significant difference and will be key to making sure other counties do not progress to a higher level of increased spread," DeWine said in a news release announcing the mask mandate.
DeWine's order made no mention of Trump, but the governor told PBS he thought it was "very good news" when he saw Trump's tweet promoting masks earlier this week.
"We're trying to get everybody on board," DeWine said. "The president has the biggest megaphone of anybody in the country, so it's important."
Newsweek reached out to DeWine's office for further comment, but did not receive a response in time for publication.