Ohio GOP Leader Resigns in Protest Over Trump-Putin Summit: It's a 'Matter of Conscience'
A Southeast Ohio county GOP chairman resigned yesterday in protest over President Donald Trump's meeting and press conference with his Russian counterpart, Vladimir Putin in Helsinki.
On Monday evening, Belmont County Republican Party Chairman Chris Gagin announced his resignation on Twitter, citing the president's joint press conference with Putin as the catalyst for his decision.
"I remain a proud conservative and Republican, but I resigned today as Belmont Co Ohio GOP Chairman. I did so as a matter of conscience, and my sense of duty," he wrote on Twitter.
In a separate post an hour later, Gagin explained that "the President is entitled to GOP party leaders, at all levels, fully committed to his views and agenda" before concluding that he could "no longer fulfill that duty."
According to Cleveland.com, Gagin has been serving as the Belmont County Republican Party Chairman since April 2016. Prior to landing the role, he was a former employee of ex-Democratic U.S. Rep. Charlie Wilson, who served for Ohio's 6th congressional district from 2007 to 2011.
During a joint press conference with Putin on Monday, Trump repeatedly defended Moscow over allegations of 2016 election interference and discredited findings from his own intelligence agencies.
The conference came after the two world leaders gathered in Helsinki for a one-on-one meeting. "They said they think it's Russia. I have President Putin; he just said it's not Russia," Trump said.
"I will say this: I don't see any reason why it would be. So, I have great confidence in my intelligence people, but I will tell you that President Putin was extremely strong and powerful in his denial today."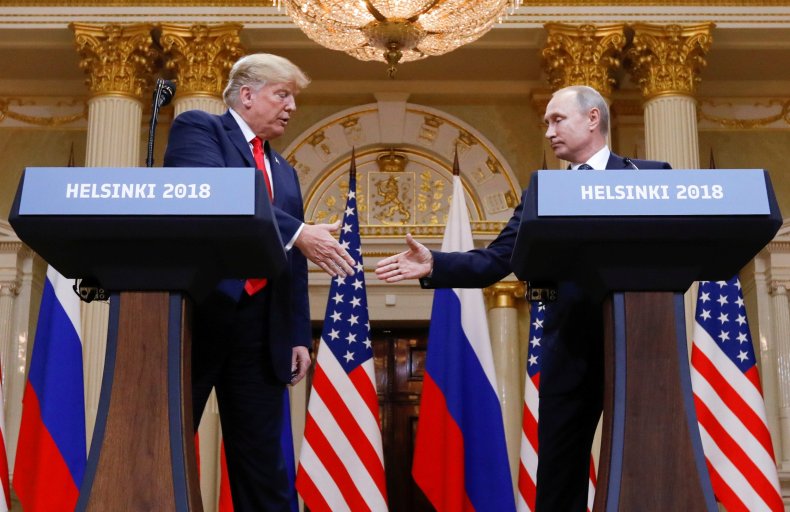 Trump's extraordinary remarks sparked enormous backlash from Republicans, Democrats, Trump critics and even some pro-Trump media outlets, who accused the president of selling out his own country and siding with Moscow.
Sen. John McCain labeled the event "one of the most disgraceful performances by an American president in memory," while House Speaker Paul Ryan reminded the president that "Russia is not our ally" and declared that "there is no question that Russia interfered in our election."
A few days prior to the summit, the U.S. Justice Department indicted 12 Russian officials for allegedly hacking Democrat emails and computer servers during the 2016 elections. All the defendants have been identified as members of a Russian federation intelligence agency.
Newsweek has reached out to Gagin for further comment.