Ohio Governor Says He Wouldn't Drink Water After Train Derailment
Ohio Governor Mike DeWine told residents of East Palestine, Ohio, he would be comfortable returning home after a "catastrophic" train derailment in the region resulted in a spike in health problems reported by local residents.
He just wouldn't drink the water.
Speaking in a news conference Tuesday updating on the status of the crash's fallout, DeWine—a Republican—responded to a reporter's question about whether he would return home amid cleanup efforts by saying he would likely return to his home if he were in a similar situation. Albeit under certain conditions.
"Would you feel comfortable moving back into your home?" the reporter asked.
"I think that I would be drinking the bottled water," DeWine responded. "And I would be continuing to find out what the tests were showing as far as the air."
"I would be alert and concerned," he added. "But I think I would probably be back in my house."
The governor's office said the comments should be seen more as a soft word of caution than anything.
In an email, DeWine press secretary Dan Tierney clarified that air testing in the area shows levels of toxicity similar to what would have been expected prior to the derailment. As of February 14, the Environmental Protection Agency reported it had assisted with the screening of 396 homes under a voluntary screening program offered to residents, with no detections of vinyl chloride or hydrogen chloride identified.
"We are continuing to conduct 24/7 air-monitoring to ensure the health and safety of residents," they said in a statement.
Meanwhile, municipal water supplies are unlikely to have been affected by the contamination, Tierney said, because their source is so far below the surface contamination.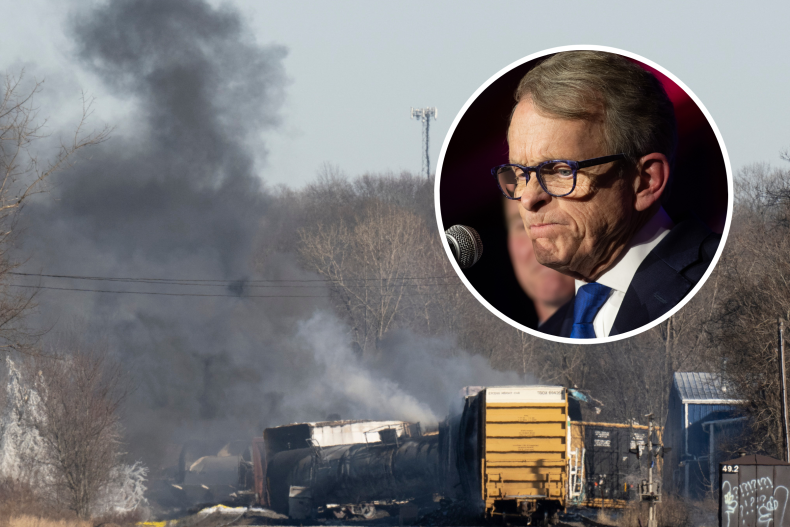 While testing of the municipal supply is underway, he said those who are pregnant, nursing, using water for baby formula, or prefer to wait until test results are in "are advised to drink bottled water until the municipal water test results are released in the next day or two."
"If you have a private well or private water source, you are advised to get your source tested by Norfolk-Southern and drink bottled water until your tests are returned," Tierney said.
The governor's statements come in the wake of reports from local residents who say they are still suffering from a range of health problems in the wake of the February 3 crash as a result of carcinogenic substances leached into the land.
A controlled burn of vinyl chloride and other materials later on that was intended to avert a larger explosion sent toxic fumes into the sky, such as phosgene—a compound used as a chemical weapon during World War I—and hydrogen chloride, reportedly leading to additional health complications for residents.
One local official told Newsweek their pet fox died in their arms as a result of the exposure.
Environmental Protection Agency officials have also reportedly found other toxic chemicals in the surrounding soil, air and water in recent days, though statewide officials have maintained it is now safe to return to the area.