Ohio High School Cancels Performance of 'She Kills Monsters' Over Implied Gay Character
An Ohio high school canceled an upcoming stage play on Thursday after an uproar about a character implied to be gay in the story.
Students at Hillsboro High School were rehearsing the play, She Kills Monsters, when the decision was made, only a month before the show was to debut in the school's new auditorium, according to WCPO Cincinnati. Questions about the play's content were raised at an earlier meeting and the school ultimately told those involved in the production that it would be "deemed inappropriate for K-12."
Written by noted American playwright Qui Nguyen, She Kills Monsters follows its main character, Agnes Evans, as she attempts to find out more about her deceased older sister. Eventually, she realizes that her sister, Tilly, may have harbored romantic feelings for a female friend, Elizabeth. Nguyen would later go on to work on the script for Disney's Raya and the Last Dragon and write for several Netflix shows.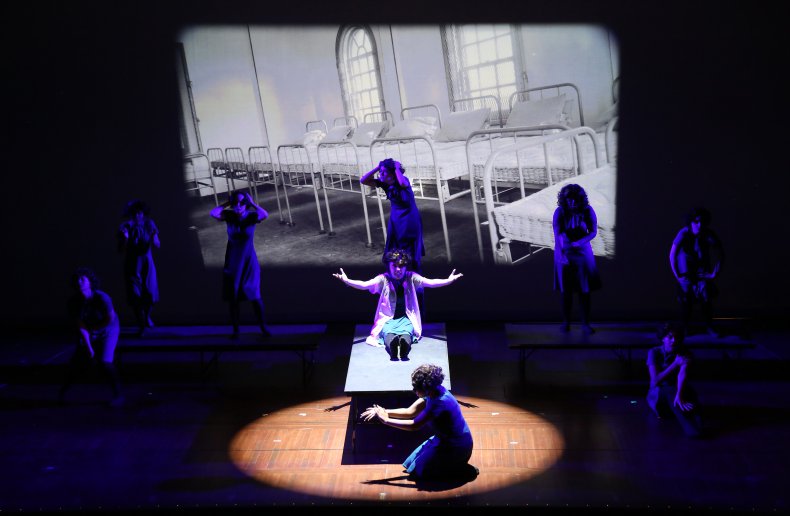 She Kills Monsters is among the most widely produced plays by high schools and colleges in the last five years. The version of the play being planned at Hillsboro High School was the Young Adventures Edition, which is meant to play for audiences as young as 11.
One of the students cast in the play, Christopher Cronan, told WCPO about his reaction to the news and how it affected him as a member of the LGBTQ community.
"It felt like we had just been told, 'Screw off and your lives don't matter,'" Cronan said. "I am openly bisexual in that school and I have faced a lot of homophobia there, but I never expected them to cancel a play for a fictional character...They want to say the town is just not ready, but how are you not ready? It's 2021."
Members of the Hillsboro community have pointed to the influence of Jeff Lyle, a teaching pastor at the Good News Gathering church in Highland County, Ohio, as a major factor in the play's cancelation. In an email to WCPO, Lyle said that while he supported the school pulling the play, he allegedly never spoke to the school board prior to the decision being made. He also highlighted several other parts of the play he found to be inappropriate, including implied sexual acts between unmarried characters, innuendo, and strong language.
"I think that's wrong," Jon Polstra, the father of another student cast in the play, said. "All they would have had to do if they objected to something in the play was not go to the play."
Newsweek reached out to the Hillsboro school district for comment.
Nguyen's representatives told Newsweek that the writer is not making any statements about the situation at this time.
The play's cast has set up a GoFundMe page with the goal of moving the production outside of the school. If successful, the plan is to mount the performance at a community theater.
"If we do raise enough money, I am going to be genuinely happy for a very long time, because that means people do care," Cronan said.
As of Monday night, the page has raised over three times its stated goal of $5,000.
Updated 10/26/2021, 5:18 p.m. ET: This story has been updated with a statement from a representative for author Qui Nguyen.