Ohio Home With a Jail Cell Said to Have Held John Dillinger up for Sale
A family home up for sale in Ohio is attracting a lot of attention online, with the layout bizarrely including a jail cell, thought to have once been occupied by the legendary gangster John Dillinger.
The four-bed, four-bath home in Celina, Ohio, is on the market for $275,000, with the realtors claiming it's a chance to "own a piece of Celina history."
The listing, from Superior Plus Realtors, who are handling the sale, alludes to the cell in the listing description, saying the property comes with "3 bonus room areas!"
Ryan Stackhouse, who's marketing the home, told Newsweek 117 N. Brandon is a very "unique property."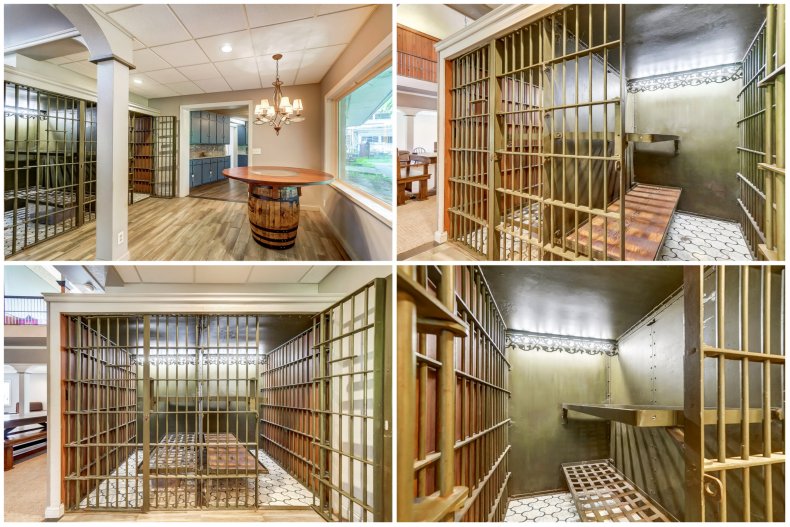 He said: "The home was built in 1972 by a local eye doctor, who lived next door to the property.
"It is rumored that the doctor started by using the home as a private office space, but as time went on he decided to construct the home to use to entertain guests.
"It was here that he held wild, lavish parties...hence the indoor pool, sauna, grotto-style hot tub and large great room (over 1,000 sq ft).
"Although there is no definite reason why the jail cells are located in the home, it is believed that the doctor was a big John Dillinger enthusiast.
"And when he had the opportunity to purchase the jail cell where Dillinger was held, he bought them and moved them into his party pad.... as more of a collector's item."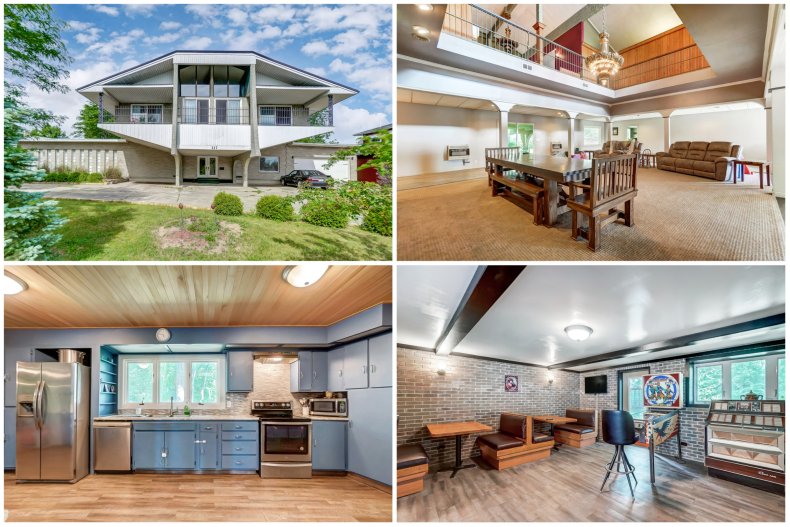 Stackhouse told Newsweek it was believed the cell in the home was from the prison in Lima, Ohio.
Dillinger is an infamous outlaw, known for bank robberies and jail breaks across the Midwest.
According to the FBI, Dillinger was incarcerated at the county jail in Lima in 1933. A jail break in Indiana, supposedly using plans devised by Dillinger, saw eight inmates escape. Soon afterwards, three of the prisoners on the run, and one parolee, came to free Dillinger from his cell at Lima.
"Of all the lurid desperadoes, one man, John Herbert Dillinger, came to evoke this Gangster Era and stirred mass emotion to a degree rarely seen in this country" the FBI explained.
Born in 1903, he was a "a notorious and vicious thief. From September 1933 until July 1934, he and his violent gang terrorized the Midwest, killing 10 men, wounding 7 others, robbing banks and police arsenals, and staging 3 jail breaks—killing a sheriff during one and wounding two guards in another."
He was eventually killed in a shoot-out on July 22, 1934 in Chicago.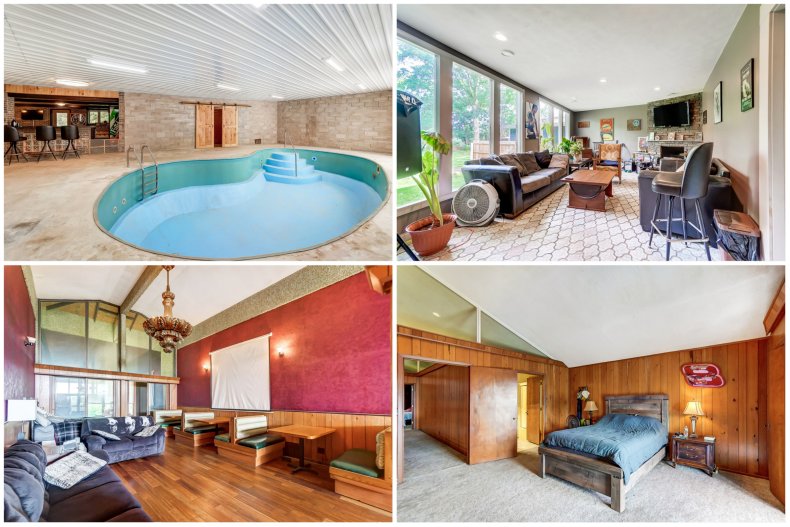 Along with the jail cell, prospective buyers can enjoy a two-story balcony, a second kitchen, along with an indoor pool, sauna and bar.
Stackhouse said the 6,467 square foot home has undergone numerous changes in its lifetime, adding: "Over the years, the home has been used for various different things including a photography studio, bed and breakfast, and a private residence.
"It eventually fell into foreclosure and sat vacant for a long period of time. Recent owners have begun restoring the home back to its original beauty, but it still maintains much of 1970 styles and décor."
The listing made its way onto Twitter's Zillow Gone Wild account last week, where it amassed more than 3,000 likes.
Some questioned the unique addition, as Allen Garvin joked: "5 baths... but none in the cells?? I don't want to deal with my prisoners' bed pans. Hard pass."
Emily R. said: "I cannot make heads or tails of this house. Very bizarre."
Lindsey asked: "Why the F*** is there a jail in this person house lol. Who thought that would be a good idea lol."
Mark brennan quipped: "It's a steal, but don't get caught."
Polycule of One, House Moderna Pointed out: "Weird how the listing says "piece of history" but makes absolutely NO MENTION OF THE JAIL CELLS. I guess everyone in Celina knows what's up with that?"
Keith Fournier wrote: "What kinda freaky-deaky bizness did they get up to in there?!?!"
While Ben added: "Only $275k and I don't have to install my own jail? That's incredible."