Ohio Right to Life Pushing 2 Bills to End State's 20,000 Abortions Per Year
Anti-abortion activist group Ohio Right to Life is pushing state legislation to approve bills that would ban abortion almost completely, except to save a woman's life.
Conservatives are pushing anti-abortion legislation nationwide in the wake of a leaked draft opinion from the Supreme Court stating the majority is considering overturning the Roe v. Wade decision that federally legalizes abortion. Anti-abortion bills have been enacted in several states amid a nationwide GOP-led push to put an end to thousands of pregnancy termination procedures.
Over the past decade, more than 20,000 abortions were performed every year in the state, according to the Ohio Department of Health. That's a total of 220,000 abortions between 2010 and 2020.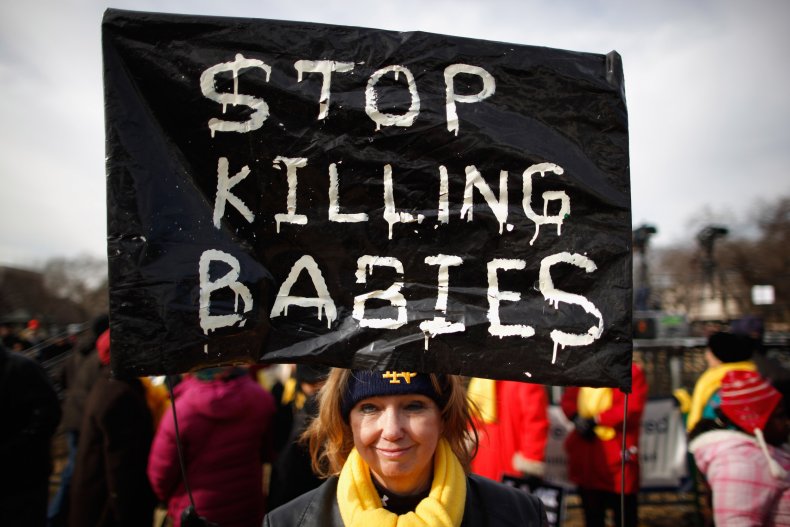 Just about 6 percent of the abortions performed were for women out of state. The majority of the women receiving abortions were ages 25 to 55.
Ohio Right to Life is hoping conservative justices in the Supreme Court put an end to the thousands of abortions in the state.
"Ohio Right to Life is cautiously optimistic that the Supreme Court will rule correctly and overturn the most reckless decision in our Nation's history," said President of Ohio Right to Life Michael Gonidakis in a statement. "Over 62 million Americans have lost their lives to abortion since Roe v. Wade. Ohio Right to Life works passionately to adopt an abortion-free culture in Ohio and we are at the brink of doing just that."
Weeks before the Supreme Court's draft opinion was leaked, Ohio lawmakers were already deciding on abortion ban legislation if justices overturn the Roe v. Wade decision. House Bill 598, titled the "Human Life Protection Act" was introduced as a "trigger ban" on March 15 by Republican state Representative Jean Schmidt.
The bill would ban doctors from performing medication or surgical abortions, except to save a woman's life. There is no exception for pregnancies as the result of rape or incest.
The Human Life Protection Act is the counterpart to Senate Bill 123—both of which are known as trigger bills, meaning they would take effect only if the Supreme Court overturns Roe.
Ohio Right to Life has been a key advocacy group championing the Human Life Protection Act.
"Ohio Right to Life has worked tirelessly to promote this bill and we will continue working day in and day out for a swift passage, having full confidence that pro-life Governor Mike DeWine will sign it into law," said Elizabeth Whitmarsh, director of communications at Ohio Right to Life.
Newsweek reached out to Ohio Right to Life for comment.