O.J. Simpson Bets on Alex Murdaugh Being Found Not Guilty
Former football star O.J. Simpson is betting that prominent South Carolina attorney Alex Murdaugh won't be found guilty in the double murder trial of Murdaugh's wife and son.
In a video posted to Twitter on Thursday, Simpson, who was acquitted in the 1994 deaths of ex-wife Nicole Simpson and her friend Ron Goldman, said that while it's "likely" Murdaugh committed the crimes, "it wouldn't surprise me in the least [if] this guy beats this case."
Deliberations in the Murdaugh trial began Thursday afternoon. Earlier in the day, Murdaugh's lawyers made their closing arguments, saying that investigators became so fixated on pinning the murders of Maggie and Paul Murdaugh on Alex that they used "fabricated evidence" to make him out to be the killer.
"Why, why, why would Alex Murdaugh, on June 7, execute his son Paul and his wife Maggie, who he adored and loved?" Alex's lawyer, Jim Griffin, asked in his brief closing arguments.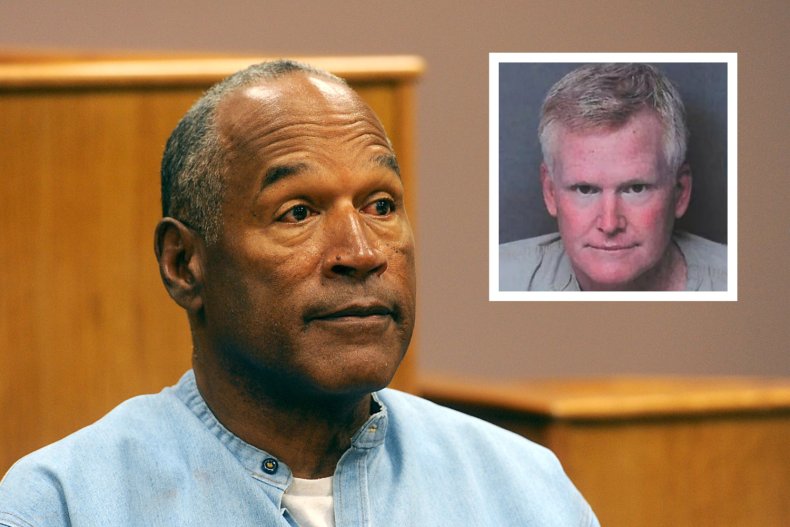 Prosecutors argued that Alex killed his wife with a rifle and his son with a shotgun on the family's Moelle hunting estate on June 7, 2021, in an effort to keep his embezzlement of millions of dollars a secret.
While maintaining his innocence in the death of Maggie and Paul, Alex admitted to stealing nearly $7 million from a series of financial crimes, including money laundering and tax evasion, while testifying in his own defense. He is facing 99 other state charges relating to those crimes.
On Thursday, ahead of deliberations, Simpson said it was likely a "mistake" to put Alex on the stand. It was a risky move that could determine whether or not he's sent to prison for 30 years to life.
"I watched him take the stand and I thought it was probably a mistake because the guy is an admitted liar," Simpson said in the video posted on Twitter. "It's hard to think he could be on the stand...without lying. The question is, what is he lying about?"
"But lying and stealing money is a little different than murder," added Simpson, who said he's not "qualified" to speculate on the trial.
Simpson said that while he think it's "more likely" that Alex killed his own wife and son, 'more likely' equals reasonable doubt."
He said there's no doubt that Alex will go to jail for he money he stole, but there's "a lot of reasonable doubt" surrounding whether or not he was the one who killed Maggie and Paul.
Although Simpson was found not guilty in 1995, he was later convicted of armed robbery and kidnapping and sentenced to prison.