O.J. Simpson Wants Deshaun Watson Sexual Misconduct Charges to 'Go Away'
O.J. Simpson has weighed in on the Deshaun Watson situation, giving his opinion on the matter, saying he wanted to see coverage of the case "go away" as he feels it's too "negative."
Watson, a Cleveland Browns quarterback, faced a number of sexual misconduct and assault allegations, the majority of which have now been settled. He has been suspended for six games by the NFL as a result of the two dozen claims made against him. He has settled 23 of the 24 lawsuits to date.
The 75-year-old Simpson, a former NFL player and a controversial figure, spoke out on his Twitter account in a video message.
On Monday, Simpson met his Twitter followers with his now-customary greeting, "Hey Twitter world it's me, yours truly."
He started his message by addressing the death of NBA legend and civil rights activist Bill Russell. After sending his condolences and sharing his personal memories of Russell, he addressed the situation regarding 26-year-old Watson.
The decision to ban Watson for six games was handed down by NFL disciplinary officer judge Sue Robinson. "She looked at it and came out with a decision. Hey man, that's it. That should be it," Simpson said.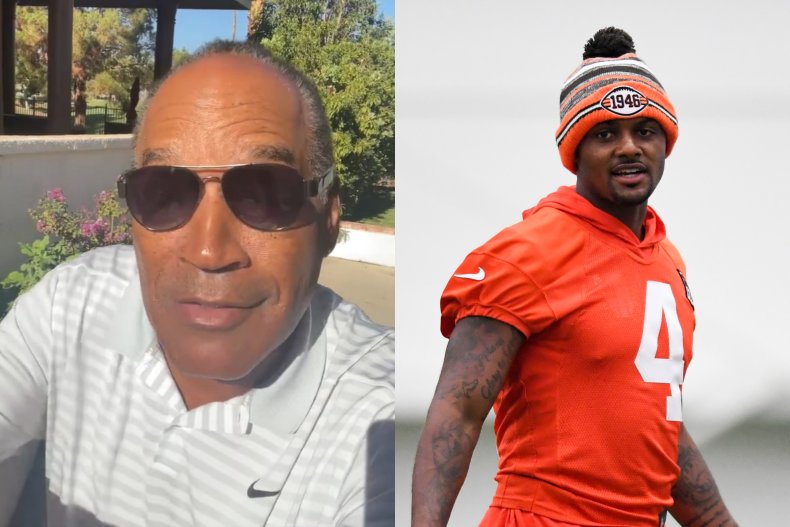 "People are saying 'why would he settle if he was innocent?' Hey look guys, he's not gonna change anybody's mind no matter what he does. He can't change my mind." Simpson continued, "I think he probably was out of line with some of the girls and I think some of the girls jumped on board because there was a chance of making money."
"Plus the fact that to fight this was going to cost a fortune," Simpson added. "I'm pretty sure the legal fees of fighting it wouldn't be much different than what he paid off. It's settling these cases — I'd just like to see it go away at this point.
"If I want to see negative and hear negative news every morning, I'll just watch Fox News Channel. They'll tell me what's wrong with America and everybody. I'm just saying, take care."
Simpson reached a level of notoriety in the 1990s as he was charged with murder in connection with the deaths of his ex-wife Nicole Brown Simpson and Ron Goldman. In a verdict that divided the country at the time, Simpson was ultimately found not guilty of the murder charges.
Simpson later served nine years in prison after he was convicted of armed robbery and kidnapping charges in an incident in Nevada where he was accused of robbing sports memorabilia collectors at gunpoint. Simpson said he was trying to take back memorabilia from his career that had been stolen from him.
The video, posted for Simpson's 890,000 Twitter followers, was viewed hundreds of thousands of times, and Twitter users piled in to comment.
"Tremendous take, Juice," @RSmithers52 wrote, "I cannot believe someone hasn't hired you for a Monday morning sports show."
"Might wanna sit this one out OJ," commented NBC Sports producer Ryan Quigley.
The comment section, as is often the case on Simpson's social media posts, was full of people making references to the murder trial.
In relation to Watson's six-game ban, the NFL has indicated that it will appeal the decision, while the National Football Players Association (NFLPA) said in a statement on Sunday that it will "stand by" the ruling. During a three-day hearing in June, the NFL hoped that Watson would be suspended for at least a year.
Watson was traded to the Browns from the Houston Texans on March 18, 2022, two days after the first sexual misconduct allegation was made against Watson. The 2022 NFL season will kick off on Thursday, September 8.