O.J. Simpson Told Nicole Brown He Would 'Get Away With' Killing Her—Caitlyn Jenner
Caitlyn Jenner has claimed that O.J. Simpson told his ex-wife, Nicole Brown, that he would one day "kill her and get away with it."
Brown and her friend, Ron Goldman, were found murdered in her Los Angeles home in 1994. Simpson, the prime suspect in the killings, denied that he was responsible for their deaths and was acquitted after a high-profile trial.
The former Buffalo Bills player, who was married to Brown between 1985 and 1992, was later found responsible for their deaths in a civil lawsuit, although he continued to maintain his innocence.
And during an appearance on Big Brother VIP in Australia, Jenner has shared her take on the murder of Brown.
In a scene from the reality show, Caitlyn, who was married to Nicole's best friend Kris Jenner at the time, spoke about how difficult the whole thing was for her family.
Speaking with her housemates, she said: "It was an extraordinarily difficult time. Nicole was Kris' best friend, had been for a long time. I was at Nicole's house two days before the murder.
"Obviously he did it and he got away with it, and at one point he even told Nicole, 'I'll kill you and get away with it because I'm O.J. Simpson.' Then Nicole, you know, relayed that onto Kris at one point and unfortunately she was right.
"We were at the courthouse, we were watching what was going on in the other room. And even after the not guilty verdict, the first thing Kris turns around to me and goes, 'We should've listened to Nicole, she was right, right from the beginning.'"
At the time of the trial, Kris Jenner's ex-husband, Robert Kardashian, was a part of the legal counsel that defended Simpson. Caitlyn Jenner has claimed in her 2017 book The Secrets of My Life that Kardashian later revealed that he believed Simpson to be guilty.
Caitlyn also wrote about her own relationship with Simpson in the book.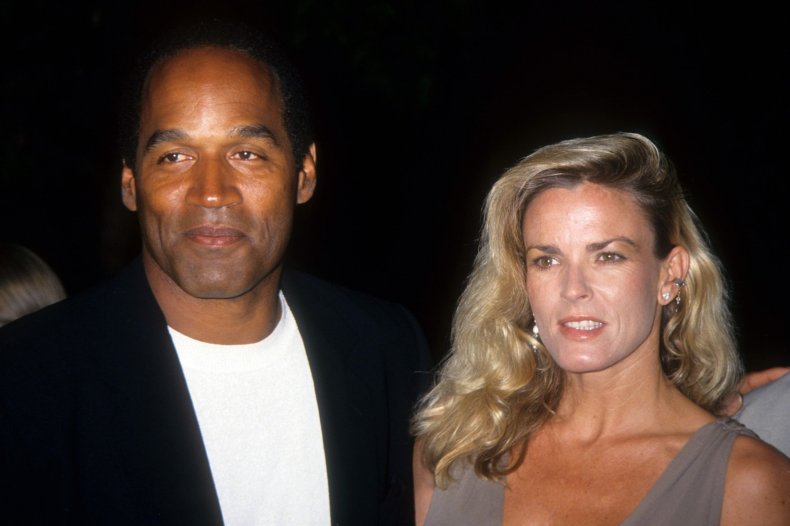 The Keeping Up with the Kardashians star wrote: "We have both come out of the same world of the male athlete with all its stereotypes and behavioral expectations, a type of identity that I come to call the male athlete gender.
"I struggled against it because of my issues and extreme discomfort in that world and its constant objectification of women, and the endless bragging about f****** to the point where you had to wonder what these guys were really hiding.
"O.J. was at the completely opposite side of the spectrum as me—women as eye candy and sex toys, physically abusive when he did not get his way or felt he was being defied, the loud life of the party anywhere and anytime, like so many other athletes."
Recent California gubernatorial candidate Jenner also wrote about how her own gender dysphoria likely affected her strained relationship with Simpson.
"If I looked in the mirror and loathed myself, I looked at OJ and saw a monster of a male athlete," she said. "I wonder if this contributed to my feelings of awkwardness around him, that even if he embodied an archetype that people expected from me.
"There were other contributing factors in my distaste for him: he was the most narcissistic, egocentric, neediest a****** in the world of sports I had ever seen, and I had seen a lot of them."
She went on: "I eventually found him exhausting and pathetic, his need for one-upmanship such that it was almost like he was on the football field again in which everyone else was an opponent. I was wary."
Jenner flew over to Australia to appear in Big Brother VIP earlier this year, in the midst of her ultimately unsuccessful bid to become governor of California. The new season she appears in started airing on Monday.
Among the familiar names also appearing on the show are Donald Trump's former political aide Omarosa Manigault Newman and Thomas Markle, estranged brother of Meghan Markle.