O.J. Simpson Net Worth: First Interview 'Will Cost $5 Million'
O.J. Simpson didn't go far after he was released from a Nevada prison on parole on Sunday when he made his way to Las Vegas.
The former NFL star will be seeking to focus on kids, friends, family and golf, but he is also expected to charge a high price to speak to the media.
One of the Juice's longtime confidants told the New York Post Simpson could charge $3 to $5 million for a first interview with a major network. While interview subjects don't get paid for their appearances, networks are willing to buy exclusive images.
"It has to be the big one because he's only going to do it one time and it has to be worth his while," the source said.
But as a video published by the New York Post on Sunday shows, Simpson is not all that keen to be in the spotlight. After serving nine years of a 33-year prison sentence for leading an armed robbery at a Las Vegas hotel and casino to steal sports memorabilia, the 70-year-old didn't have much to say.
"Man, how in the . . . Have y'all been, y'all stalking me?" Simpson blurted out from the back seat of a white SUV, a reaction to the filming that was halfway between bemused and annoyed. "I'm in a car for the last five hours, so how do I know how it feels to be out?" he said.
Whatever money Simpson may end up making, could be subject to seizure. The former athlete is to pay $33.5 million to the family of Nicole Brown Simpson, his former wife, and her friend Ron Goldman, whose deaths Simpson was found to be liable for in a civil jury trial in 1996-97 after being acquitted at a criminal trial in 1995.
According to attorney David Cook, representing Goldman's survivors, the debt has doubled in the past twenty years. "I renewed the judgment in 2015 at $57 million. Two years have passed, so now it's a touch under $70 million," he told CNN.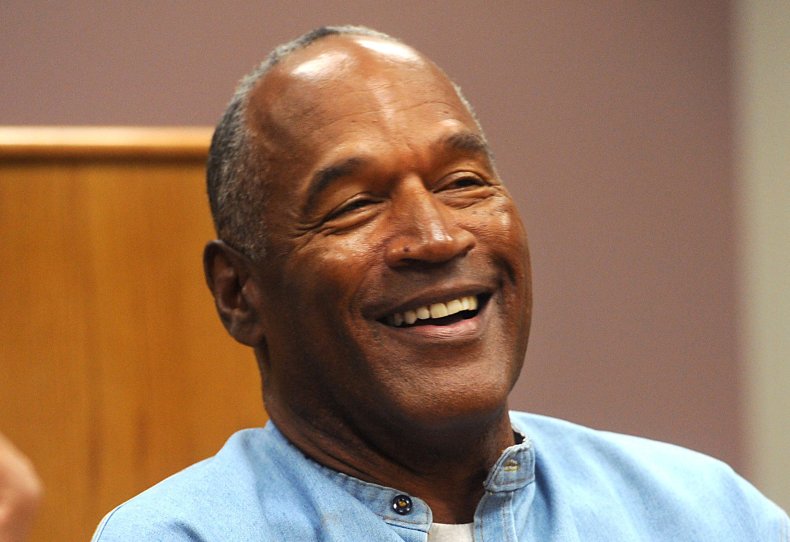 Back in 1994, Simpson was at the height of his fame and wealth, worth an estimated $11 million, according to CNBC. The crippling legal fees of the two trials left him with debts of almost $1 million, but attorneys for the victims' families thought Simpson was able to make $2.8 million selling rights to a book, video, autographs and other memorabilia, and that he hid other assets.
Simpson has assets that the victims' families can't seize due to federal law: pension funds, which are worth between $2.5 million and $5 million, according to reports.
Simpson's friend Tom Scotto told USA Today Sports earlier this year that the former athlete and actor invested $5 million in a pension fund "many years ago," and is entitled to a Screen Actors Guild pension from acting and producing credits, as well as an NFL pension.
According to ESPN, the NFL pension could have paid either $4,034 or $10,565 a month, depending on when he decides to take it.