Oklahoma Women Are Organizing a Topless Scooter Ride to Celebrate Federal Court Ruling: 'The Law Has to Be Equal'
Women are planning a topless scooter ride in downtown Oklahoma City to celebrate a Colorado federal court ruling that lifted a ban on being topless in public.
The event will be held this Saturday, according to News 9 Oklahoma, and comes after women roller skated topless in nearby Tulsa Sunday. At least 40 men and women attended the event, The Oklahoman reported.
Planned topless celebrations in Oklahoma follow the 10th Circuit Court of Appeals in Colorado ruling against a topless ban in February after two women brought a lawsuit against Fort Collins in Colorado through the Free the Nipple movement.
Fort Collins authorities chose not to appeal the decision of the federal court in September, saying "money was just better spent on other city priorities," NBC News reported.
The 10th Circuit's ruling saying Fort Collin's ordinance blocking female toplessness in public was likely "unconstitutional" could allow women to go topless in six states under its jurisdiction—including Oklahoma, Kansas, Colorado, Wyoming, Utah and New Mexico.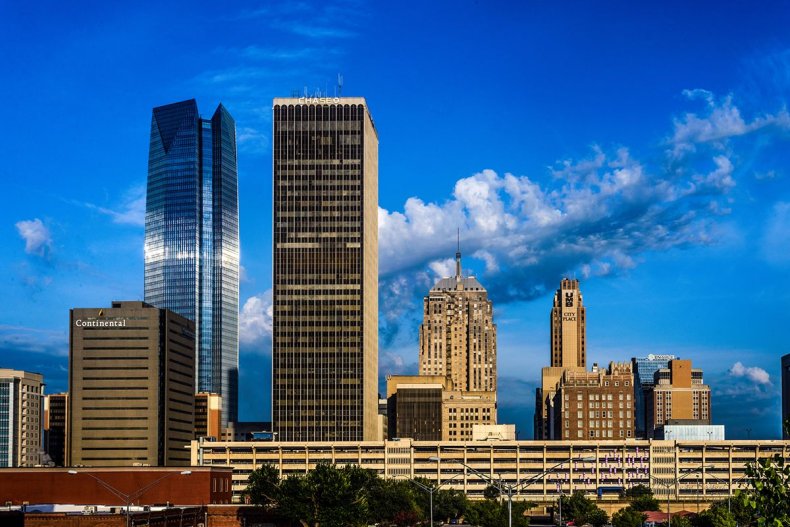 But in a Monday statement, Oklahoma Attorney General Mike Hunter said the federal court's decision "does not automatically invalidate local and state laws in Oklahoma" that ban women going topless.
"The Tenth Circuit's preliminary decision in the Fort Collins case – a case that has now ended without a full adjudication – does not change local and state laws in Oklahoma on the subject," Hunter said. "The majority of courts around the country that have examined this issue have upheld traditional public decency and public nudity laws."
Brandi Hargrove, the organizer of the topless scooter ride in downtown Oklahoma City, told News 9 Oklahoma that women should be able to freely walk down the street with their tops off, just as men do.
Speaking to News 9, criminal defense attorney David Slane also said: "This is a first amendment-type case but when you allow men to go without a top and you don't allow women, you get an equal protection issue and the law has to be equal."
Republican State Rep. Jim Olsen also aired strong feelings on the topless ban in a Facebook post Saturday, describing women going topless as "reprehensible conduct" and saying he would do all he could to keep it illegal.
He said: "There was a ruling of a circuit court in Colorado. Some silly woman brought a case, and some empty headed judge ruled this is OK. This circuit covers several states, including Colorado."
The Oklahoma State legislator also said that authorities could still arrest women going topless in public, adding: "If some silly woman wanted this legal in our state, it would have to start with a court case, that could potentially end up in our Oklahoma Supreme Court. She would have to win that case for our law to change.
"So, right now, it is illegal for a woman to be topless in public in the state of Oklahoma."
The Oklahoman has reported that Oklahoma City police will still enforce local public indecency laws against going topless in public.
Oklahoma Women Are Organizing a Topless Scooter Ride to Celebrate Federal Court Ruling: 'The Law Has to Be Equal' | U.S.