Oligarchs See at Least $156M in Property, Yachts Seized in Italy
Authorities in Italy have seized property belonging to five Russian oligarchs who were placed on the European Union's sanctions list following Russia's invasion of Ukraine.
The property includes villas and yachts valued around $156 million, according to Reuters, which reported on Saturday. Reuters also noted that properties owned by billionaire Alisher Usmanov, Russian state TV host Vladimir Soloviev and Russian parliament member Oleg Savchenko have been seized, in addition to yachts owned by Alexey Mordashov, and Gennady Timchenko.
All of the men are accused of having close links to Russian President Vladimir Putin, or the country's government.
Forbes describes Timchenko as "one of the most powerful people in Russia," and estimates his net worth is $16.2 billion. He also has stakes in Russian companies including Novatek, a natural gas producer, and Sibur, a petrochemicals producer. When Russia annexed Crimea in 2014, Timchenko was sanctioned by the U.S. over his ties to Putin.
The U.S. Department of the Treasury reported that the billionaire founded Gunvor, "one of the world's largest independent commodity trading companies involved in the oil and energy markets."
"Timchenko's activities in the energy sector have been directly linked to Putin. Putin has investments in Gunvor and may have access to Gunvor funds," the Department of the Treasury stated at the time.
Mordashov is a Russian billionaire whose net worth is valued at over $20 billion. According to the Bloomberg Billionaires Index, he is the largest shareholder of Severstal, the fourth largest steelmaker in Russia, owns stakes in Norgold, a gold producer and has investments in other companies including Bank Rossiya and Rostelecom.
In a document laying out its sanctions, the European Union accused him of "benefiting from his links with Russian decisionmakers." The EU noted he is also the chairman of a company called Severgroup, "which has considerable stakes in the National Media Group which in turn controls television stations which actively support the Russian government's policies of destabilisation of Ukraine."
According to the same document, Usmanov, whose $17 million villa was seized by Italian police, is described as a "pro-Kremlin oligarch with particularly close ties to Russian President Vladimir Putin."
"He has been referred to as one of Vladimir Putin's favorite oligarchs," the EU states, adding, that "Mr. Usmanov has reportedly fronted for President Putin
and solved his business problems."
According to Forbes, his largest holding is in Metalloinvest, an ore and steel company, and that he's worth $16.6 billion.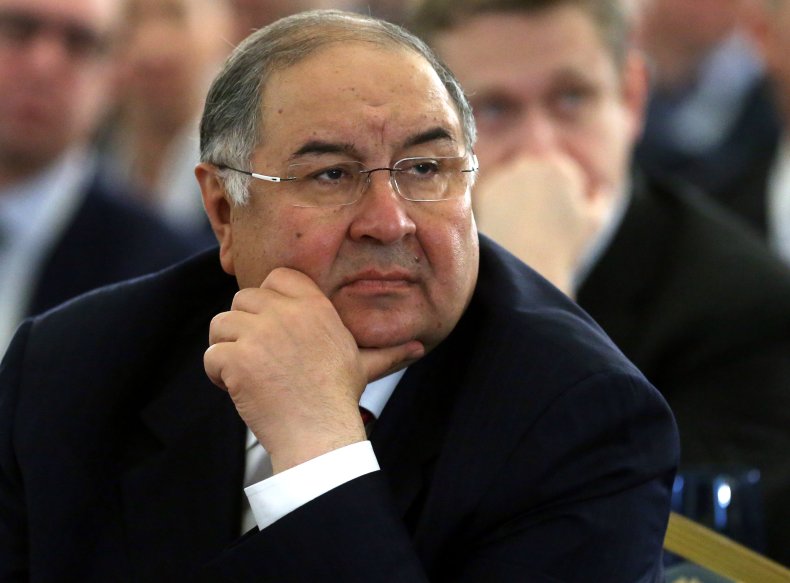 The EU said that Soloviev, the Russian television host, who is a presenter on Russia-1 and Rossia 24, and "propagandist," is "known for his extremely hostile attitude towards Ukraine and praise of the Russian government," adding, "Therefore, he is responsible for supporting actions or policies which undermine the territorial integrity, sovereignty and independence of Ukraine."
According to Reuters, Savchenko is a member of Russian parliament and his $3 million Italian home was seized from him.
The EU said he supported a measure supporting Putin in recognizing the autonomy of two separatist regions in Ukraine—Donetsk and Luhansk— "and therefore supported and implemented actions and policies which undermine the territorial integrity, sovereignty and independence of Ukraine, and further destabilized Ukraine."