Olivet Student's Desperate 911 Call Led to Federal Trafficking Probe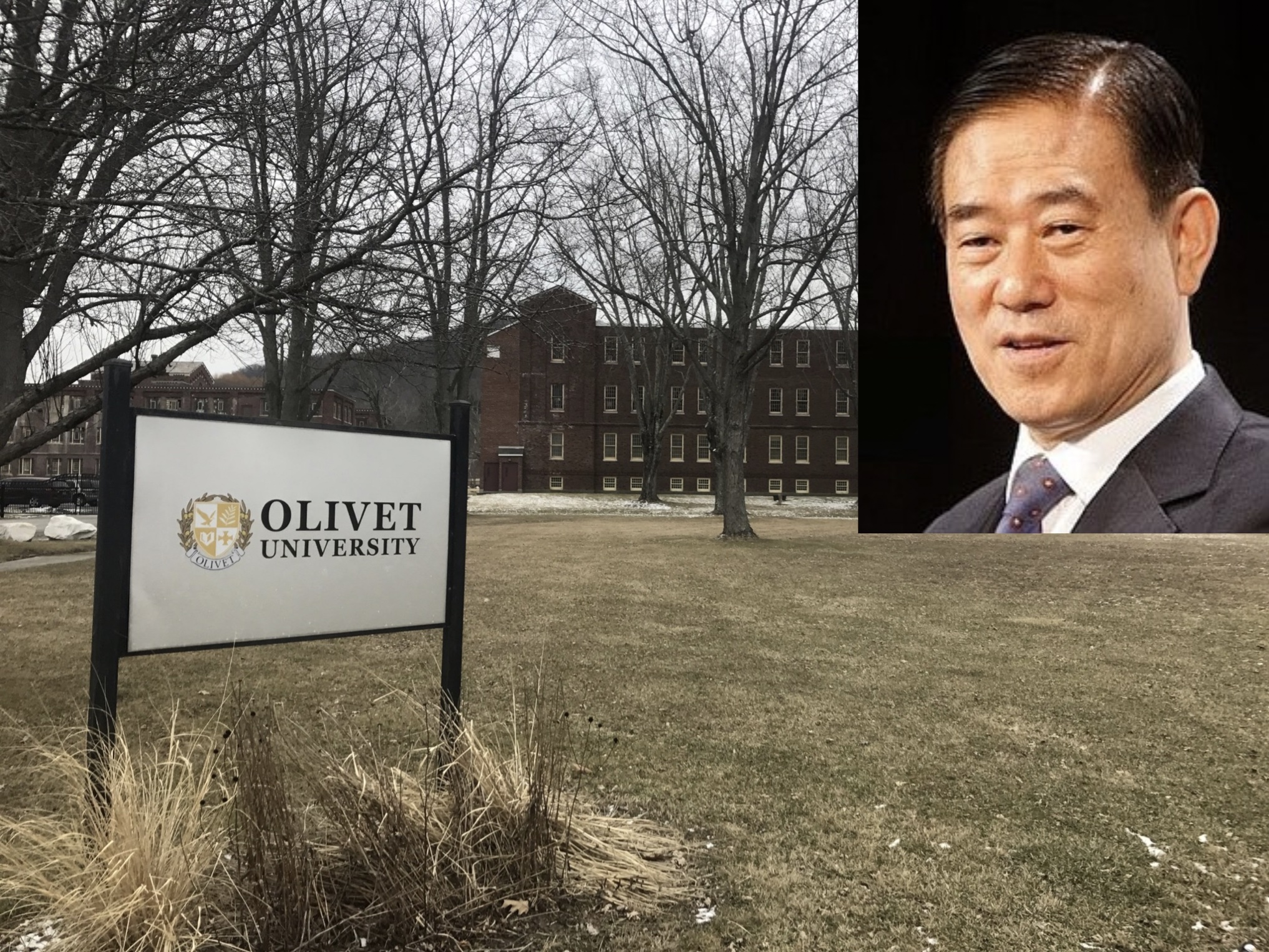 The federal investigation into Olivet University, an Evangelical Christian school facing multiple investigations, began after a 911 call from a woman who said she was being held prisoner on its campus in Anza, California, in 2018, current and former law enforcement officials said.
The investigations that resulted from that 911 call are complicating Olivet's efforts to stay in business. The university's New York campus was shut down in June by the state education department, which said Olivet had failed to clean up its act after a previous criminal conviction. The college's only accreditor of campuses in eight remaining states and the District of Columbia is reviewing its status based on previous reporting from Newsweek that Olivet has dismissed as false. Contacted for comment on this story, Olivet did not respond to questions about the 911 call. However, it accused Newsweek reporters of defamation.
After the 911 call in March 2018, several international students at Olivet managed to leave the Anza campus and complain to the authorities about their treatment at the Christian university founded by David Jang, a Korean-American cleric, according to a former senior official of the Department of Homeland Security who was working in the department at the time and was briefed on the case.
Some of the students said they had been offered full scholarships to study at Olivet. When they arrived at the remote Anza campus they were informed that they owed the college money and had to work to pay off their debt, the former official said.
"A number of Olivet students came forward to authorities and explained how the fraud was committed against them. They thought they were enrolling as students and instead were working off a debt—which is the crux of the labor trafficking investigation," said the former DHS official, speaking on condition of anonymity.
Suspicions of labor trafficking were one of the reasons why agents from Homeland Security Investigations, officers of the Riverside County police and the U.S. Labor Department searched the Anza campus in April 2021, law enforcement officials said. They said the agents were also investigating money laundering and visa fraud.
The student who called 911 was an Indian woman who had been required to work in the kitchen and teach dance classes, said Kevin, a man who knew her well and was working at the Olivet Theological Seminary at the time. Newsweek is using the pseudonym "Kevin" to refer to this person.
Kevin's account appears to show that campus authorities were aware of complaints. One of the pastors on campus told him the 911 caller's mother had called the school and asked why they were "torturing" her daughter; the pastor asked him to write a letter to the mother "to give good testimony about Olivet," Kevin said. He didn't write the letter. The pastor was responsible for a group of international residents on campus including Indians and Hispanics. Kevin and the woman who made the 911 call belonged to that group.
Kevin said that neither he nor the caller were aware that police had responded to the 911 call. According to the Riverside County Sheriff's Department, police turned up at the entrance to the campus in response to the call.
After the 911 call, the woman left Anza with a group of six other students, all of whom were either Hispanic or Indian, Kevin said. He was not part of the group and could not say how they made their way out of the isolated campus, which is surrounded by desert and lies 90 miles east of San Diego.
Kevin said he saw police on the Anza campus during a later visit. "Police came and were roaming around the campus and talking with the students here and there," he said.
Kevin showed Newsweek a photograph of himself on the Anza campus and gave the names of students in the group that left in early 2018. Newsweek has verified the identity of the caller and of a few others in the group but is not publishing their names because the U.S. government is treating them as victims of trafficking.
Current and former law enforcement officials confirmed several details of Kevin's account.
Police in Riverside County declined a Freedom of Information Act request from Newsweek for a recording of the 911 call but confirmed details of the incident.
"On March 27, 2018, at 11:03PM, deputies from the Hemet Sheriff's Station received a call for service from an unknown female indicating people living in her residence were not letting her leave," Sergeant Brandi Swan of Riverside County sheriff's department told Newsweek. "Upon arrival by deputies, the female was not located to confirm the details, and no signs of foul play were located," she said.
The Riverside police made two other visits to the Olivet campus in May and July of 2018, Swan said, corroborating Kevin's account that he saw officers on campus after the group of students left. Those visits were unrelated to the 911 call in March, she said.
Olivet University has dismissed Newsweek's reporting of the federal investigation as partisan propaganda in a corporate dispute between owners of the magazine. One shareholder, Dev Pragad, who is president and CEO, says he has left David Jang's Olivet Christian sect. The other shareholder, Johnathan Davis, remains a disciple of Jang and is married to Tracy Davis, a former president and academic dean of Olivet. Companies controlled by each shareholder have taken claims to court.
"Newsweek's behavior is defamatory and a clear violation of the journalistic code of ethics," Olivet said in a statement. "The unfortunate reality is that Pragad and his team of attack journalists are trying to rally the public against our dedicated, Christian institution because he is in active litigation in an effort to wrest complete ownership of Newsweek from the husband of our former president."
Newsweek's Global Editor in Chief Nancy Cooper has rejected that allegation. "No one outside the newsroom has any influence on these stories," she said in a message posted on the company's website.
A Newsweek company statement said: "The Newsweek newsroom is run by highly professional journalists and editors. They have complete autonomy and separation from management/ownership. This story is pursued by the newsroom as a matter of national security and public interest."
Olivet's statement did not address the content of this story, although the college has disputed Newsweek's previous reporting on the federal investigation.
In a statement to Newsweek in April, Olivet said the 2021 raid was a mistake: the officers involved had found nothing and even apologized to Olivet as they left the premises. In a more recent internal message published on the Christianity Daily website run by Jang's followers, the university suggested the entire account of the raid and investigation was fabricated.
"One must also question the integrity of the former federal agents who were supposedly the source of Newsweek's story, if those agents really exist," the message said.
The existence of an investigation was confirmed last week by Riverside District Attorney's office, which declined to discuss the 2018 911 call. "That, I still can't comment on as it is an ongoing investigation," John Hall, Public Information Officer of Riverside County District Attorney's Office, told Newsweek.
The Department of Homeland Security said, "Homeland Security Investigations (HSI) and the Student and Exchange Visitor Program (SEVP) do not comment on any ongoing investigations."
Olivet University was founded by Jang in 2000 along with the church he leads, the World Olivet Assembly. At the time of the 911 call, Jang's followers were entangled in a separate criminal investigation by the Manhattan District Attorney, whose agents searched the Olivet campus in New York and the offices of IBT Media, a company founded by Jang's disciples, in early 2018. At the time, IBT Media owned Newsweek, spinning it off as an independent company in September 2018 in a deal that left Pragad and Davis as owners. Shortly after the deal was announced, the Manhattan DA indicted several of Jang's followers and entities they controlled on charges that included money laundering and fraud.
Many defendants eventually made plea deals in 2020 including IBT Media, whose CEO is Johnathan Davis. Olivet pleaded guilty to the felony of conspiracy and a misdemeanor of falsifying documents and agreed to pay $1.25 million in forfeiture over 24 months.
Acting Justice for the New York State Supreme Court Ruth Pickholz ruled at the time that if the university met its obligations over the next two years, it would be allowed to re-plead to a misdemeanor charge and be sentenced to a conditional discharge. The university says that is exactly what happened earlier this year after it met all the conditions of the plea deal.
"Supreme Court Justice Ruth Pickholz issued an order granting Olivet University a Certificate of Relief from Civil Disabilities, which 'shall create a presumption of rehabilitation,'" Olivet said to Christianity Daily.
While Olivet relied on the certificate of relief in its efforts to retain permission to operate a campus in New York State, Deputy Commissioner of Education William P. Murphy dismissed that argument in a letter on June 30.
"I note that while Olivet presented its Certificate of Relief from Disabilities issued subsequent to the criminal action, and argues, in essence, that the Department should ignore its criminal conviction, the applicability of such a certificate to a corporation (as opposed to a natural person) is questionable," Murphy wrote, rejecting Olivet's appeal against a decision to shut down the campus in Dover, 80 miles north of Manhattan.
Murphy's letter was a major setback for Olivet, which is also in the sights of its only accreditor, the Association for Biblical Higher Education (ABHE).
The ABHE, reacting to reporting of the Anza raid, took action against Olivet, ABHE's Executive Director of the Commission on Accreditation Lisa Beatty told Newsweek.
"The Commission reviewed the current allegations against Olivet University at its June 22, 2022, meeting and has initiated action regarding this matter pursuant to our policies," said Beatty, who was not asked to comment on the March 2018 911 call.
She did not specify what action had been taken and said the decision would be made public after Olivet was given an opportunity to respond.
Federal agents investigating Olivet are also looking into a case in North Carolina, law enforcement officials said. A judge in the state last month ordered the arrest of a Chinese pastor who ran an Olivet Assembly Church at which authorities seized counterfeit bracelets worth $24 million. The pastor, Rev. JianGang "Frank" Lan, was arrested in 2019 and released on bail before his connection to Olivet was uncovered. Lan is a graduate of Olivet University, which recruits many students from China. Law enforcement officials told Newsweek they now suspect his was a case of so-called trade-based money laundering, a tactic employed by drug cartels to pay the Chinese manufacturers of chemicals used to make fentanyl. Lan remains in China.