Olivia Jade Giannulli Addresses Her Own Privilege After College Admissions Scandal
Over a year after news of the college admissions scandal initially broke, Olivia Jade Giannulli is ready to talk. On Tuesday, the 21-year-old influencer appeared on Facebook Watch's Red Table Talk to discuss the aftermath of the controversy. Giannulli spoke to Jada Pinkett Smith, Adrienne Banfield-Norris and Willow Smith about her initial reaction to learning about her parents' involvement, and how she now understands the privilege that she had. She also explained how her family is growing from the incident.
Giannulli's parents, actress Lori Loughlin and fashion designer Mossimo Giannulli, were some of the most well-known people involved in Operation Varsity Blues. CBS Los Angeles reported that they plead guilty in May for paying the University of Southern California $500k as a bribe so Giannulli and her older sister, Bella, could go to school there. Loughlin and Mossimo Giannulli are currently serving time in prison for their involvement in the scandal.
During Red Table Talk, Giannulli admitted that she initially didn't think there was anything wrong with how she got into college, and couldn't understand why she was facing criticism. "A huge part of having privilege is not knowing you have privilege," she explained on the show. "And so when it was happening, it didn't feel wrong. That's not fair—a lot of people don't have that. I was in my own little bubble, focusing about my comfortable world, not having to look outside that bubble."
In the wake of the admissions scandal breaking, Giannulli lost endorsement deals, and Loughlin was dropped by Hallmark.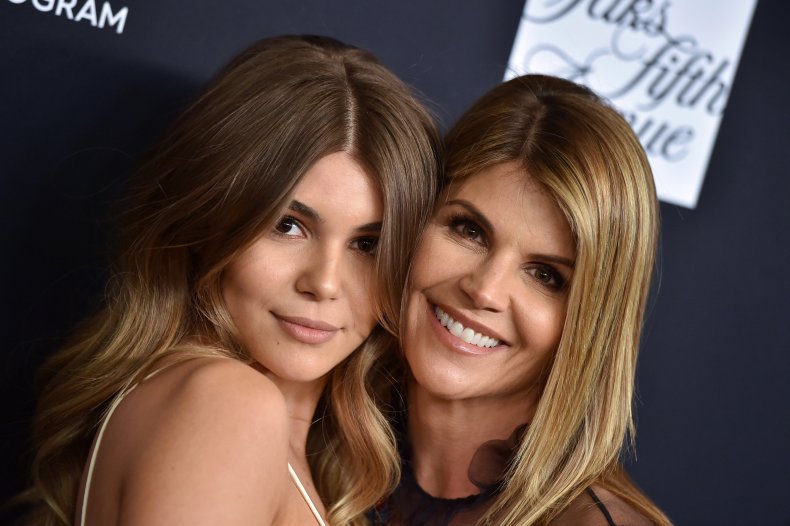 Giannulli also said that she felt like she was misunderstood. "The picture that was painted of me, I feel like, is not who I am. I'm not this bratty girl who doesn't want to change anything." However, she did admit that she knew why people were saying hateful things about her online, and took it as a learning experience.
"I think I had to go through the backlash," she said. "Because when you read it, you realize there's, like, some truth in it. I understand that people were upset and angry, and maybe it took me a little bit longer to understand what for, but, man, am I glad I did realize what for. Better late than never."
When Pinkett Smith asked Giannulli what she learned specifically from the controversy, the influencer said that she now understands why people were upset by the controversy. "How are people mad about this?" Giannulli recalled thinking. "I know that sounds so silly, but in the bubble that I grew up in, I didn't know so much outside of it. And a lot of kids in that bubble, the parents were donating to schools and doing stuff that advantaged them—so many advantages.
"It's not fair, it's not right, but it was happening. And so, when this first came out, I don't really understand what was wrong with this," she continued. "I didn't realize at the time, that's privilege."
Giannulli also said that, moving forward, she wants to give back to her community. She said that she has volunteered with kids at an after-school program, and it's left an impact on her. "It kind of just shifted my whole mentality because when I was sitting with them and talking to them, they were all so little but they were so grateful for that education," she explained. "I didn't think I was lucky to have that, I just expected it."
As per CNN, Loughlin started serving her two-month prison sentence for conspiracy to commit wire and mail fraud in October at the Federal Correctional Institution in Dublin, California. Her husband began his five-month sentence at the Federal Correctional Complex Lompoc in Santa Barbara county, California, for conspiracy to commit wire and mail fraud and honest services wire and mail fraud.