Olivia Rodrigo fans have expressed their outrage en masse on social media, amid reports that she has embarked on a romantic relationship with a music executive seven years her senior.
People reported on Tuesday that Rodrigo, 19, has been dating Zack Bia, 26, since mid-February, with a source telling the outlet that the two "really like each other."
While few other details were given, the report soon made its way to Twitter, where a slew of spirited comments were made about how much younger Rodrigo is than Bia, co-founder of independent label Field Trip Recordings.
Per People, award-winning singer Rodrigo previously dated music video producer Adam Faze, 25, with the outlet reporting of their apparent split back in February.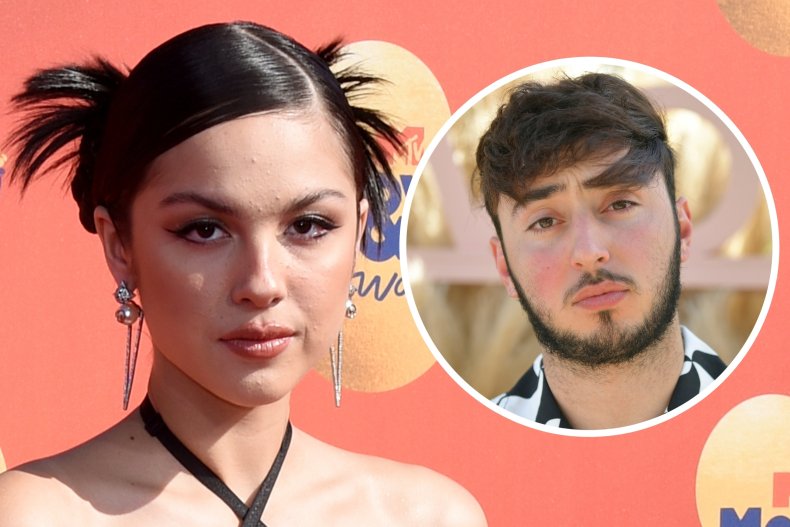 Meanwhile, Bia has in the past been romantically linked to singer Madison Beer and, more recently, Outer Banks star Madelyn Cline.
As the new romance report was shared on Twitter, a large number of fans shared their objection to the relationship over their age difference. The oldest age of consent across the entire U.S. is 18.
Sharing their opinion on the report, one person commented of Rodrigo: "SHE NEEDS TO START DATING PPL HER AGE."
Stated another: "Dating someone you couldn't even go to the bar with is crazy. Her age still in the teens like no way."
Another Twitter user compared their own age to the scenario as they weighed in on the the report.
"Me that is going to be 26 in a couple of days, the thought of being with someone even just 2 years younger than me makes me want to throw up, let alone 19? Someone that's barely an adult," they commented, adding a vomiting emoji.
Meanwhile, one Twitter user suggested that Rodrigo may just like to date men who are slightly older than her—no matter what others say.
"My people in Christ, this girl dating history is quite telling: she likes them older," they tweeted. "Y'all will say anything and she will still look for an older man."
Amid the wave of criticism, one person enquired "why does everyone on twitter think u turn old at 25? they're both young and if it works for them that's great. you guys really need to step outside and meet people."
Newsweek has contacted representatives of Rodrigo and Bia for comment.
Former Disney star Rodrigo's love life was faced the glare of the spotlight in January 2021 when she released her debut single, "Driver's License," in which she sang about her heartbreak following the demise of a relationship.
While she never confirmed who had inspired the track, People reports that there was speculation at the time that she had dated her High School Musical: The Musical: The Series co-star Joshua Bassett.
"Driver's License" was a massive hit for Rodrigo, reaching number one all over the globe, including the U.S., and breaking multiple Spotify records.
Her third single "Good 4 U" proved to be just as successful, debuting at number one on the Billboard Hot 100, and her debut album, Sour, broke the global Spotify record for the biggest opening week for an album.