Republicans Are 'Actively' Destroying Democracy, Says Former Pence Adviser
A former top adviser to former Vice President Mike Pence has said that Republicans are "actively" destroying democracy in the nation.
In an appearance on The Reidout on MSBNC on Monday night, Olivia Troye told Joy Reid that Republican efforts to regain power show that Trumpism has "a hold of the country right now"—a prospect she described as "horrifying."
Troye was Pence's homeland security adviser and also served on the White House Coronavirus Task Force before quitting the Trump administration in August last year.
Since then, Troye, the director of the Republican Accountability Project, has been outspoken in her criticism of the former president and the "Big Lie" that he won the 2020 presidential election.
On MSNBC, Reid referenced an op-ed Troye wrote in which she said Republicans are "counting on lies and brute force to win elections. Just like in 2020."
Troye told Reid: "We've seen what Trumpism does. It creative divisiveness, it creates hatred. We've seen a rise of domestic terrorism under this era."
She added: "It is fully undermining of our democracy."
Referring to the efforts to oust Rep. Liz Cheney from her Republican leadership post, Troye said: "What they are doing... they're not just infighting within the Republican party, they're actively destroying the fundamentals of our democracy, and that is why it matters."
House Minority Leader Kevin McCarthy has set a Wednesday vote to remove Cheney from her job as chair fo the House Republican conference. Cheney has repeatedly challenged Trump's lie that his election defeat was due to widespread voter fraud and also criticized the former president for inciting a mob of his supporters to storm the U.S. Capitol on January 6. Cheney was among just 10 Republicans to support the House's vote to impeach Trump a week later.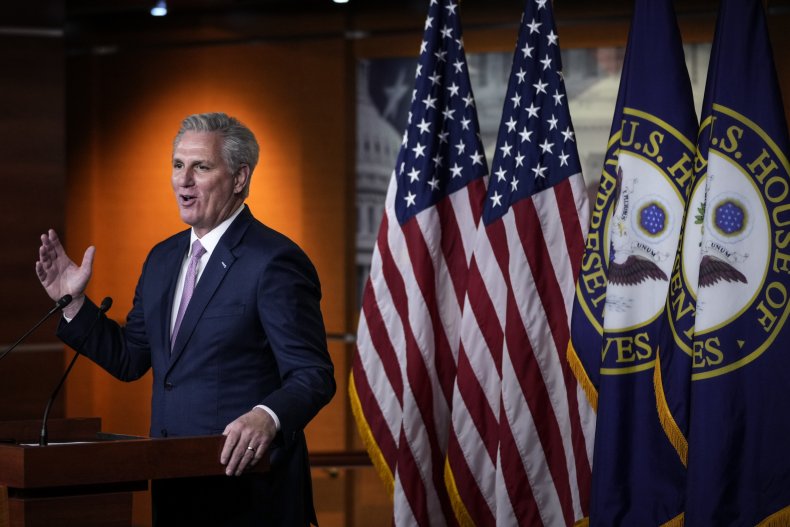 Reid went on to say that if McCarthy were ever to become House Speaker, he would be Trump's "servant."
"100 percent," Troye agreed, adding that McCarthy had called out Trump over the deadly riot at the Capitol riot before quickly "falling in line."
"That is what you will get and that is why McCarthy should not be Speaker," she said. "He should not be running anything. He should be out of office. All of these people are unfit to be in office. They have no integrity. They are not actually trying to govern.... It's just grievances and now it's lies."
Troye said the efforts to oust Cheney were occurring while "liars are rising within the party."
She said: "I think that says where the platform of the party is."
Troye said she is hopeful that enough moderate Republicans will stand up to it or "walk away."
But she added: "Look, if it leads to a blue wave across the country, then rightly so. The GOP deserves it, because they have destroyed themselves."
Troye has been contacted for additional comment.